We love, love, love, a big bowl of vegetarian chili! It's not that we eschew meat (because we don't) but by just focusing on the beans and vegetables we let them shine into the perfect hearty and flavor filled dinner. All while keeping the whole dish very low in sodium.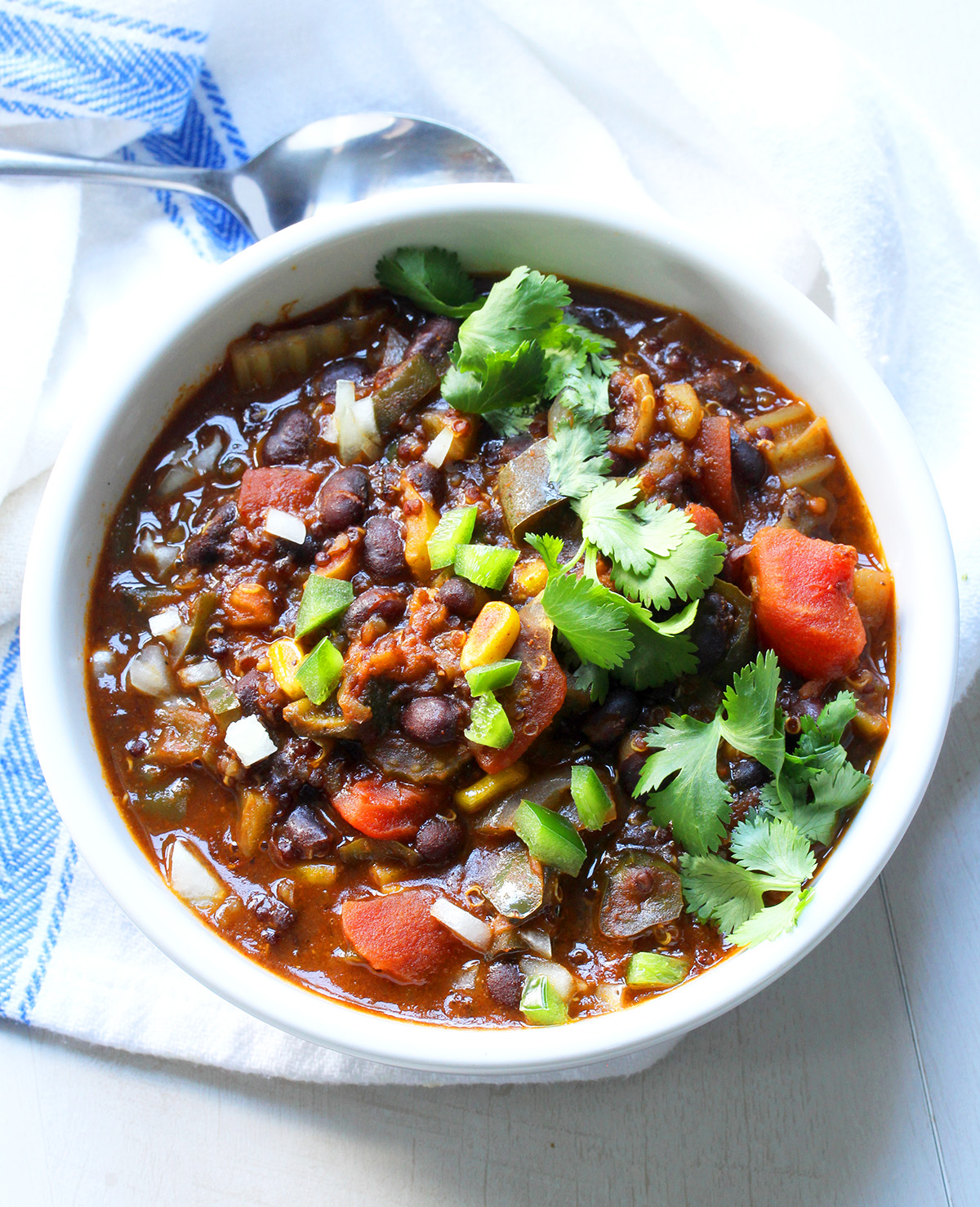 Approximate sodium content: 72mg per serving
Ingredients
Supple black beans!
Grilled sweet corn!
Even sweeter bell pepper!
A slightly spicy poblano!
Perky green chilies!
Yes, we do like to let these ingredients take a bow.
Now let's talk about the remainder of the rest of the ingredients. (Remember, this recipe is an ode to the background players in chili!)
Let's start with the spices. Of course chili powder gets top billing here because it's eponymous in the name. But, that's followed quickly by ground, earthy cumin, floral coriander, onion powder, garlic powder, and of course a decent amount of black pepper. Also, don't forget the bay leaves! They really give a subtle – but noticeable depth of flavor to the chili.
Regarding other veggies, we utilize a can of no-salt diced tomatoes, a large onion, celery, and carrots to really give an eye-popping amount of color and flavor to the dish.
And of course, there's everyone's favorite hot pepper – a jalapeno. If you just want to enjoy the citrusy and slightly spicy flavor of the jalapeno, just remove the seeds and membranes. That's where the majority of the heat comes from. However, if you like your food on the hotter side and often brag with a small smile about having a "heat resistant palate," well, keep those seeds and membranes in there! Heck, you could even add in a serrano which is nine times hotter than a jalapeno! (Or even a habanero if you really like to live dangerously!)
Also, don't forget the unsalted chicken broth! That's an essential ingredient.
And then finally – the pièce de resistance – some red or white quinoa! Add it right toward the end after all of the robust flavors have comingled and the aroma has become irresistible. Quinoa absorbs whatever flavors it comes into contact with, so add it toward the end for ultimate flavor. It also adds a bit of whimsical bulk to the chili with its adorable characteristic curlicues.
SODIUM NOTES BY ALEX G., REGISTERED DIETITIAN
The savory flavors of the low sodium spices, charred corn, and bright and slightly spicy peppers used to flavor this recipe will satisfy your craving for tasty comfort food. As a bonus, the fiber-rich plant ingredients like quinoa, vegetables, and black beans add the thick heartiness you expect in a chili while also boosting overall heart health. Typical chili recipes contain as much sodium as 1000 mg per 1 cup serving. If you start a pot of chili with typical chili seasoning packets, you're already in trouble if you're watching your sodium intake. A very popular seasoning blend adds 340 mg of sodium per ⅓ tbsp suggested serving and adds ~1300 mg of sodium to your overall recipe if you had the whole packet.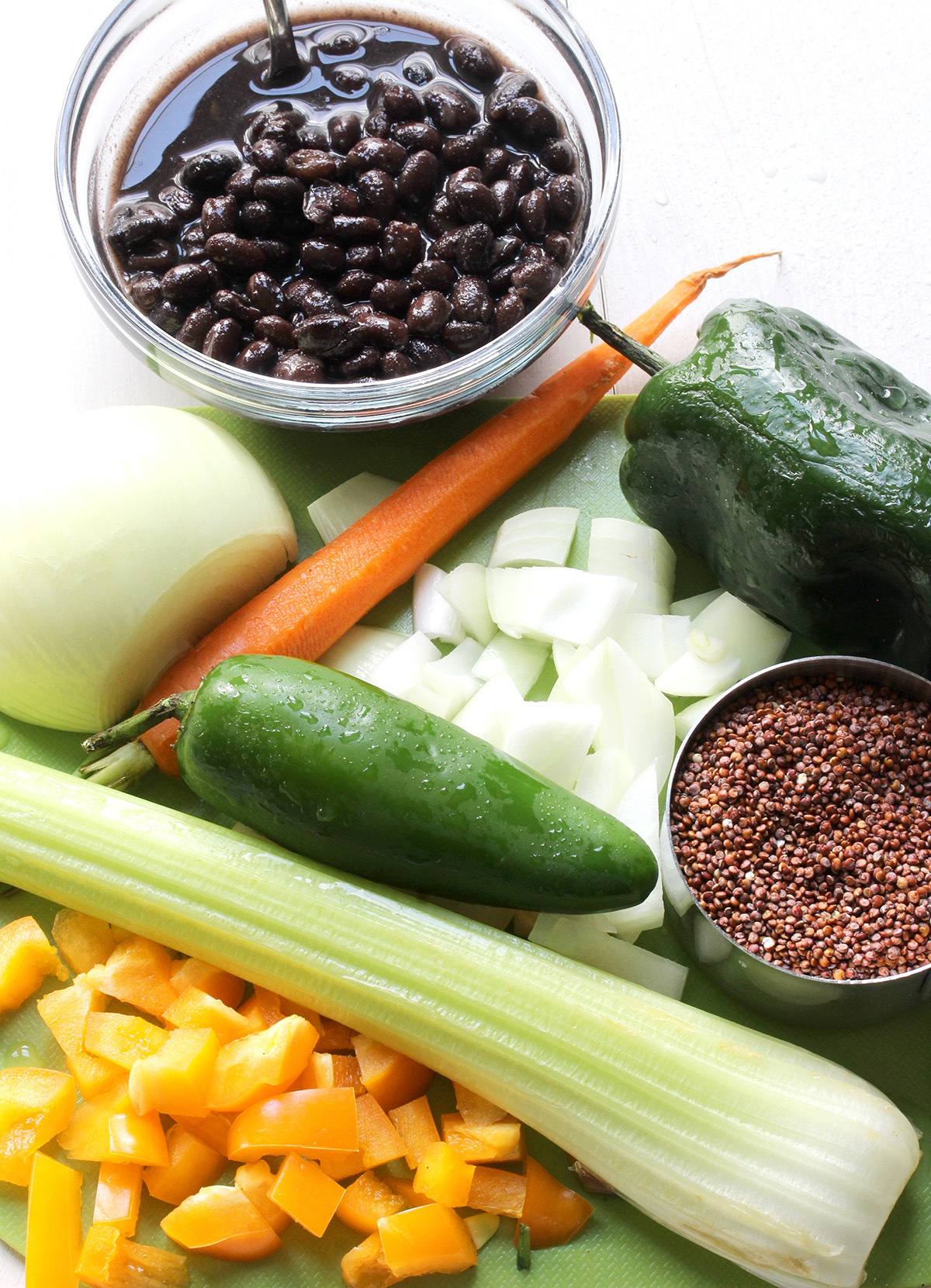 Preparation
If we don't have frozen grilled corn kernels on hand, we're happy to char them ourselves! The trick is to throw them into a hot cast iron pan without any fat, and to let them sit there for a minute or so. Then flip them, and char on the second side. Voilà! You have perfectly "grilled" corn! While the corn is resting, dice your onions, peppers, celery, carrots. Add olive oil or canola oil in a large Dutch oven, and add in the prepped vegetables. Once they've softened after a few minutes, stir in your spices. Let them bloom for one minute or so, and then add in your cooked black beans, canned tomatoes, broth, and green chilies.
Cook until the mixture is piping hot, and the vegetables and beans are cooked through. Then, add in your rinsed quinoa, and let it soak up all of the delicious chili goodness!
Serve with your favorite garnishes like cilantro, diced onion, and jalapenos.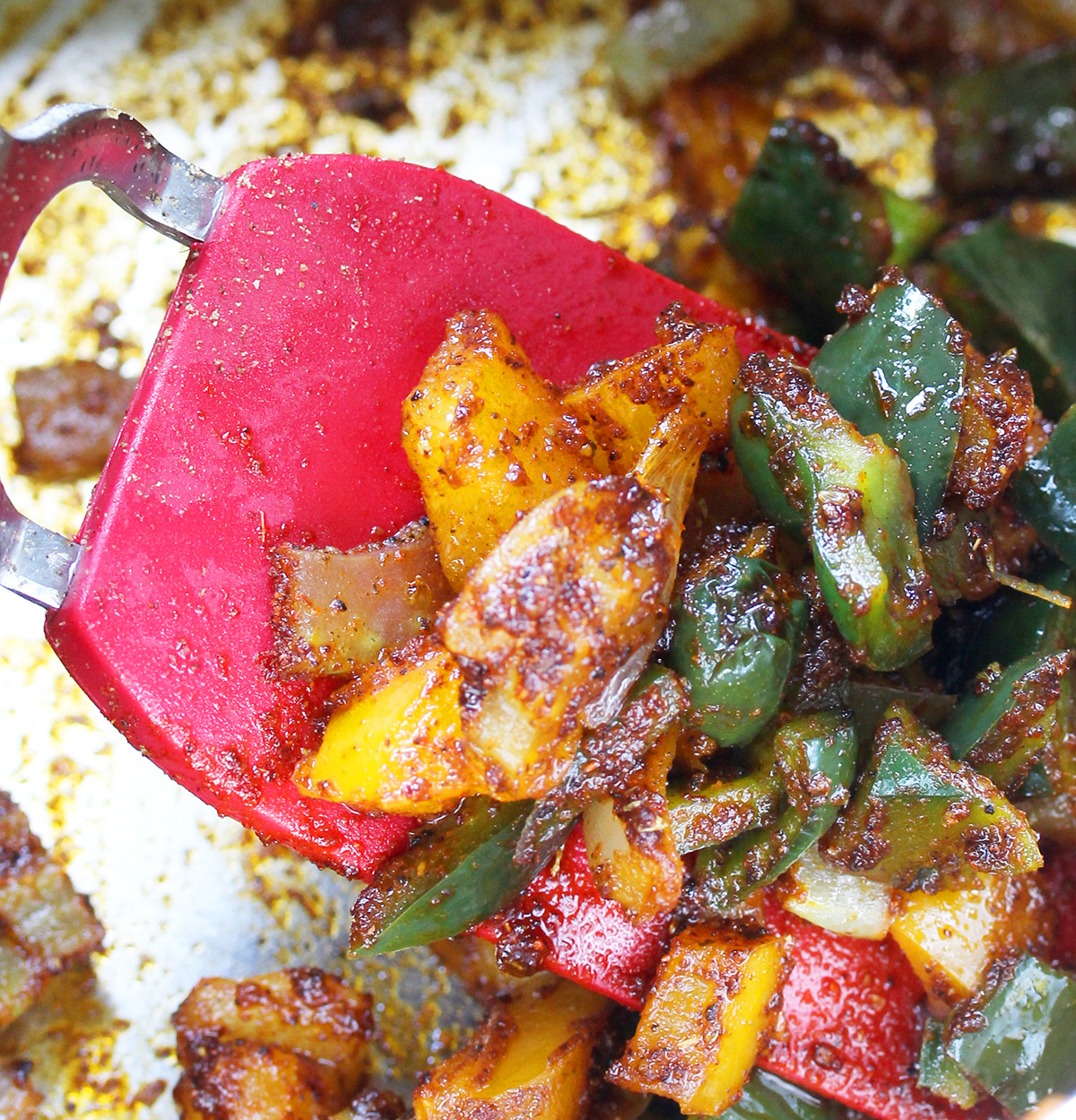 Serving Suggestions
Vegetarian black bean chili loves to be accompanied by low-sodium crackers, or low-sodium cornbread. It also wants to be paired with a big, and bountiful green salad! Also, Instant Pot Brown Rice (Basic and Easy) would be a delight in the bottom of the bowl of chili too! Just remember to use no-sodium chicken broth to make it.
Storage and Reheating
Chili is always delicious on the day it's made, but somehow, it's always way, way, way, better the next day! All of those delicious flavors have a chance to really hang out and get to know each other. So, the vegetarian black bean chili will be delicious in the refrigerator for up to four days. Bonus: This chili freezes incredibly well too! Just store it in the serving size of your choice in a resealable plastic container, or resealable plastic bag. If you're using a plastic bag, just make sure to place the bags in a single layer on a rimmed cookie sheet to freeze. Just pat the bags down nice and flat, and then once they're frozen, you can just stack them up neatly in the freezer and they'll barely take up any room at all!
Print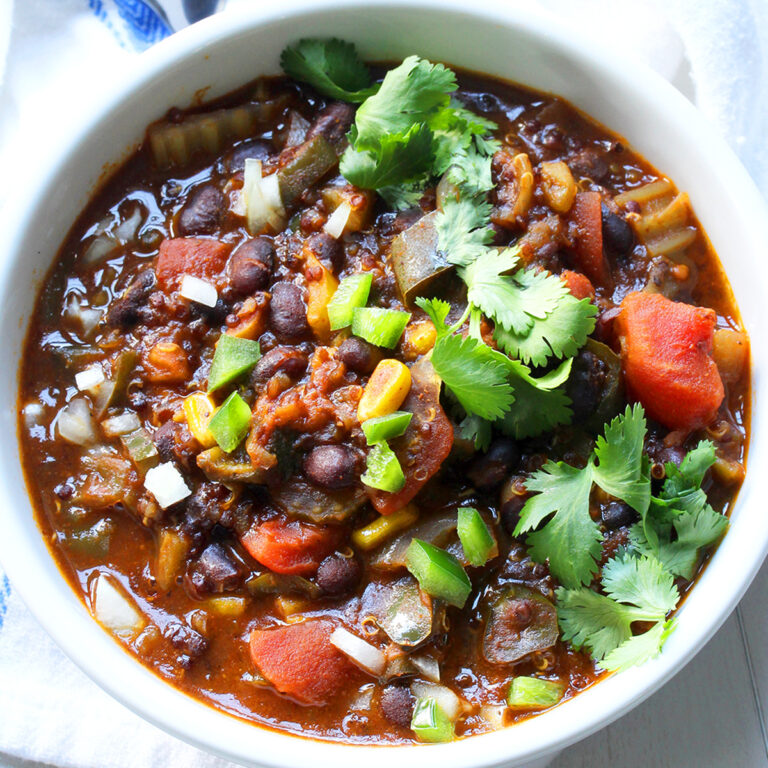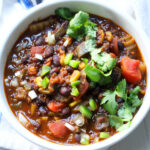 Low Sodium Vegetarian Chili
---
Author:

Total Time:

50 minutes

Yield:

4-6 servings

Diet:

Low Salt
Description
This low-sodium vegetarian chili is loaded with delicious, vibrant fresh ingredients for a hearty meal you will love. The natural flavors of all the ingredients combine to create a chili experience you will love, without all the added sodium.
---
½ cup

fresh, or frozen corn kernels (thawed according to package directions)

1 tablespoon

olive oil

1

medium white onion, diced

1

medium poblano pepper, diced

1

medium stalk of celery, diced

1

medium carrot, diced

½ cup

diced orange, red, or yellow bell pepper

1

small or medium jalapeno, seeds and ribs removed, and diced

¾ teaspoon

freshly ground black pepper

1 tablespoon

chili powder (no-salt)

2 teaspoons

ground cumin

1 teaspoon

onion powder

½ teaspoon

garlic powder

1

(15 oz.) can no-salt added diced tomatoes, or

2

large beefsteak tomatoes, diced

1

(15oz.) can no-salt added black beans

3 cups

unsalted chicken broth

2

bay leaves

½ cup

red or white quinoa, very well rinsed
---
Instructions
Heat a small skillet over medium heat until hot. Add in the corn, and let sit undisturbed for 1-2 minutes, or until lightly charred. Flip, and repeat. Reserve corn.
Preheat the olive oil in a large Dutch oven over medium heat until it shimmers. Add in the onion, poblano, celery, carrot, and jalapeno. Season with freshly ground black pepper.
Cook until vegetables are softened, approximately 5-7 minutes.
Stir in the chili powder, cumin, onion powder, and garlic powder.
Stir for 1 minute to bloom the spices.
Add in the canned or fresh tomatoes, reserved corn, black beans, broth, and bay leaves.
Simmer for 10 minutes, or until warmed through.
Add in the quinoa, and simmer for 15-20 minutes, or until cooked through.
Garnish with cilantro, onion, and jalapeno.
Prep Time:

20 min

Cook Time:

30 min

Category:

Dinner

Method:

Stovetop

Cuisine:

American