Enjoy a homemade spaghetti sauce with lean ground beef, fresh herbs and only a fraction of the sodium content of traditional spaghetti sauce.
Approximate sodium content: 65mg per serving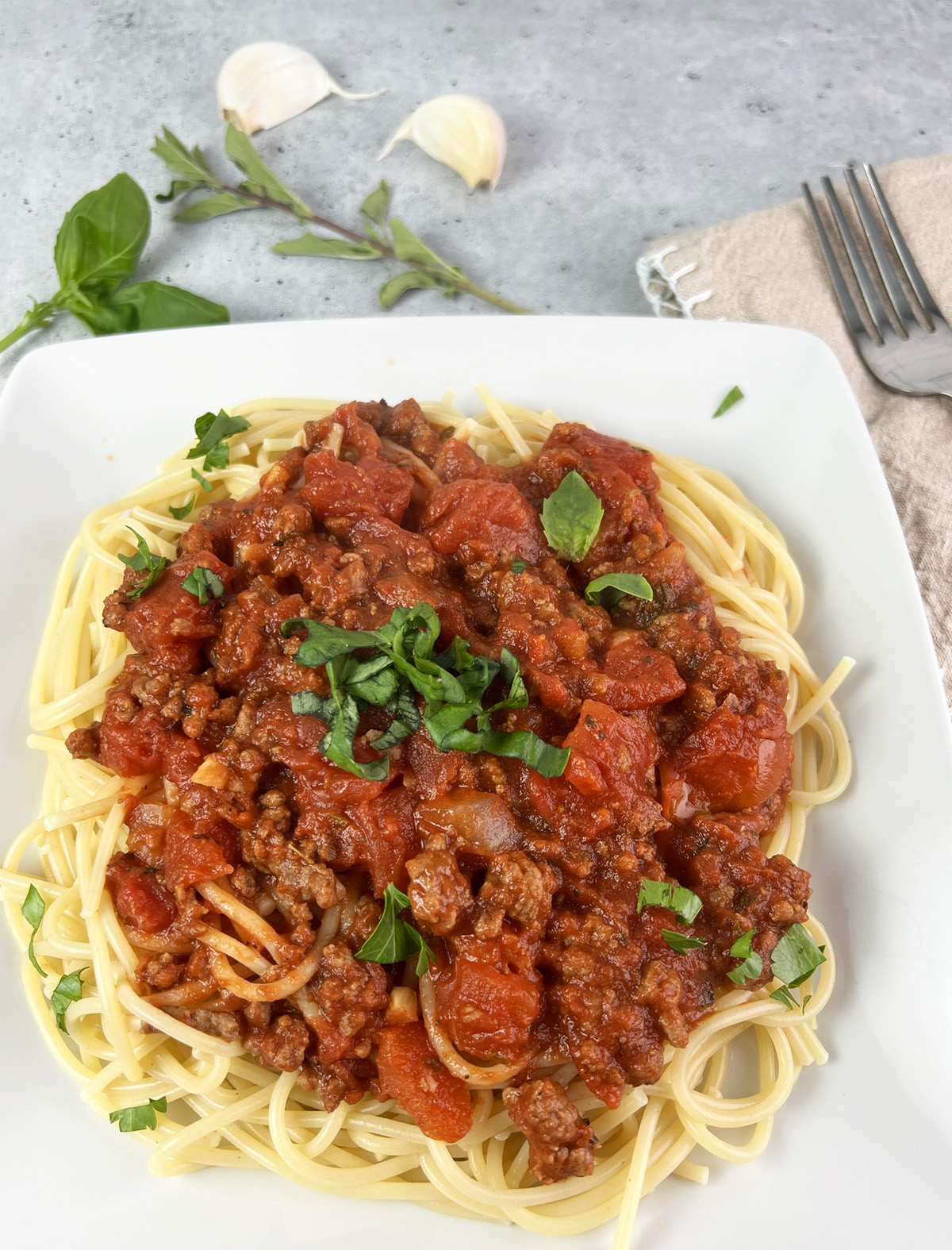 This recipe for low sodium spaghetti sauce is one of my favorites and is very easy to make. Being able to enjoy this classic comfort food, without all the massive amounts of sodium is a true joy.
Ingredients
We like to keep recipes as simple as possible and for this recipe we'll make use of the no-salt added versions of canned tomato sauce, tomato paste and diced tomatoes. No-salt added canned tomatoes in all it's varieties have become standard on supermarket shelves in recent years. I'm so thankful for that because it makes low-sodium cooking much easier to have easy access to these ingredients.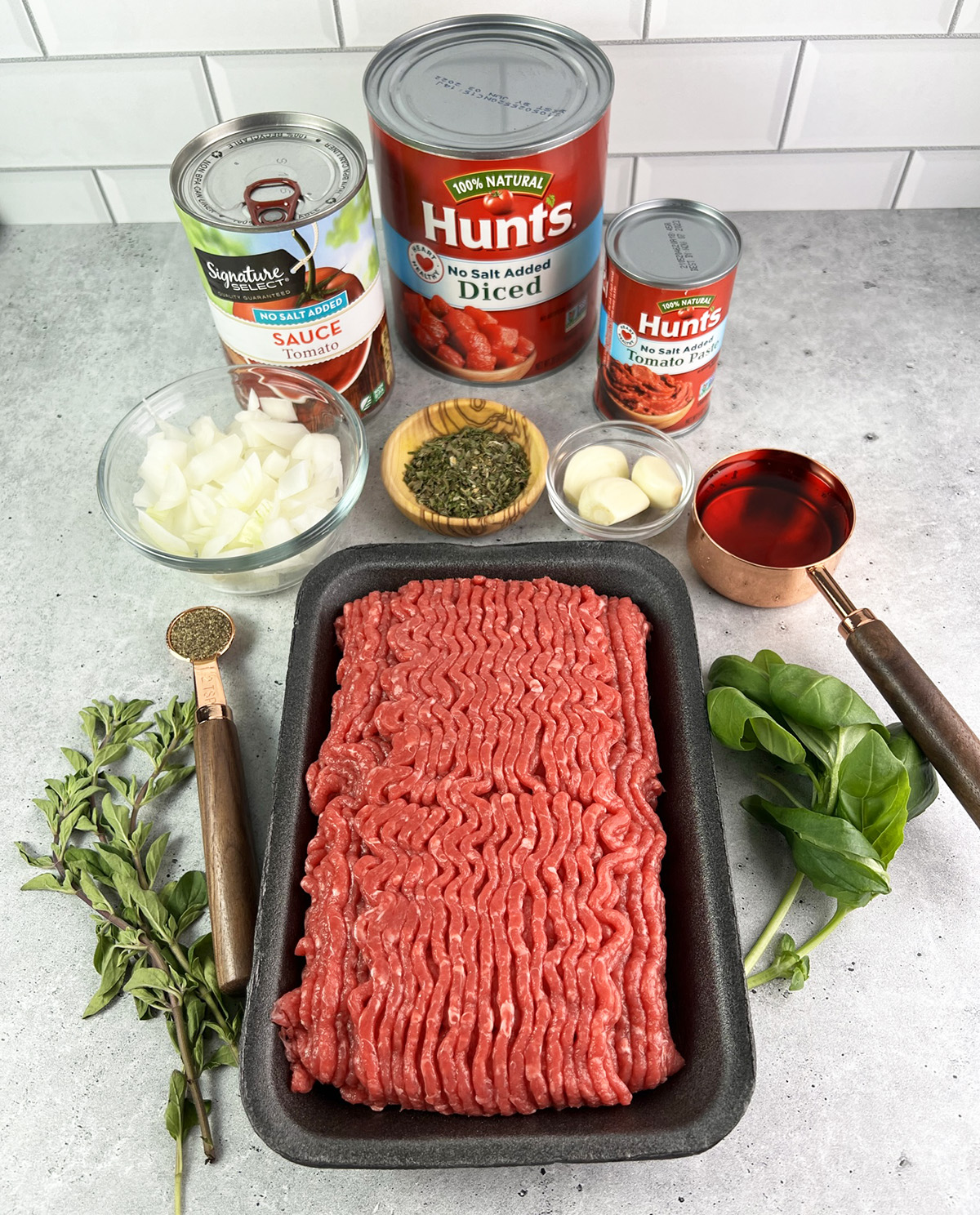 We'll use a combination of fresh and dried herbs: dried Italian Blend Herbs are common in all spice racks and should be a staple in your pantry too. We'll get a nice boost of flavor from that. Then, we use fresh oregano and fresh basil to really bring a bright flavor to the sauce. These fresh herbs will not only cook in the sauce, but are excellent to garnish in top of the dish when serving.
For the meat, we use lean ground beef. I like to get it as lean as possible – usually 97% lean or there abouts. While we brown the meat we'll be adding chopped onion and fresh cloves of garlic.
Finally, we get an excellent flavor boost with red wine vinegar.
Sodium Notes By Alex G., Registered Dietitian
A typical grocery store brand of jarred spaghetti sauce can contain as much as 480 mg of sodium per ½ cup serving! Cooking your sauce from scratch with this Low Sodium Spaghetti Sauce recipe is a great choice for a lower sodium lifestyle, and you won't sacrifice any flavor since the recipe starts with fresh onion and garlic and finishes with fresh basil and oregano. When shopping for your ingredients, be extra careful to choose the no-salted added versions of the tomato products to keep your sauce at 65 mg of sodium per ½ cup. As another bonus, if you're choosing to use meat in this recipe, choosing 97% lean ground beef will keep saturated fat low and further support your heart health.
Preparation
Start by using a large pot or Dutch oven. A 5-6 quart size is ideal. You'll need a lid too. Over medium/high heat, brown the ground beef. When it's about halfway browned, add the onion garlic and continue to stir until the meat is browned. Since we're using very lean meat, it's up to you if you want to drain off the little bit of fat. I usually leave it in since it's so minimal.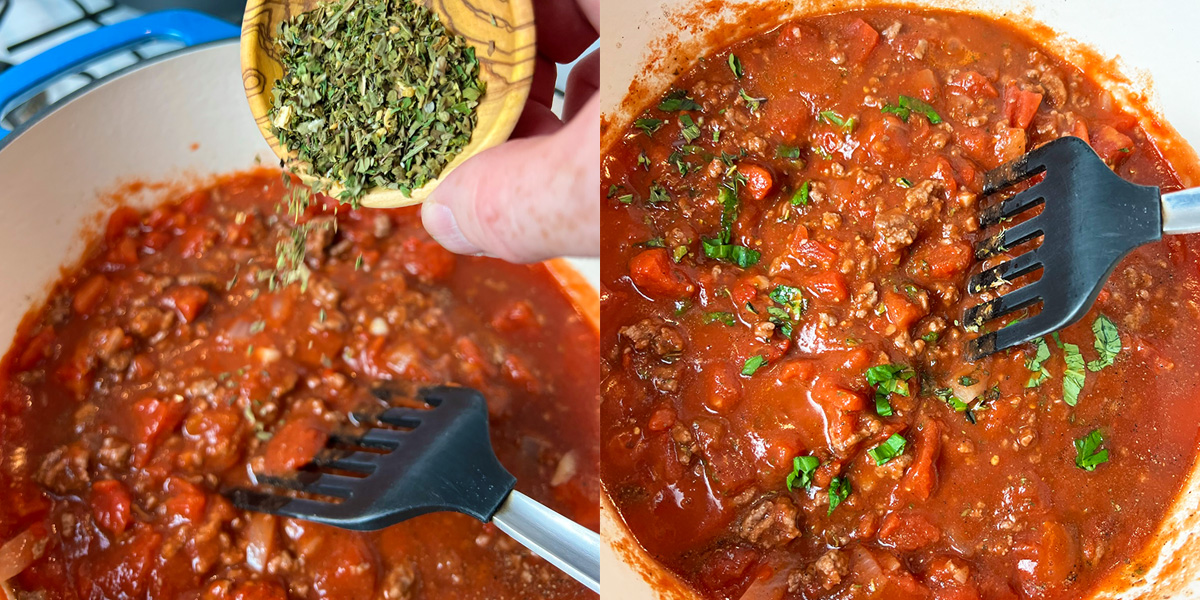 Over low heat we then add all of the canned items, the dried Italian herb blend, pepper, fresh oregano, fresh basil and red wine vinegar. Stir to get everything well incorporated.
Cover and let simmer for 30 minutes.
Serving
You're now ready to serve your spaghetti sauce! Prepare the spaghetti (of other favorite pasta) according to package directions. When boiling the pasta, leave the salt out. We certainly don't need any extra sodium.
The standard serving size for spaghetti sauce is ½ cup. It may sound like a small amount, but it actually goes a long way. The dish in the picture below uses exactly ½ cup of sauce and I think you'll see that it's plenty.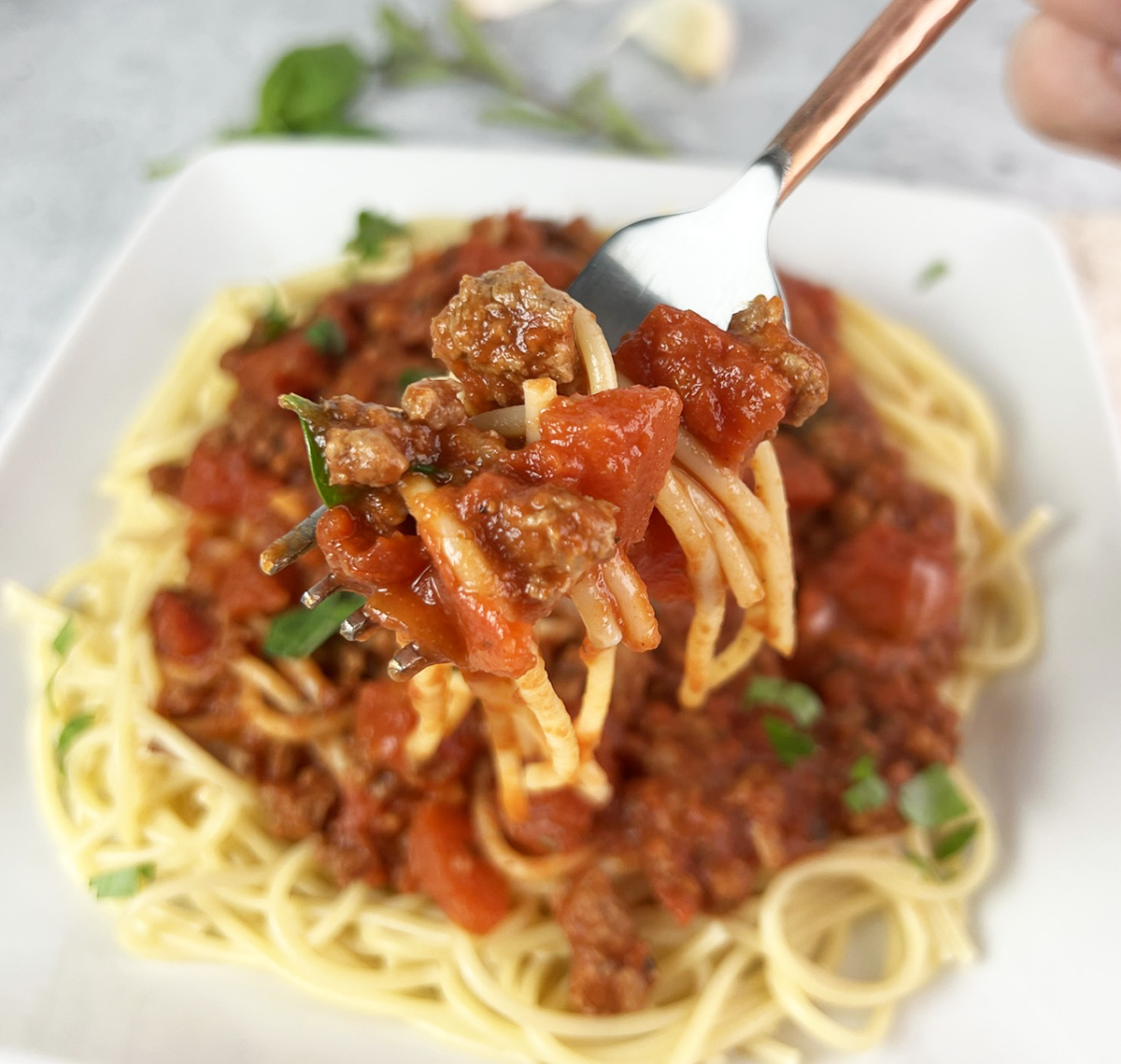 Garnish the sauce with fresh basil, fresh oregano, fresh Italian parsley or green onions for extra wholesome goodness.
Frequently Asked Questions
Question: Can this sauce be frozen?
Answer: Absolutely! Let sauce cool and place in airtight containers in freezer for up to 4 months.
Question: Can I substitute ground turkey for the ground beef?
Answer: You sure can. Ground turkey generally has a similar sodium content but be sure to check packaging for specific info.
Question: Can I leave the meat out altogether?
Answer: Yes. Everything else will remain the same.
Print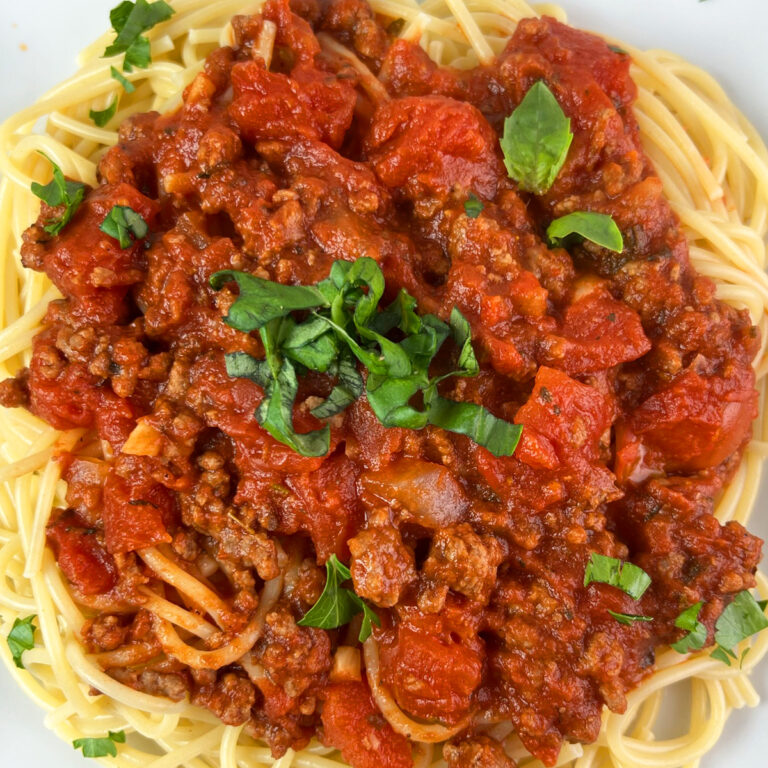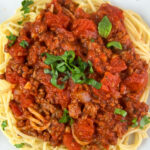 Low-Sodium Spaghetti Sauce
---
Author:

Total Time:

40 minutes

Yield:

10 servings
Description
This delicious meat sauce for spaghetti is loaded with the flavors you love and only a fraction of the sodium of traditional spaghetti sauces.
---
1

lb lean ground beef

1

28oz can of no-salt added diced tomatoes

1

14.5oz can no-salt added tomato sauce

1

6oz can of no-salt added tomato paste

⅓ cup

red wine vinegar

½

medium onion, chopped

3

cloves garlic, minced

1

tbs fresh oregano

1

tbs fresh basil

1

tbs Italian seasoning (salt free)

½ teaspoon

fresh ground black pepper
---
Instructions
Add ground beef to a medium pot or Dutch oven over medium heat. Stir and brown the meat until it's about half done, then add the onions and garlic and continue to stir until meat is browned. (using lean ground beef there will be very little fat to drain. You can leave it in or drain if you wish)
Add all remaining ingredients to the pot and stir over medium heat until everything is well incorporated.
Reduce heat, cover and simmer for 30 minutes, stirring occasionally.
Serve over cooked pasta.
Notes
Approximately 68mg Sodium per ½ cup serving
*This recipe and all the recipes on EasyLowSodiumRecipes.com are meant to offer alternatives for individuals seeking low sodium recipes. These recipes DO NOT follow any specific medical guidelines for individual diet needs or specific sodium restrictions. Be sure to check with a medical professional regarding your individual sodium and dietary needs. 
Prep Time:

10 min

Cook Time:

30 min

Category:

Dinner

Method:

Stovetop

Cuisine:

American