This hearty, classic beef stew is loaded with fresh ingredients and flavor, without all the sodium. A perfect low sodium slow cooker recipe.
Approximate sodium content: 171mg per serving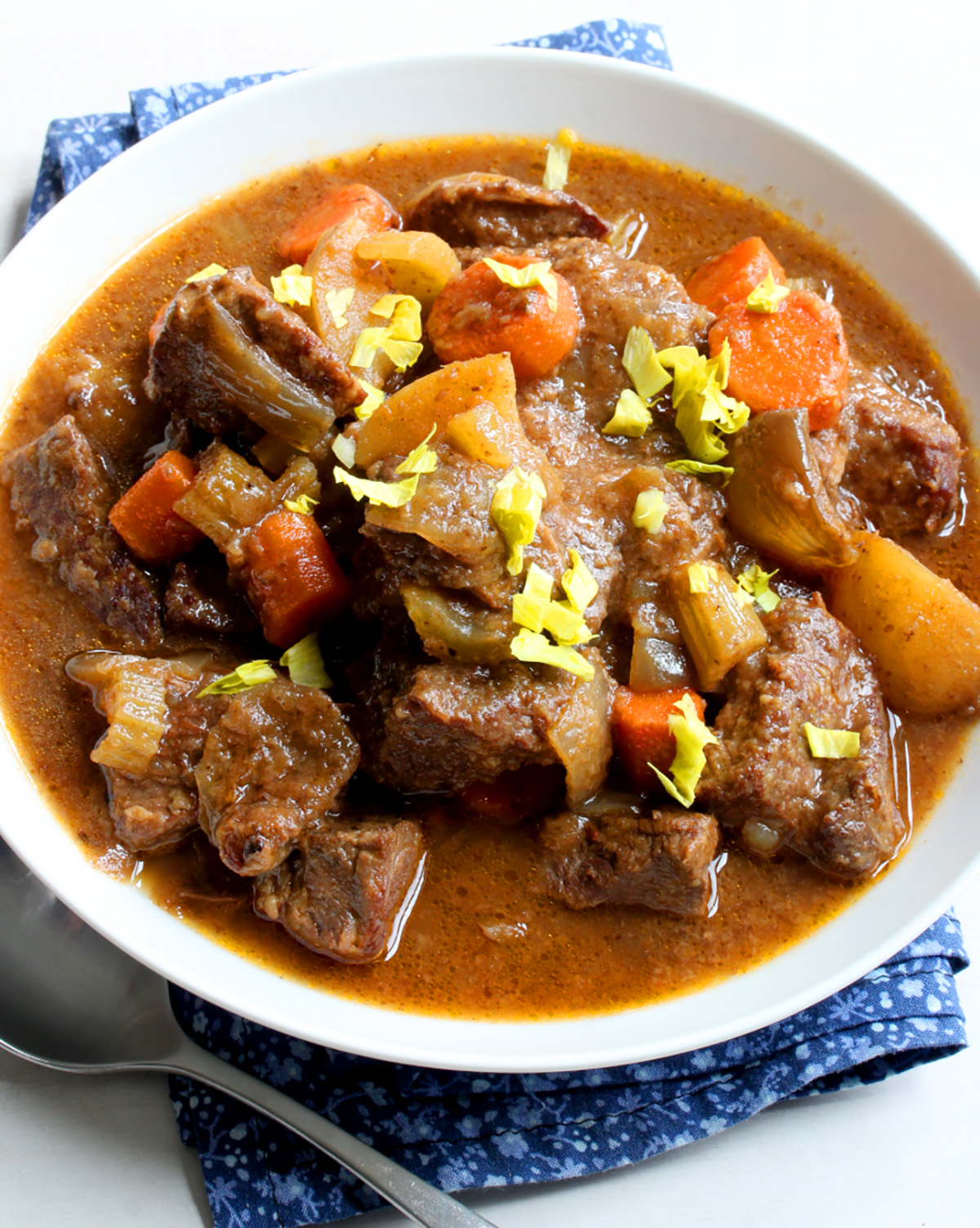 Beef stew is probably a dish you grew up enjoying with family for Sunday dinner. You remember mom or grandma working hard in the kitchen chopping vegetables and prepping all the ingredients, then letting the slow cooker do it's work all day while the kitchen smelled of delicious food. Let's rediscover the joy of this classic comfort food with a low-sodium version which is sure to please the palette and satisfy that hunger for this classic American staple.
Ingredients
Our beef stew recipe will not stray far from the classic beef stew recipes we know and love. We'll use 1lb. of stew meat, cut into chunks of about 1 inch each. Often times you can find "stew meat" already cut up in the supermarket meat section. This is usually just fine to use. If you want to cut your own, go with a collagen rich meat such as chuck roast or beef short ribs. These are the perfect cuts of beef for stew to produce juicy and tender results.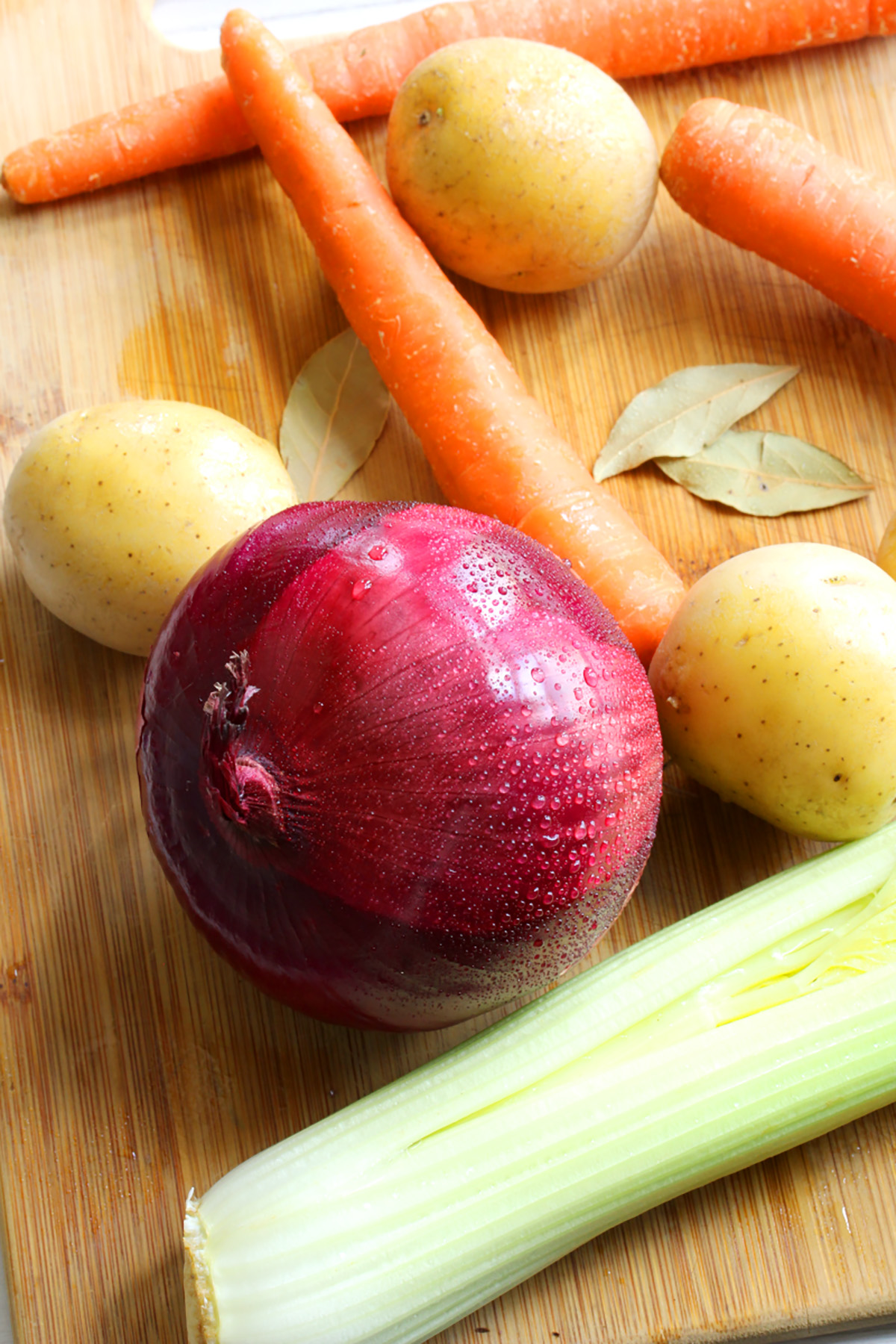 Of course our stew will have fresh potatoes. I like to use Yukon Gold potatoes. They give use just the right starch contend to be savory and delicious when slow cooked in stew. Some celery and carrots and onion will fill out our veggies.
The liquid ingredients will include no-salt added beef broth, no-salt added tomato paste, red wine vinegar and some brewed coffee. The vinegar will really help to boost the flavors in absence of the salt and the coffee adds even more depth to the overall flavor profile.
We'll get some subtle flavor and color from paprika, and of course some vibrance from fresh ground black pepper. And naturally, a few bay leaves will seep their elegance into the whole dish during the slow cooking.
SODIUM NOTES BY ALEX G., REGISTERED DIETITIAN
Choosing no salt added tomato paste and no salt added beef broth are some of the most important changes to keep this dish low in sodium. Using naturally salt free or very low sodium herbs like paprika, black pepper, and bay leaves are perfect tweaks to further add in deeper flavor without relying on flavor from the sodium found in a salt-containing seasoning blend or packet. The techniques of browning the meat and then deglazing the pan are also key steps here, as they both add a richer and deeper savory taste without adding any extra ingredients or sodium. A few popular brands of beef stew, for comparison, contain as much as 800-1000 mg of sodium per 1 cup serving, while this recipe contains only 171 mg per 1 cup serving.
Preparation
Beef stew can certainly be made without browning the meat first. But since we're making a low-sodium version, we'll want all the flavor boost we can get and there's no better way to do that than to brown the meat first. We mix the flour with paprika and pepper, then add dredge the meat through the flour mixture. The meat will only be lightly coated, but that's exactly what we want. Heat some olive oil in a large pot or Dutch oven and add the meat to brown on all sides. This should take about 5 minutes.
Once the meat is browned, set it aside on a plate. You'll then deglaze the bottom of the pot or Dutch oven. All those little stuck on bits are called fond and are loaded with flavor! Pour in the beef broth, coffee and red wine vinegar and use a wooded spoon to scrape up the bottom of the pot. Now, turn the heat on low and bring the liquid to a simmer. Our flavors are building so nicely right now! Once it reaches a simmer, add the tomato paste and whisk/stir it well to combine.
Now on to the slow cooker. Add the beef to the slow cooker along with the carrots, potatoes, onion and bay leaves. No pour that delicious liquid into the slow cooker.
Slow Cook
Cover the slow cooker and cook on low for 8 hours (my favorite) or high for 4 hours. Now you may ask the question "So which is better, 4 hours or 8 hours?" It's a fair question for certain. Here's the deal… Your meat will be cooked plenty at 4 hours and the dish will be very good. But, at 8 hours, the meat will be even more tender and the the dish will be excellent! Now, you can always adjust the time based on how firm or tender you like everything. If you still like a little snap in your veggies maybe try a little less time on low such as 6 hours.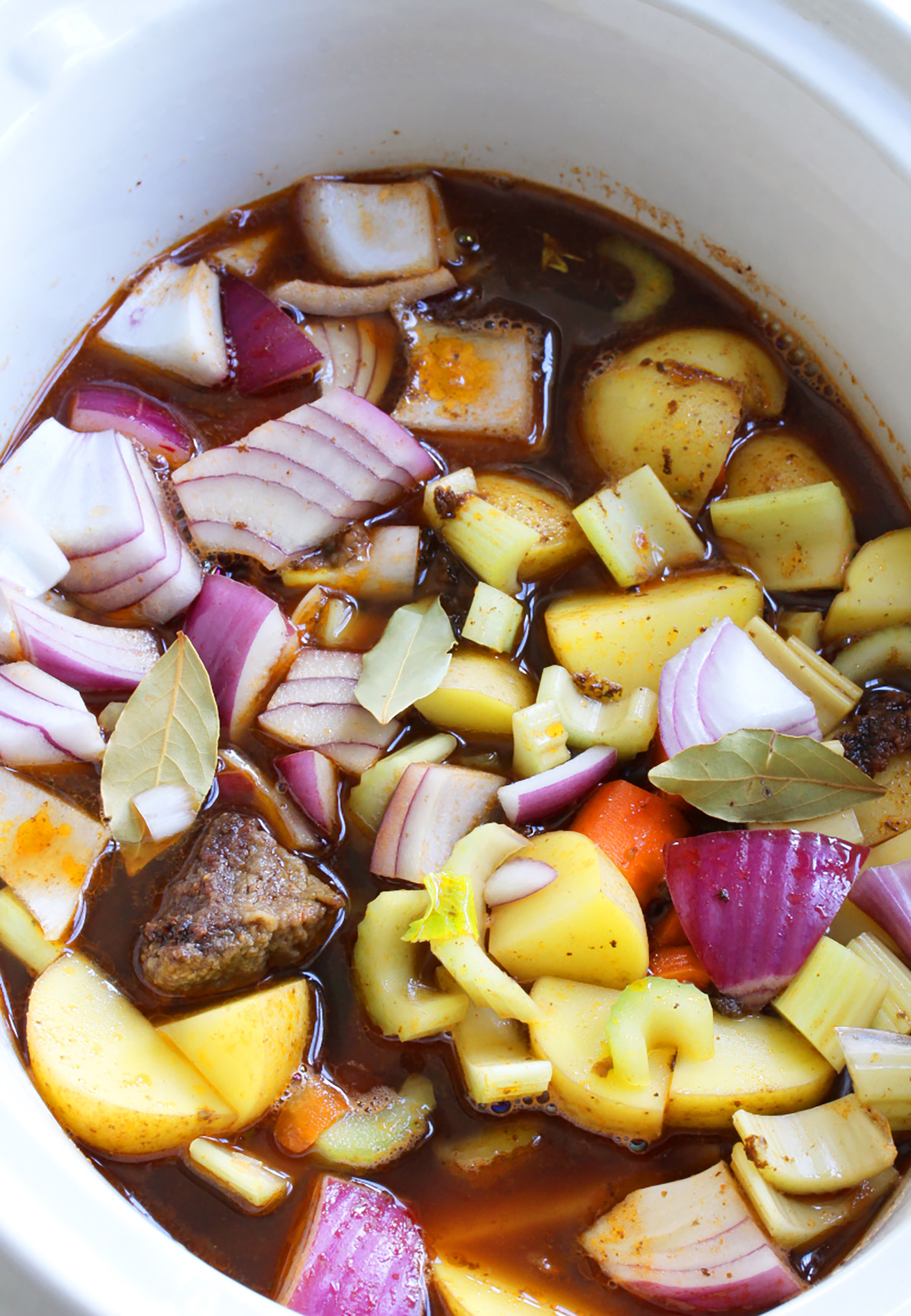 Ready to Serve
Now for the best part… time to serve! There's really not too much to do here other than ladle your beef stew into a bowl and enjoy. Try garnishing the stew with the leaves from the top of the celery. They add a real nice subtle flavor.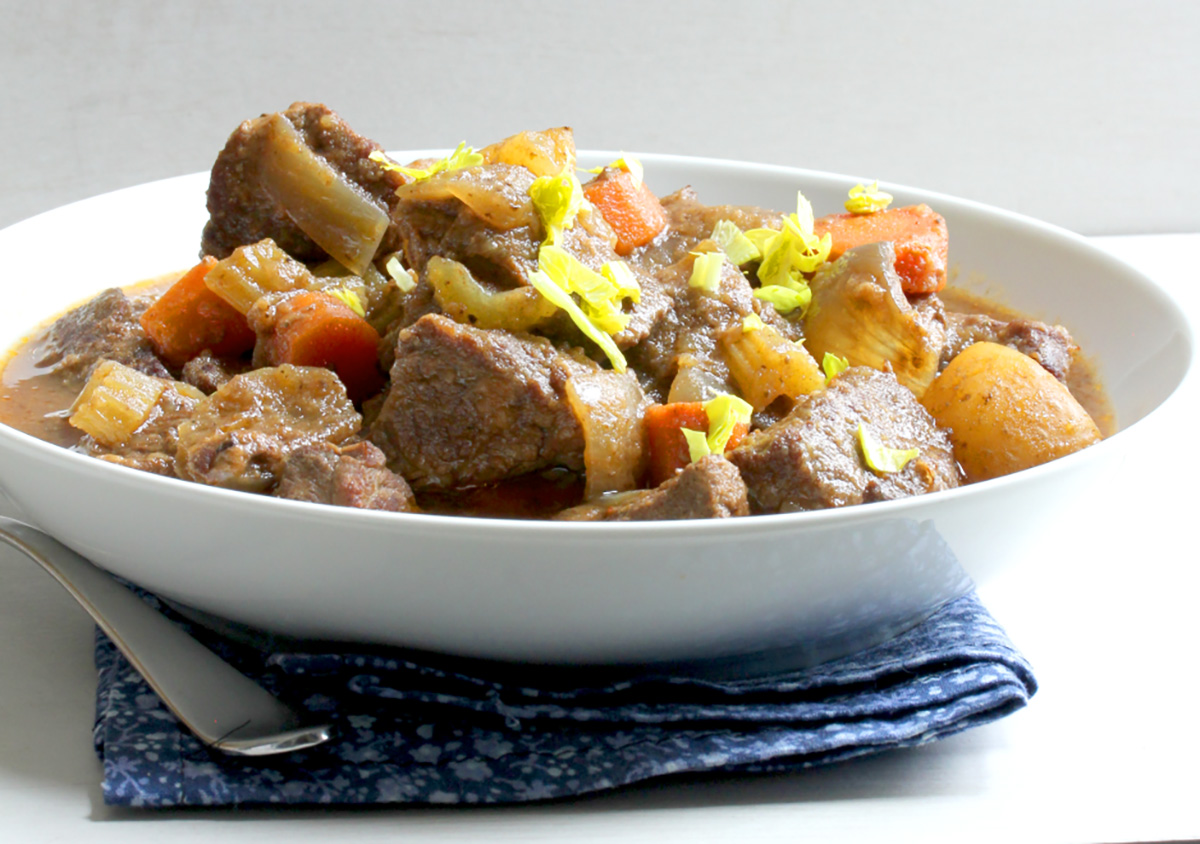 Print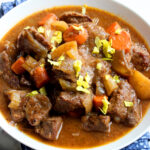 Low Sodium Beef Stew Recipe
---
Author:

Total Time:

8 hours 20 minutes

Yield:

6 servings

Diet:

Low Salt
Description
This classic beef stew uses all the ingredients you know and love, to create a savory, satisfying meal with only a fraction of the sodium.
---
1 cup

unbleached flour

2 teaspoons

paprika

1 teaspoon

freshly ground black pepper, divided

1 tablespoon

olive oil

1

lb. stew meat, cubed into approximately ¾-1 inch pieces

3 ½ cups

no-sodium beef broth

½ cup

red wine vinegar

¼ cup

brewed coffee

3 tablespoons

no-salt added tomato paste

4

large celery stalks, cut into

½

-inch pieces, leaves reserved

3

large carrots, cut into

½

-inch pieces

3

small Yukon gold potatoes, quartered

1

large onion, diced

3

bay leaves
---
Instructions
In a large plate or pie plate combine the flour, paprika, and ½ teaspoon black pepper.
Heat the olive oil in a large Dutch oven over medium heat.
Dredge the meat through the flour mixture on all sides.
Place the meat in the Dutch oven when the olive oil is hot, but not smoking.
Working in batches if necessary, brown the meat for 3-5 minutes on all sides.
When meat is browned, transfer to a 6-quart slow cooker.
Once all of the meat is browned, deglaze the bottom of the Dutch oven (or pot) with the beef broth coffee and red wine vinegar, making sure to scrape up all of the browed bits. Bring to a simmer over low heat.
Once the mixture simmers, add in the tomato paste and stir well to combine.
Place the celery stalks, carrots, potatoes, onion, and bay leaves on top of the beef in the slow cooker.
Now pour the liquid mixture over the meat and vegetables in the slow cooker, stirring well to combine.
Cover the slow cooker, and cook the stew on low for 8 hours, or on high for 4 hours.
To serve, garnish with reserved celery leaves.
Notes
Approximate sodium content: 171mg per serving
Prep Time:

20 min

Cook Time:

480 min

Category:

Dinner

Method:

Slow Cooker

Cuisine:

American