Enjoy vibrant, fresh, delicious dill pickles which are loaded with flavor and are super low in sodium. These pickles take the sodium almost entirely out of the equation. We love being able to enjoy the simple pleasure of a nice dill pickle, without having to worry about it being loaded with unnecessary sodium.
Approximate sodium content: 3mg per serving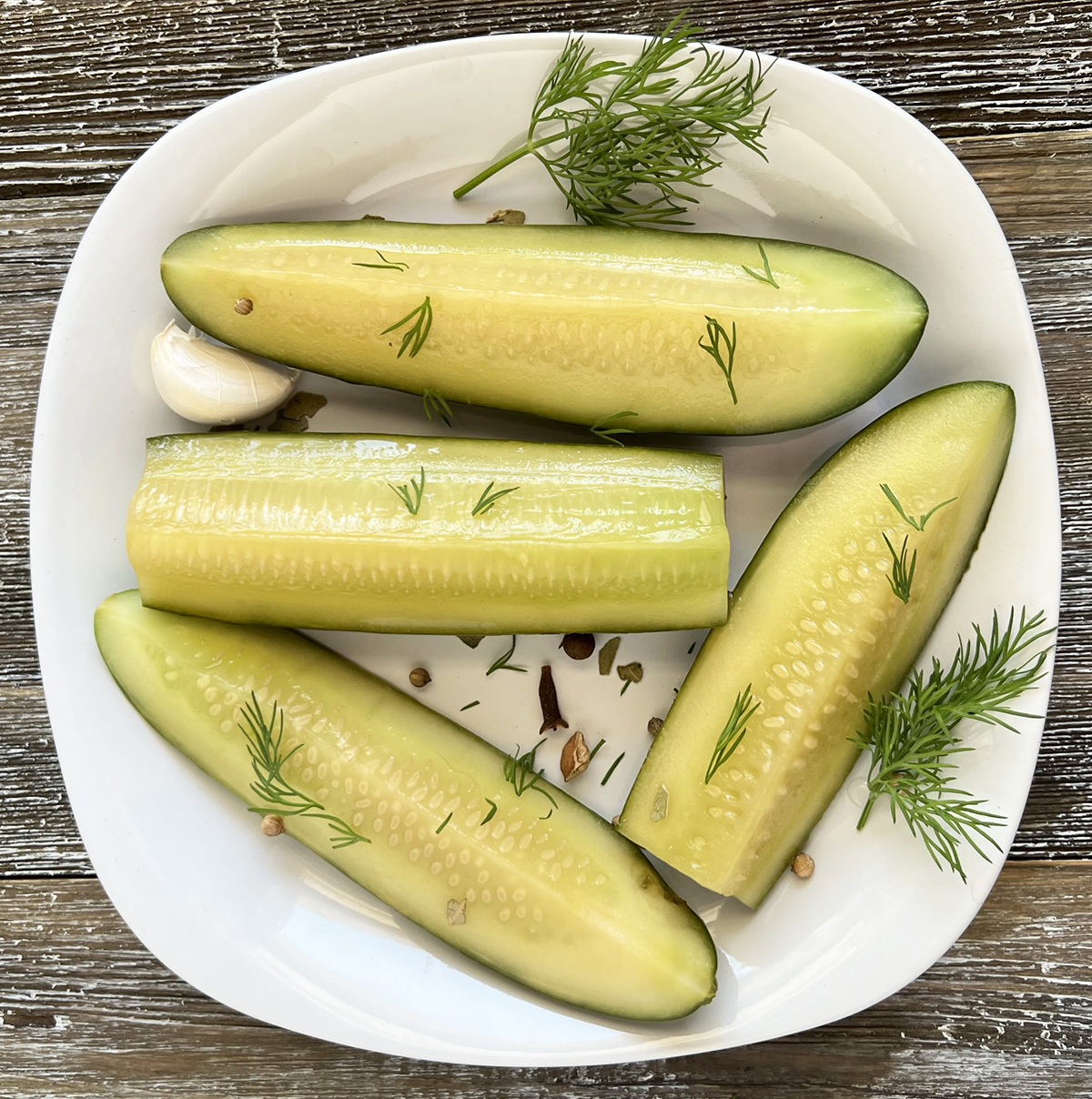 SODIUM NOTES BY ALEX G., REGISTERED DIETITIAN
Typical store-bought pickles are packed in a salt brine for flavor and longer-term preservation, so popular brands contain as much as 330 to 350 mg of sodium per pickle spear. Frustratingly, the suggested serving size on packaged pickles is often only ⅔ or ¾ of a spear! With less than 5 mg of sodium per spear, the fresh flavor in these pickles is added salt free. The tangy and bright flavors here come from the apple cider vinegar, peppercorns, garlic, and dill, so you can eat a full pickle without worry.
What are Pickles?
So are pickles and cucumbers the same thing? When you see fresh "pickles" at the produce market, these are a variety of cucumbers that have been bred to be smaller and have slightly different characteristics than traditional cucumbers. Most of these fresh pickles are Kirby cucumbers. You may see different types of pickling cucumbers or pickles too. This recipe works fine with all of them.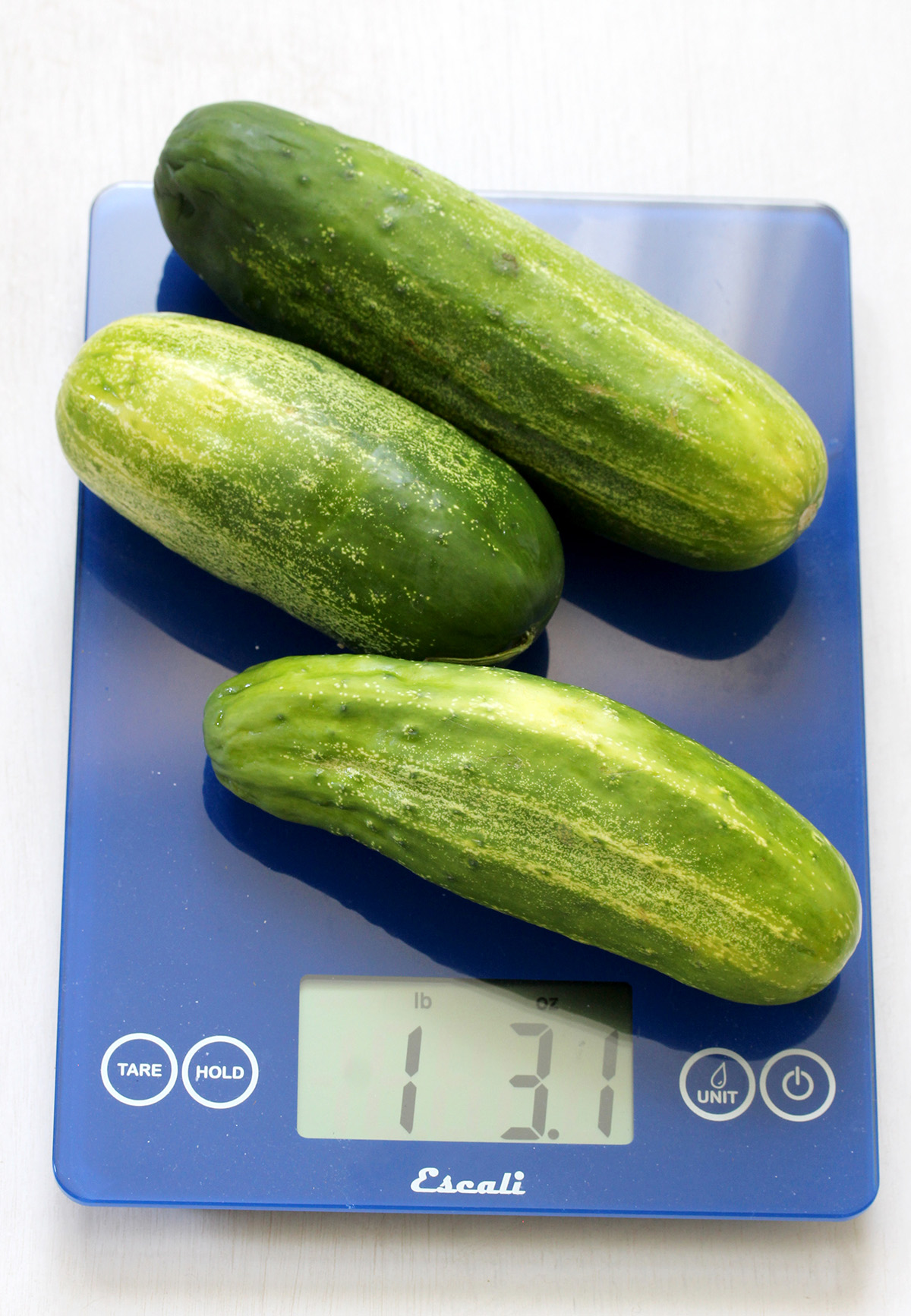 What is Pickling Spice
When food is pickled, it sits in a solution of vinegar, water and and several other ingredients, the main one being pickling spices. Pickling spice is a combination of herbs and spices which lend their flavors to the food being pickled. Pickling spice mix almost always contains peppercorns and mustard seed. The remaining herbs and spices can include bay leaves, allspice, cloves, cinnamon, coriander seed, dill seed and more.
I've found that the majority of pickling spice mixes do not contain salt. However, some do. So be sure to check the packaging to be certain you're getting it without salt.
Ingredients
Pickles, naturally, are the main ingredient. As mentioned above, most produce markets have them labeled as just "pickles". We'll use about 3-4 pickles of around 4-6 inches in length for this recipe and cut them into wedges. And of course, to make anything pickled, we need pickling spice mix. Most supermarkets will have pickling spice mix available. Make sure to chose one that does NOT contain salt. Most do not, but a few do.
Next we'll need some apple cider vinegar, a little sugar and some water. The vinegar is essential to the pickling process. The sugar helps balance out the acidity of the vinegar.
Finally a couple of fresh cloves of garlic and a few sprigs of fresh dill will give the pickles that extra boost of flavor, especially in the absence of salt.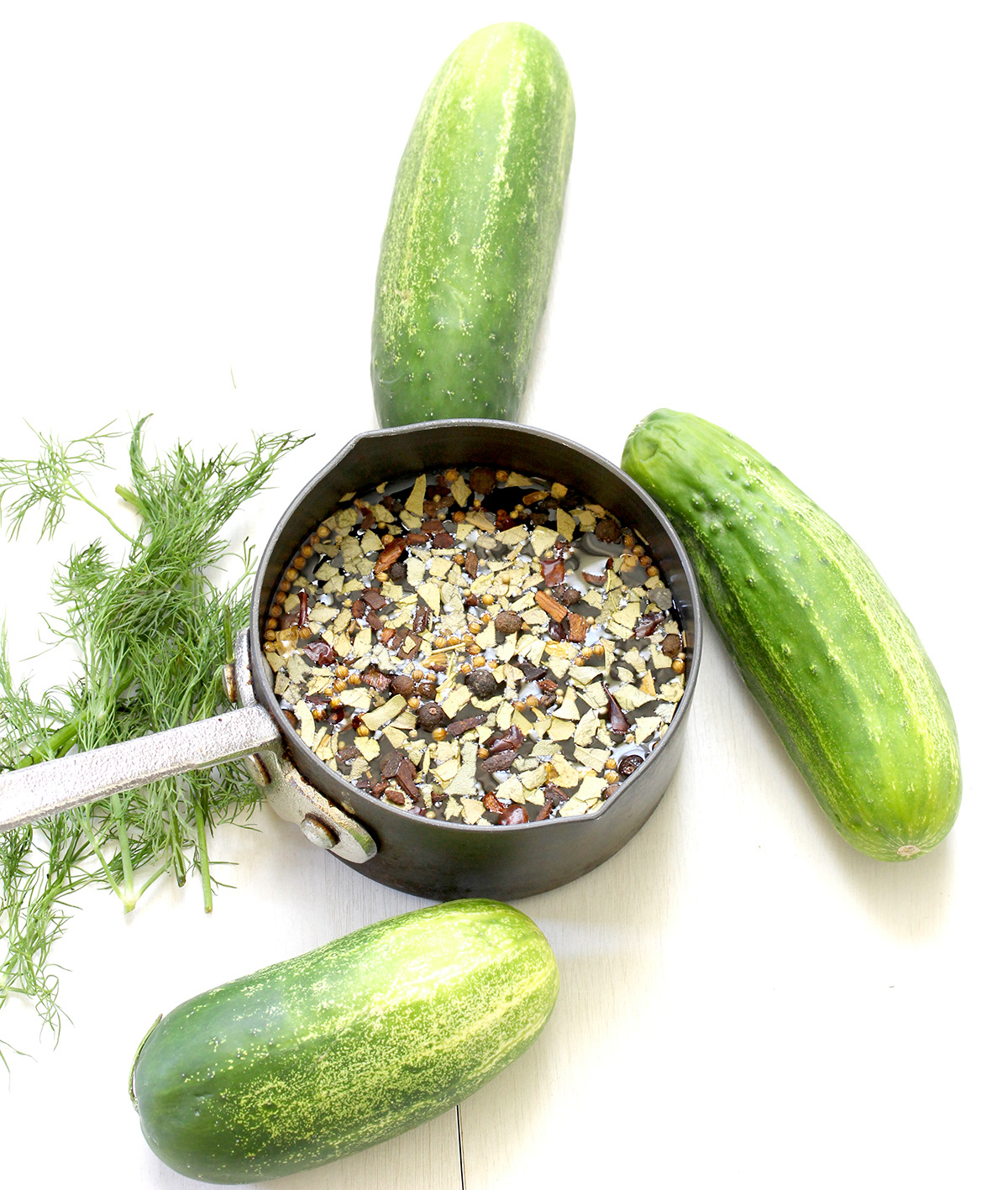 Preparation
Start by slicing the pickles into 4 spears each.
The vinegar, water, sugar and pickling spice will then be added to a small saucepan and brought to a boil on the stovetop. Once it reaches a boil, remove from heat and let it cooldown a bit for 5 minutes. You'll still want it hot, just not boiling hot when you pour it into the jar.
Neatly stack the pickle spears into a 1 quart mason jar or glass container with a securing top. Add in 2 cloves of garlic and about 6 sprigs of dill. Now, pour the warm pickling liquid into the jar. Make sure it's filled to the top to cover the pickle spears. Use additional warm water to fill to the top if necessary. Secure the top.
Refrigerate
Now it's time for the pickles get pickled! Place the jar, with lid secured into the refrigerator for at least 24 hours. After 24 hours, you can enjoy your low-sodium pickles.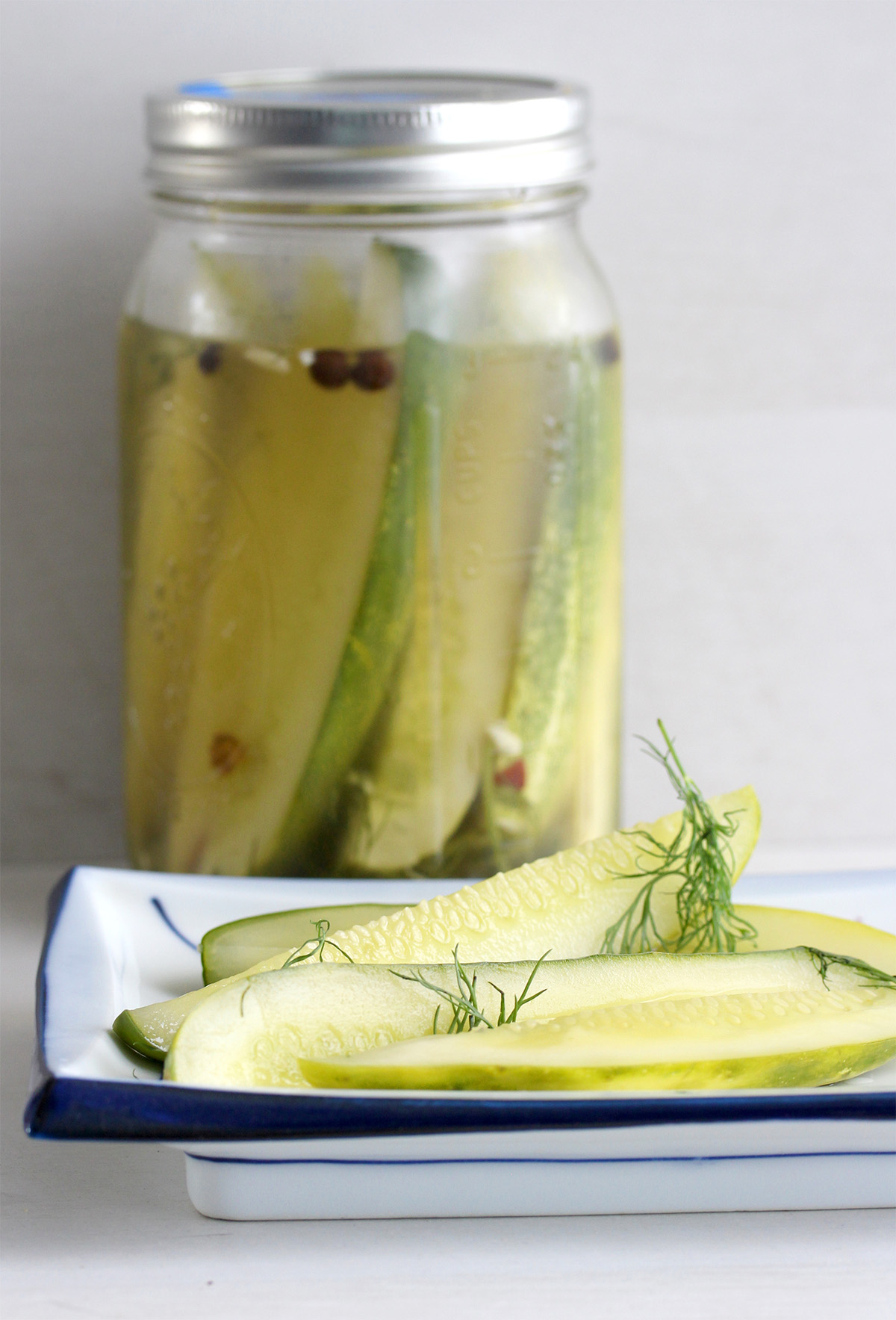 Can Other Vinegars be Used?
For this recipe we use apple cider vinegar for it's excellent all around flavor, acidity and color. However, you can certainly experiment with other vinegars. Regular white vinegar is one of the most commonly used for pickles. Rice vinegar works well too. You can even mix them to get just the right balance of flavors to your liking. We don't suggest balsamic or malt vinegars.
Is the Sugar Necessary?
Basically, the sugar help balance the acidity of the vinegar. You'll get that snappy, tart taste of the vinegar, without it tasting like vinegar thanks to the sugar. Feel free to reduce the amount to your liking. While 1 tablespoon is the best amount in our testing, you can usually get away with as little as 1 teaspoon. And remember, all that sugar isn't loaded into each pickle. It's spread out and much remains in the pickle juice.
Serving Suggestions
Just like always, I love a good dill pickle with a sandwich, a burger, a hot dog or any of the other classic accompaniments. I also love pickles with BBQ pulled pork or chicken. Another great way to use pickles is to chop them up and add to tuna salad. Oh my goodness they can totally bring tuna salad to life! That extra crunch and flavor is absolutely delightful with tuna salad.
Make the recipe your own!
As mentioned above you can experiment with different types or combinations of vinegars. You can also use different pickling spice mixes. Different retailers will have different pickling spice mixes. While most are similar, many can have just enough variance to become a favorite.
You can also adjust the amount of garlic and dill. Just 2 cloves of garlic will really give the pickles a garlicky flavor. But, if you want to turn that up even more, add an additional couple of cloves. There's also many different varieties of peppercorns. Add an additional teaspoon or two of your favorite ones to this recipe.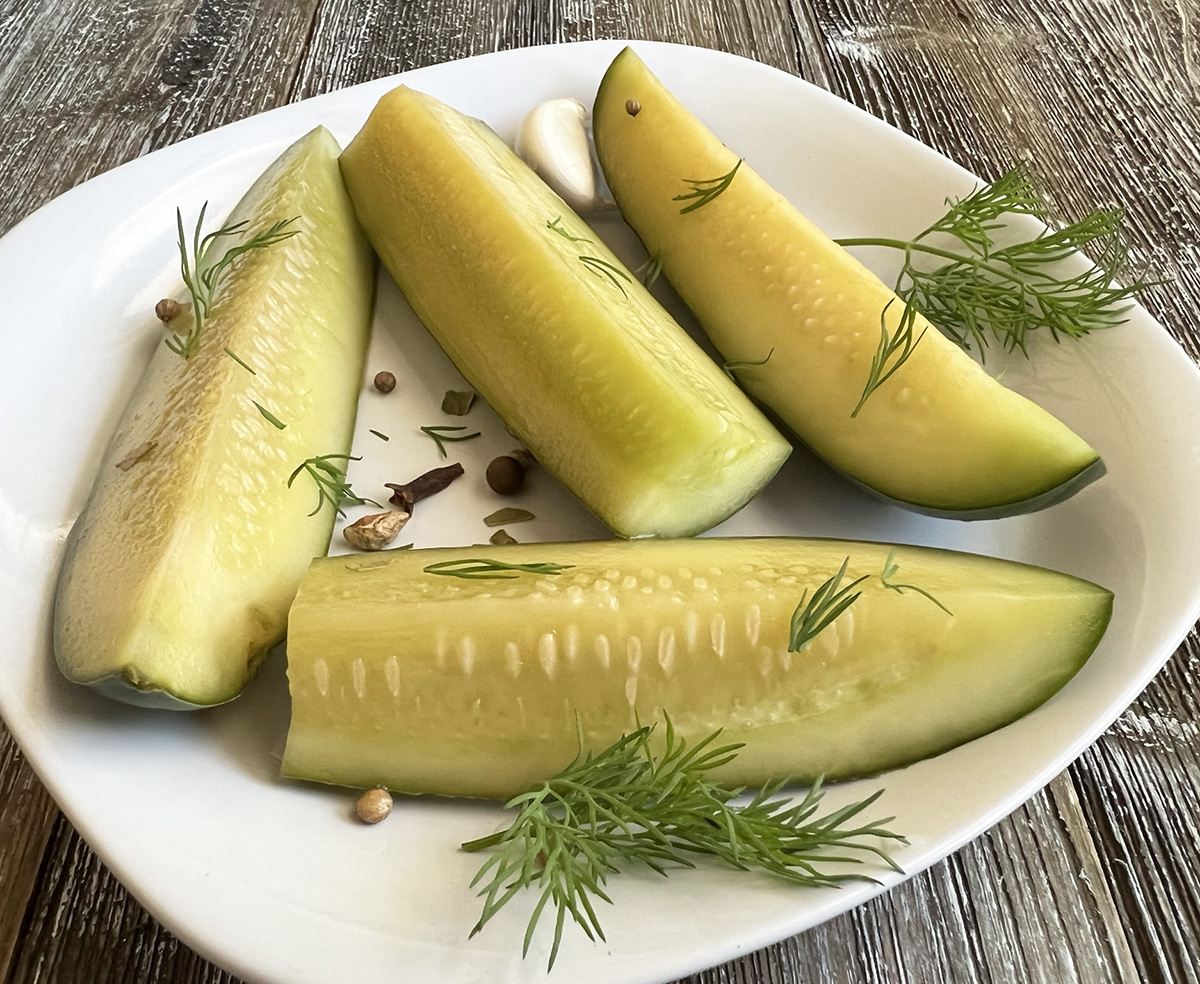 Print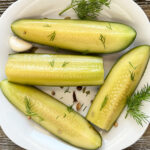 Low Sodium Dill Pickles
---
Author:

Total Time:

15 minutes

Yield:

12 servings
Description
Fresh, vibrant and loaded with flavor, these homemade dill pickles are big on taste and low in sodium. Perfect to enjoy with a sandwich or as a snack and not worry about high sodium content.
---
3

–

4

pickles or kirby cucumbers, cut into wedges

1 cup

cold water

¾ cup

apple cider vinegar

1 ½ tablespoons

pickling spice (without salt)

1 tablespoon

granulated sugar

6

sprigs fresh dill

2

garlic cloves
---
Instructions
In a small saucepan, bring the water, vinegar, pickling spice, and granulated sugar to a boil.
Remove from heat, and let sit for 5 minutes.
Tightly pack the pickle spears, dill, and garlic cloves into a clean 1 quart mason jar.
Pour the brine over the pickles, and let come to room temperature.
Cover tightly with a lid and refrigerate for at least 24 hours for the best flavor.
Store in the refrigerator for up to 2 weeks.
Prep Time:

5 min

Cook Time:

10 min

Category:

Side dish

Method:

Stovetop

Cuisine:

American