This classic, homemade meatloaf recipe is low in sodium and full of all the savory flavors you know and love. Even if you're not keeping a low-sodium diet, this is still one hell of a meatloaf recipe!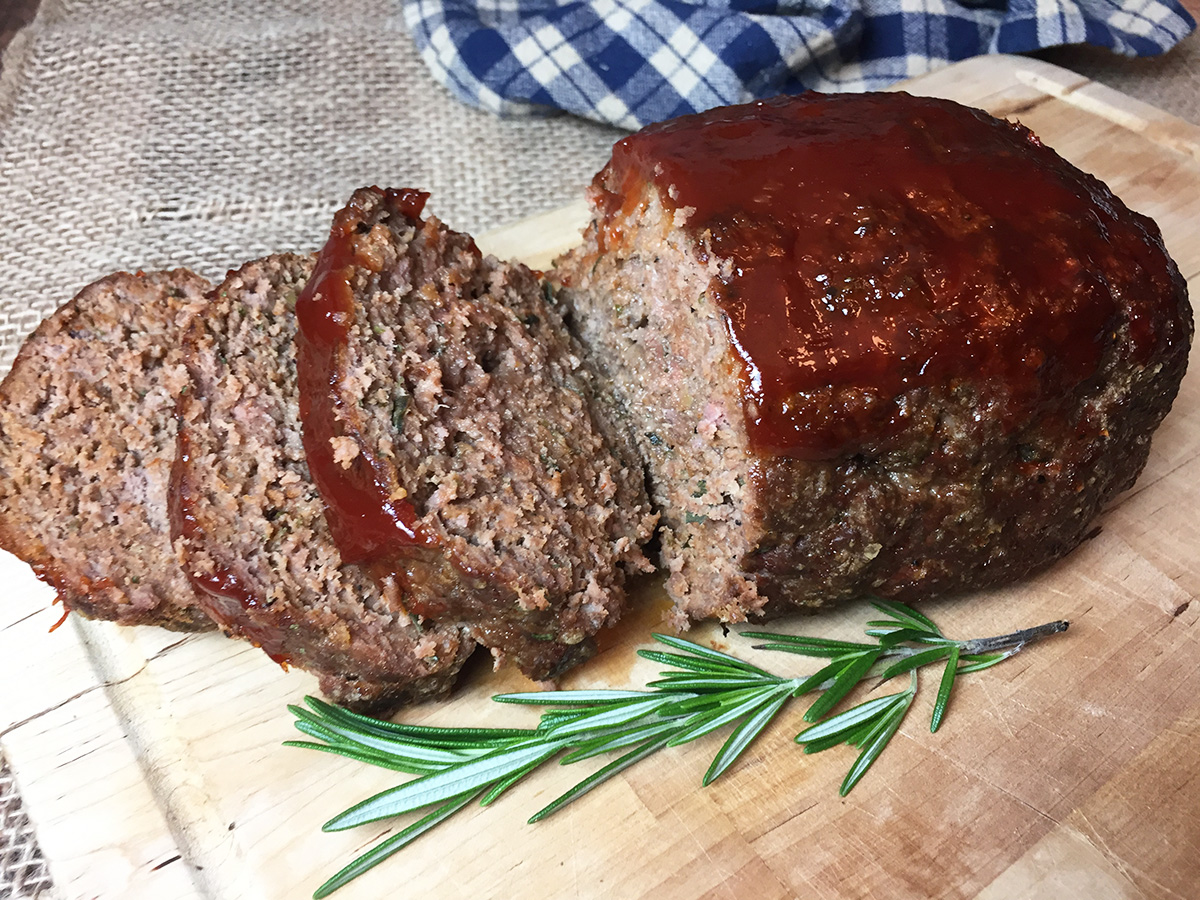 Meatloaf is a comfort food that most people love. Unfortunately most commercial meatloaf recipes and seasonings contain overwhelming amounts of sodium. And by the time you put sauce or gravy on it, you're in full sodium blow out for your daily allowance. Even the "low sodium" versions of commercial meatloaf seasonings are usually only 30% lower and are still way too much for anyone on a low-sodium diet. There has to be a way to enjoy meatloaf without all the sodium, right? The answer is simple… yes!
For this low sodium meatloaf recipe we're gonna let the meat be the star, and accentuate the flavors with some very simple seasonings. Onion powder, garlic powder, black pepper, oregano and parsley are the basics. Also, we'll use some no-salt added ketchup. With a fraction of the sodium of regular ketchup, the no-salt version makes an awesome addition to this recipe both as a main ingredient as well as a glaze on top. I've tried many different combinations and amounts of seasonings in meatloaf recipes and i've found the measurements used in this recipe to be the very best. For the breadcrumbs, we'll use panko breadcrumbs which are naturally low sodium. Regular brand breadcrumbs can have as much as 400mg of sodium per ½ cup. Panko breadcrumbs only have 40mg per ½ cup. Already we're saving huge amounts of sodium.
This meatloaf recipe is not only low in sodium, but it's so savory and delicious, that everyone can enjoy it and will be in disbelief at how amazing it is. Give it a try. I hope you'll love it as much as I do!
Print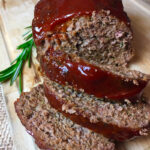 Low Sodium Meatloaf
---
Description
A low-sodium, hearty classic meatloaf with all the savory flavor you know and love.
---
1 ½

lbs lean ground beef

¾ cup

Panko breadcrumbs

½ cup

no-salt added ketchup, divided

1 ½ tablespoons

dried parsley flakes

1 tablespoon

onion powder

2 teaspoons

dried oregano

1 teaspoon

fresh ground black pepper

1 teaspoon

garlic powder

1

large egg
---
Instructions
Preheat oven to 350°(F)
In a large bowl, use hands and mix all ingredients except for ¼ cup of the ketchup
Shape meat mixture into a loaf and place in a greased baking pan. It does not need to touch the sides. A 9.5″ x 5″ loaf pan works best.
Bake at 350° for 45 minutes. Brush remaining ketchup over meatloaf and bake another 15 minutes for a total of 60 minutes. Internal temp when done should be 165°(F).