This classic, homemade meatloaf recipe is low in sodium and full of all the savory flavors you know and love. It uses simple pantry-common ingredients and is ready in about one hour.
Approximate sodium content: 71mg per serving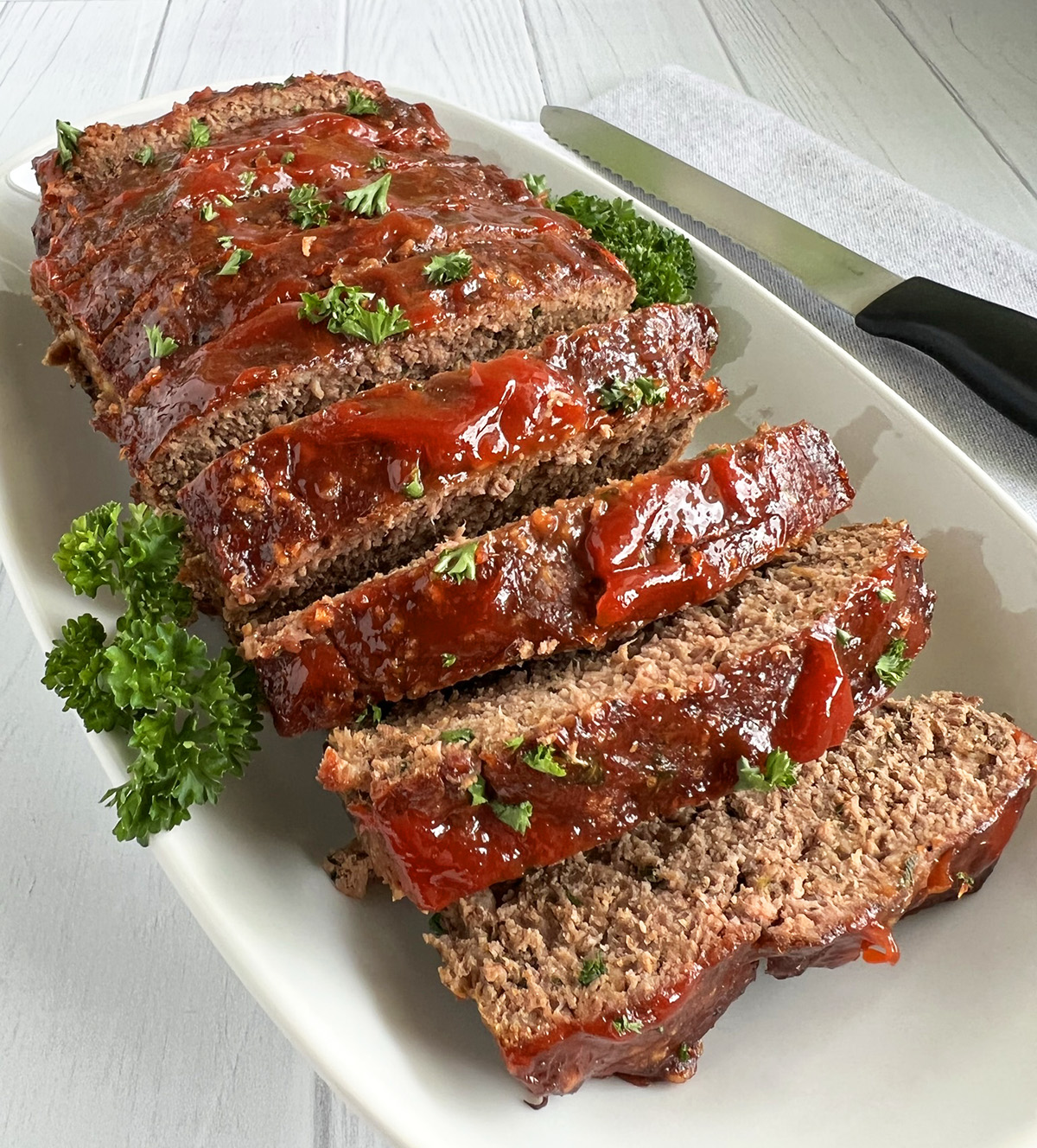 Meatloaf is one of those comfort foods that has seemingly been around forever. A staple of American foods, it's hearty, easy to make, and tastes so good! Of course, meatloaf is usually loaded with sodium. One serving of meatloaf typical meatloaf can often be as high as 400mg of sodium. Let's lake a look at how we can still enjoy this classic favorite, with about half the sodium.
Ingredients
Meatloaf, at it's most basic, is really just ground beef (and sometimes ground pork), egg, breadcrumbs and seasonings and ketchup. The sodium culprits in regular meatloaf is the pork, breadcrumbs, ketchup, and seasonings such as Worcestershire sauce and seasoning packets. Unfortunately, those packets are loaded with sodium. But for this recipe, our aim is to use simple, common ingredients for flavoring that have little or no sodium at all, while creating that savory taste and texture of meatloaf that we know and love so well.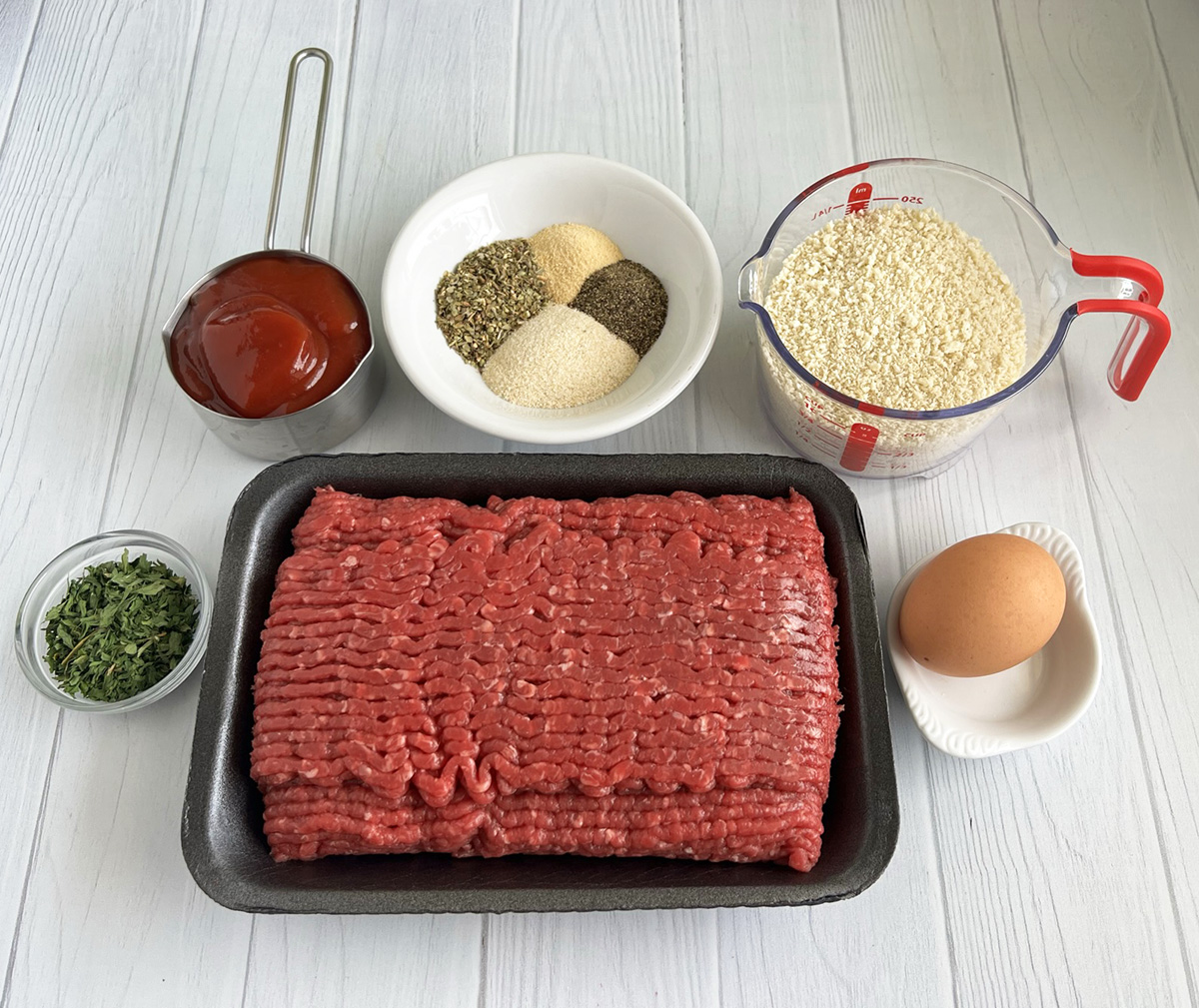 Instead of regular breadcrumbs, we use panko breadcrumbs. Panko breadcrumbs contain almost 40% less sodium than most regular breadcrumbs. And as far as taste and texture, you won't notice it a bit. Commercial ketchup can have almost 200mg of sodium per serving. Now, no-salt added ketchup is common on many supermarket shelves and contains only about 5mg of sodium per serving. With the ketchup alone we're saving massive amounts of sodium.
For seasonings, we skip any Worcestershire altogether. Instead, we use onion powder and garlic powder for the savory flavors, along with oregano and parsley for a touch of herb brightness. And finally, some black pepper. We only use 1 teaspoon of ground black pepper, but it really adds a nice vibrance to the flavor profile. It's all held together with just 1 egg.
Sodium Notes By Alex G., Registered Dietitian
A typical meatloaf recipe made at home could easily contain between 400-600 mg of sodium in one 4 oz serving due to sodium filled ketchup and salty seasoning powders. Even worse for your sodium budget, a restaurant serving can contain as much as 930 mg per serving, due to the flavoring coming from added salt or possibly MSG. This savory and delicious recipe saves you hundreds of milligrams of sodium by making simple yet highly flavorful swaps. The use of onion and garlic powders here amp up the savory taste and add only about 10 mg of sodium for the entire meatloaf. Adding herby dried parsley and oregano and no-salt added ketchup also helps create the Italian inspired flavor you crave in a good meatloaf recipe, without the heavy dose of sodium. Make sure to choose plain, unseasoned panko breadcrumbs to avoid sneaky additional sodium.
Preparation
I think we can all agree that we love recipes that are nice and easy. For the most part, we're just throwing most of the ingredients into a large bowl and mixing it with our hands. Start by preheating your oven to 350°(F). Add all the ingredients, except for ¼ cup of ketchup into a large bowl and use your hands to work it all together.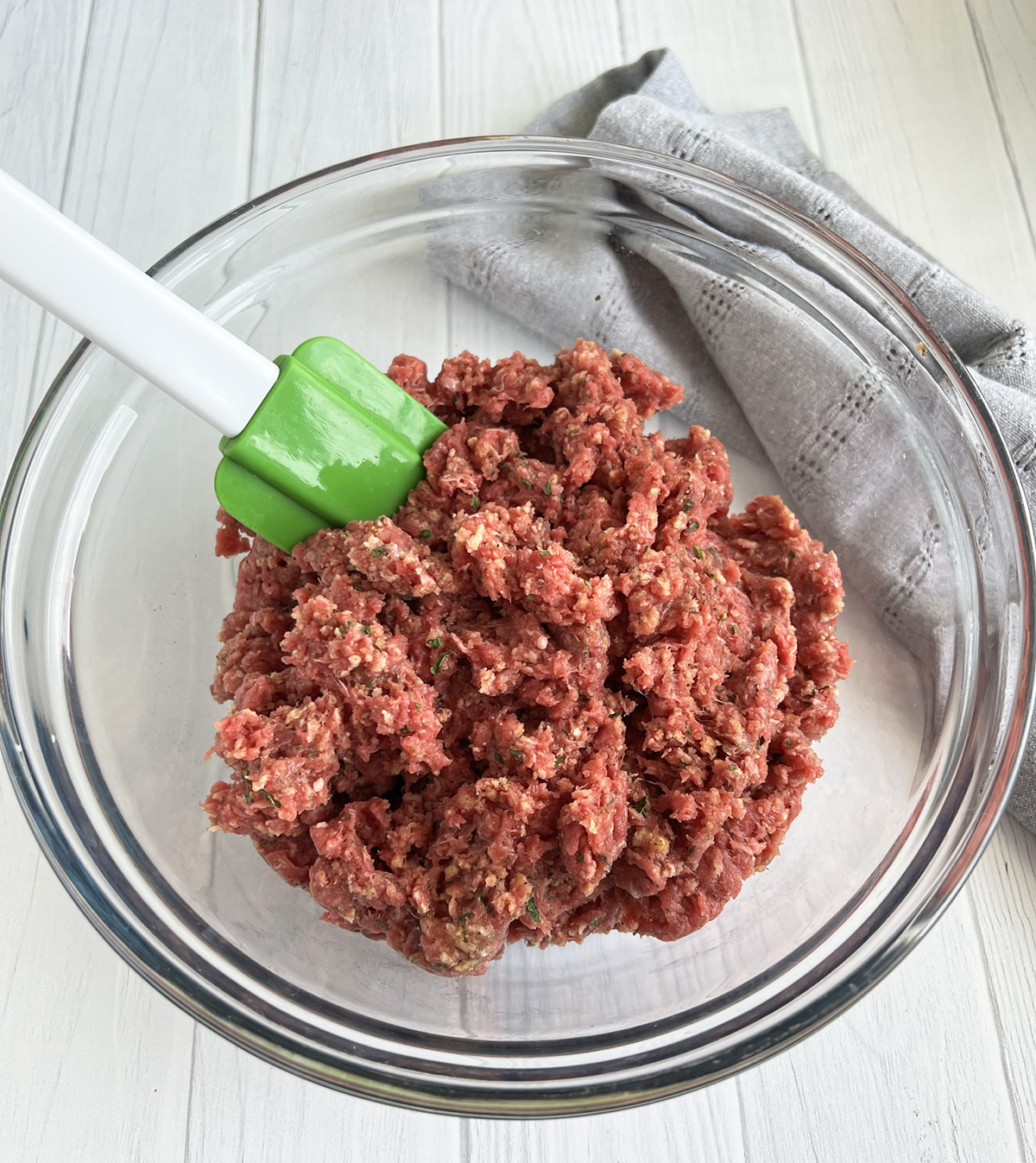 After working all the ingredients together, shape the meat into a loaf and place it in a 5″x9″ glass loaf pan. Spray the inside of the dish with a little non-stick cooking spray first. You don't have to press the loaf too tightly, just lightly form it if possible.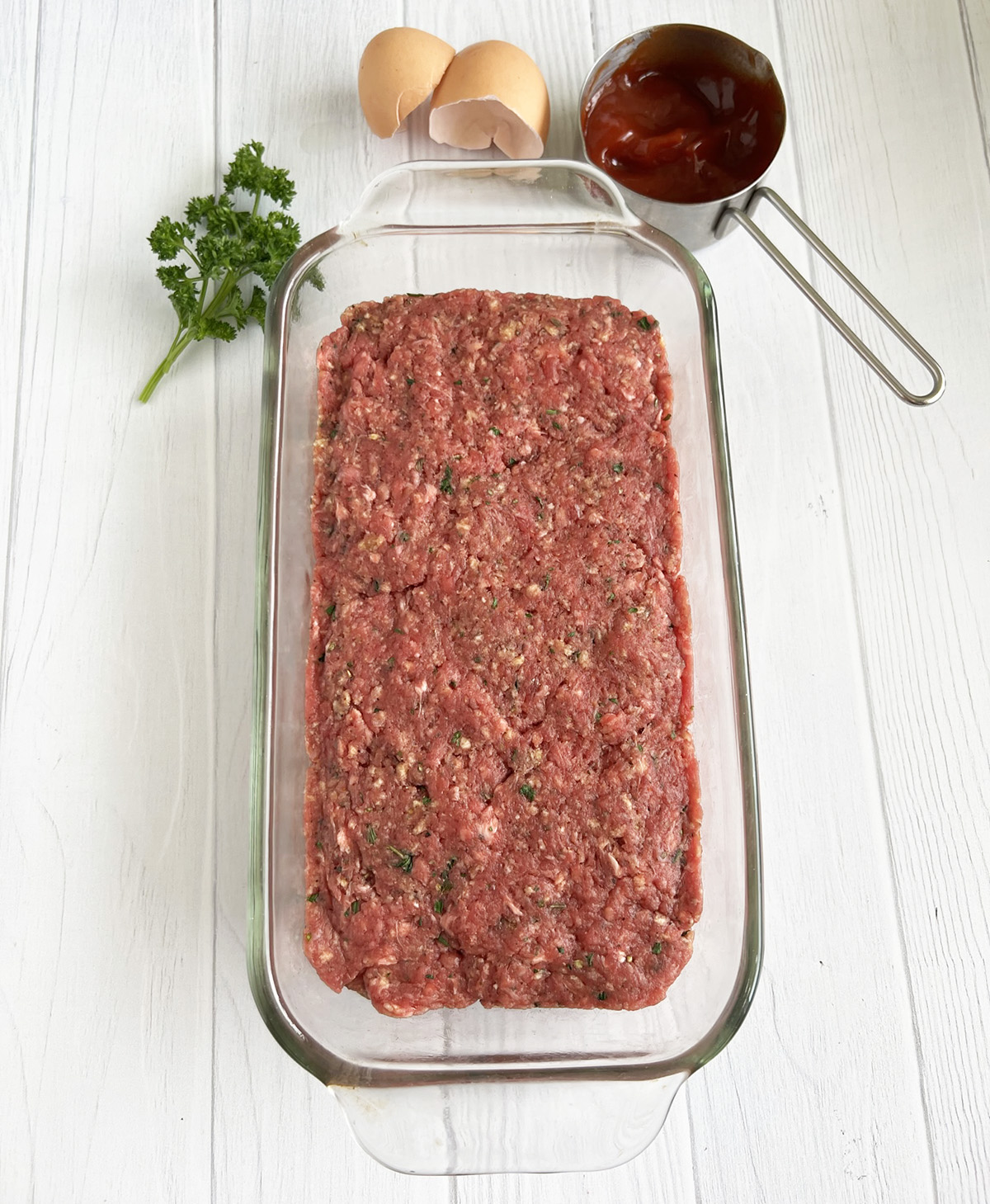 Cook at 350°(F) for a total of 1 hour
Time for the meatloaf to go into the oven, uncovered, at 350°(F) for 15 minutes. After 45 minutes, carefully remove from oven and apply the remaining ¼ cup of ketchup. Simply brush over the top of the meatloaf and back in the oven it goes, uncovered, for another 15 minutes.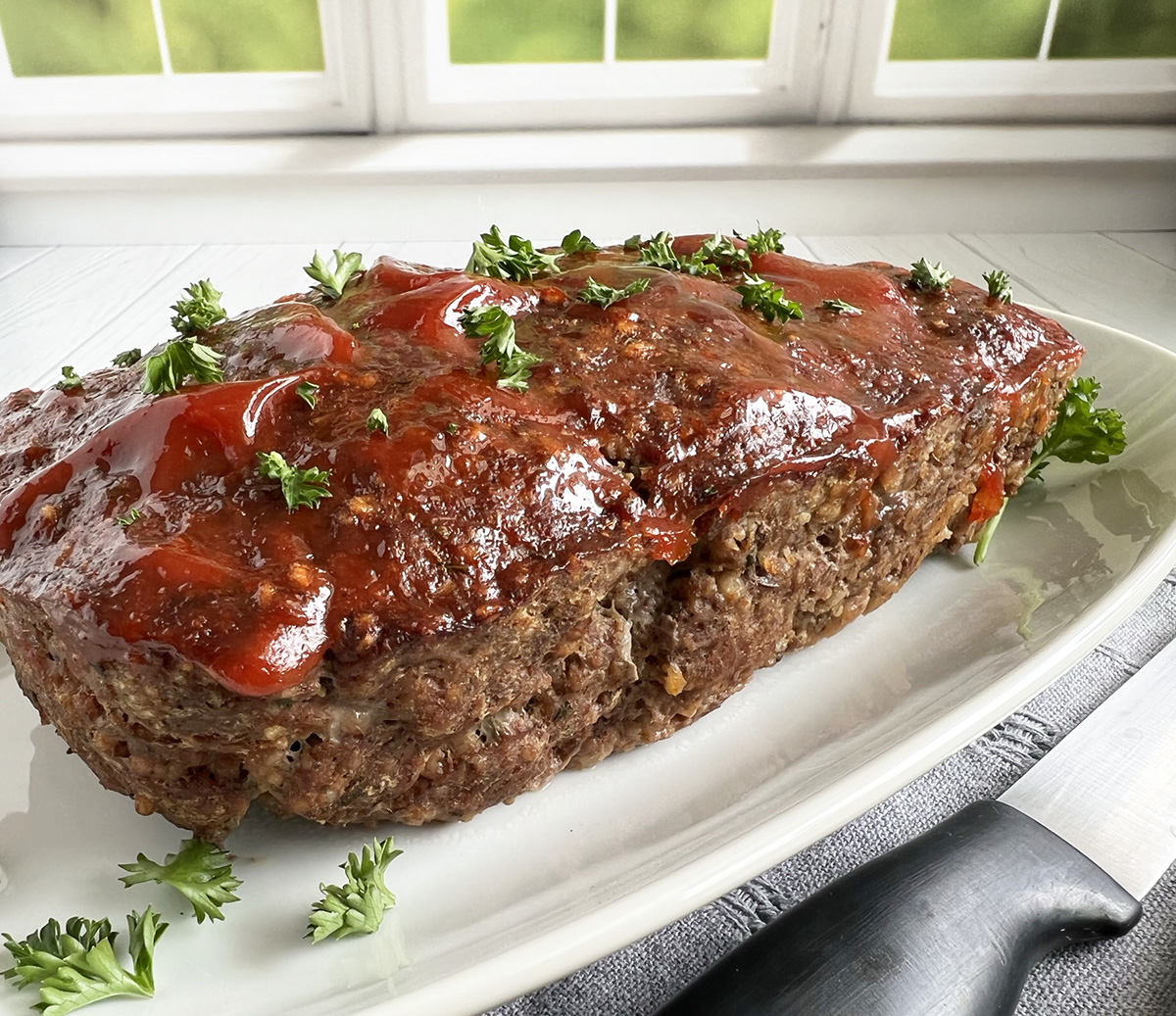 Carefully remove meatloaf from oven and let rest for about 10 minutes before slicing.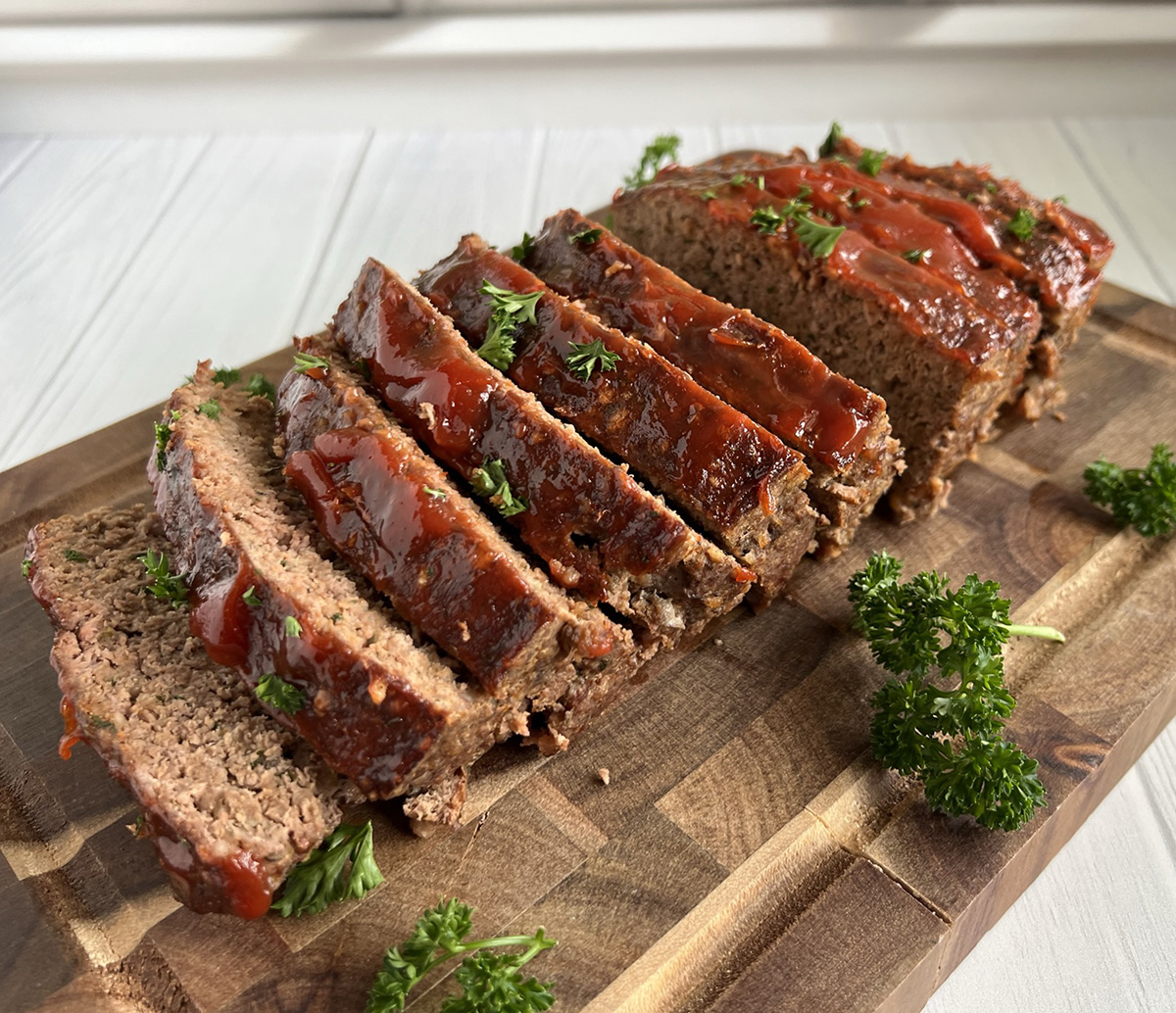 Serving Suggestions
Quite naturally, meatloaf pairs well with a baked potato, fresh green beans, or just about any other fresh green vegetable. Broccoli or green beans are excellent for low sodium diets and you can really bump up the taste of veggies with a little lemon juice.
Storage and Reheating
Store leftover meatloaf in an air tight container in the refrigerator for up to 3 days. Reheating is as simple as placing in the microwave oven for a minute or two. For best results, you can add a teaspoon of water to each slice prior to placing in the microwave to help prevent drying out. To reheat on a conventional oven, place slices of meatloaf on a baking sheet or foil and heat at 350°(F) for about 10 minutes.
You can also freeze leftover meatloaf. Wrap it tightly with foil or plastic, and then in an air tight container or freezer bag. Store frozen for up to 3 months.
Print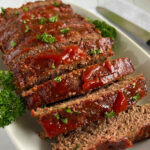 Low Sodium Meatloaf
---
Author:

Total Time:

1hr 5min

Yield:

8-10 slices

Diet:

Low Salt
Description
A low-sodium, hearty classic meatloaf with all the savory flavor you know and love.
---
1 ½

lbs lean ground beef

¾ cup

Panko breadcrumbs

½ cup

no-salt added ketchup, divided

1 ½ tablespoons

dried parsley flakes

1 tablespoon

onion powder

2 teaspoons

dried oregano

1 teaspoon

fresh ground black pepper

1 teaspoon

garlic powder

1

large egg
---
Instructions
Preheat oven to 350°(F)
In a large bowl, use hands and mix all ingredients except for ¼ cup of the ketchup
Shape meat mixture into a loaf and place in a greased baking pan. It does not need to touch the sides. A 9.5″ x 5″ loaf pan works best.
Bake at 350° for 45 minutes. Brush remaining ketchup over meatloaf and bake another 15 minutes for a total of 60 minutes. Internal temp when done should be 165°(F).
Notes
*This recipe and all the recipes on EasyLowSodiumRecipes.com are meant to offer alternatives for individuals seeking low sodium recipes. These recipes DO NOT follow any specific medical guidelines for individual diet needs or specific sodium restrictions. Be sure to check with a medical professional regarding your individual sodium and dietary needs. 
Prep Time:

15 min

Cook Time:

60 min

Category:

Dinner

Method:

Oven

Cuisine:

American