Enjoy all the delicious Mexican flavor of taco seasoning without all the sodium of commercial brands. Our homemade seasoning uses no added sodium and has only a trace amount per serving.
Approximate sodium content: 5mg per serving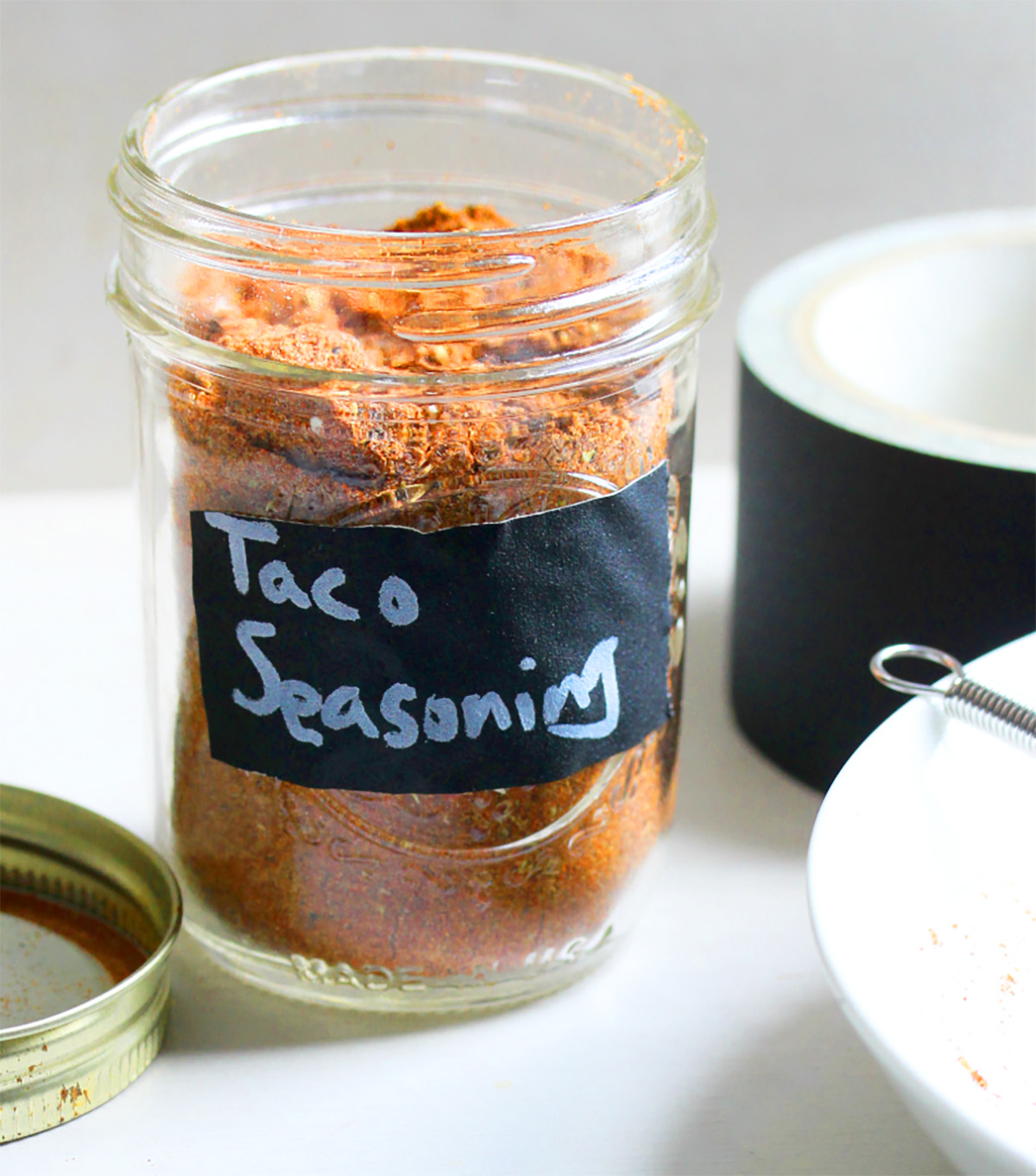 We all love tacos, right? Sure we do. But taking a look at the sodium content of tacos can be overwhelming to say the least. Let's start by making adjustments to the main ingredient in the first place – the taco seasoning.
What is Taco Seasoning?
Taco seasoning is a blend of spices which is common in Mexican cuisine. The main ingredients in traditional taco seasonings are chili powder (usually with salt), salt, cumin, and a few other spices. The cumin, especially, is the signature flavor and, thankfully, contains insignificant sodium. Some commercial taco seasoning actually list salt twice in the ingredients! It will list salt, then somewhere else in the list may have sea salt. Do we really need all that? If we're watching our sodium intake we sure don't!
Ingredients for Low Sodium Taco Seasoning
You may be surprised, but you probably have most of these ingredients already in your pantry or spice rack. The one thing to check is the chili powder. Some chili powder contains salt, some does not. You have to take a close look at the ingredients. One popular brand, Morton & Bassett has a chili powder which clearly says "salt free" on the front and is available in most supermarkets.
Cumin is the signature flavor of most Mexican and Latin cuisine, as well as taco seasoning.
Paprika is made from a variety dried and ground peppers (Capsicum annum). Paprika has a very mild flavor and is especially prized for it's red color.
Onion powder of course, is a powerhouse of popularity and ubiquitous just about every spice rack. Just make sure you're reaching for onion powder and not onion salt. The two can look very similar but the onion salt will be clearly labeled as such.
We round out out taco seasoning with oregano, black pepper and red pepper flakes. All of which contain no or insignificant traces of sodium.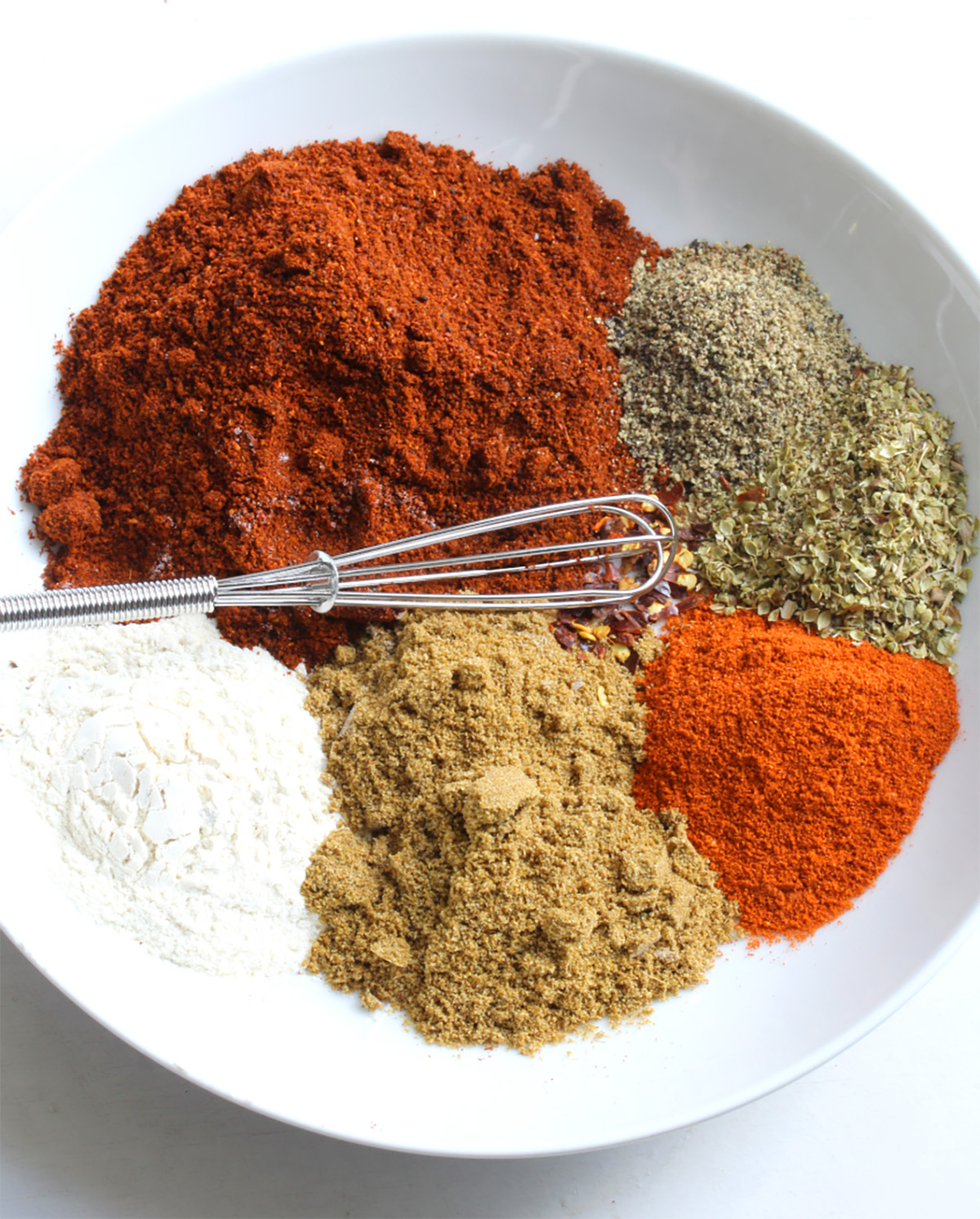 Sodium Notes By Alex G., Registered Dietitian
This Low Sodium Taco Seasoning is the key to enjoying some of your favorite Mexican flavors without setting aside your low sodium goals. The low sodium flavors that combine in this recipe to give the expected taste include the savory onion powder, the earthy, rich flavor of cumin, brightness from the paprika, and herby oregano. A very popular packet of typical taco seasoning ends up adding about 300 mg of sodium to a serving of tacos, before adding in any other ingredients like the tortilla or shell, cheese, or hot sauce. If you add in the sodium in a typical seasoning packet, taco shell or tortilla, and any other toppings, even a homemade taco made in a traditional American way is very high in sodium. A single fast-food restaurant taco could have as much as 490 mg of sodium. By starting your meal prep with this seasoning, you'll be much closer to your lower sodium diet goals.
Making Taco Seasoning
Now that we have all of our ingredients measured out, here's the simple part – mix them all together. No need to crush, grind, cook, toast or anything like that. In fact, the best way to do this is to put all the ingredients in a mason jar, whisk them together, close the jar and shake away! Now you already have your taco seasoning in it's container and ready to go whenever you need it.
The serving size for our low sodium taco seasoning is 2 tablespoons. So if you're making taco meat, you would add 2 tablespoons per pound of meat. Our taco seasoning recipe makes about 12 total tablespoons.
Print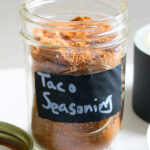 Low Sodium Taco Seasoning
---
Author:

Total Time:

10 minutes

Yield:

12 servings

Diet:

Low Salt
Description
This easy low sodium taco seasoning is loaded with flavor and uses simple, pantry friendly ingredients. Enjoy your favorite recipes again without all the massive sodium of traditional taco seasoning.
---
½ cup

chili powder (no-salt)

3 tablespoons

onion powder

3 tablespoons

cumin

1 tablespoon

dried oregano

1 tablespoon

paprika

1 tablespoon

freshly ground black pepper

1 teaspoon

red pepper flakes

1 teaspoon

hot smoked paprika (optional)
---
Instructions
Place all of the ingredients in a large bowl, and whisk well to combine.
Spoon ingredients into a jar, and cover tightly.
Can be kept for up to 3 months.
Notes
*This recipe and all the recipes on EasyLowSodiumRecipes.com are meant to offer alternatives for individuals seeking low sodium recipes. These recipes DO NOT follow any specific medical guidelines for individual diet needs or specific sodium restrictions. Be sure to check with a medical professional regarding your individual sodium and dietary needs. 
Prep Time:

10 min

Category:

Seasoning

Cuisine:

Mexican