This easy, slow cooker Mexican chili recipe is big on south-of-the-border flavors, while being low in sodium. We use an excellent combination of ingredients to a create very satisfying, full-flavored chili that's perfect for any occasion. You won't miss the sodium at all!
Approximate sodium content: 147mg per serving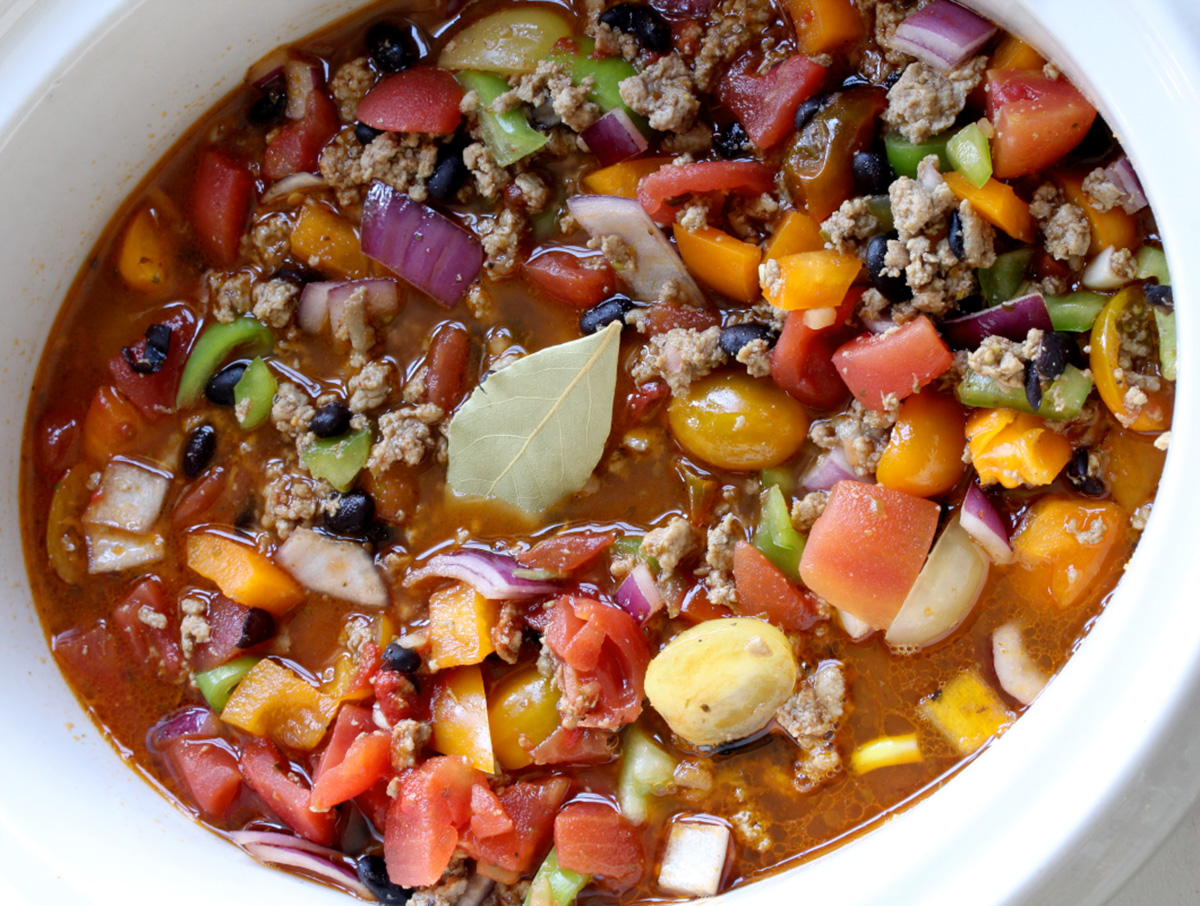 Using your Crock-Pot or other slow cooker ensures that all the flavors spend plenty of time getting to mingle and come together to form a superior flavor base for this excellent chili recipe.
Sodium Notes by Alex G., Registered Dietitian
In this Low Sodium Slow Cooker Mexican Chili, rich chili flavor is developed through several low sodium tricks. Browning the meat before adding it to the slow cooker creates a richer flavor in the finished dish, and a small serving of coffee also adds to the complexity of flavors in this chili. You'll still get all the traditional chili taste you expect by using no salt added chili powder, cumin, and the low sodium taco seasoning blend while saving ~250-600 mg of sodium per serving versus popular premade seasoning packets. Be careful if you usually add a handful of shredded cheese or crackers to your bowl before eating, as both could add a substantial amount of sodium to your low sodium chili. Instead, use the suggested toppings to add some crunch and brightness – any combination of green onions, raw onions, or fresh cilantro will add a fresh contrasting element to the savory chili without adding salt.
What is Mexican Chili?
We use many of the traditional chili ingredients and add some additional flavors and characteristics more common in Mexican cuisine.
Our low sodium taco seasoning will be used to help season the meat. So right away we're getting that flavor base started with some nice flair.
Black beans will replace to more popular kidney, pinto or "chili" beans found in most chili recipes. Black beans have such a wonderful flavor and texture and are the perfect additional to this recipe.
We'll also see the use of additional cumin, more bell peppers, and diced red onions, all of which add to the fiesta of flavors.
Ingredients
For this recipe we'll be using a combination of fresh and canned ingredients. I just love the fact that supermarkets now carry SO many low-salt and no-salt-added foods. The no-salt added black beans and no-salt added diced tomatoes are plentiful and most well-stocked grocery stores. For the chili powder, make sure you're using one that does not include salt in the ingredients. Most chili powders do not contain salt, but some do so we have to be aware of that.
You'll notice the recipe includes ½ cup of brewed coffee. This isn't meant to keep you awake while making the recipe. Rather, the coffee really helps deepen the flavor base. You won't notice a coffee flavor at all in the final dish.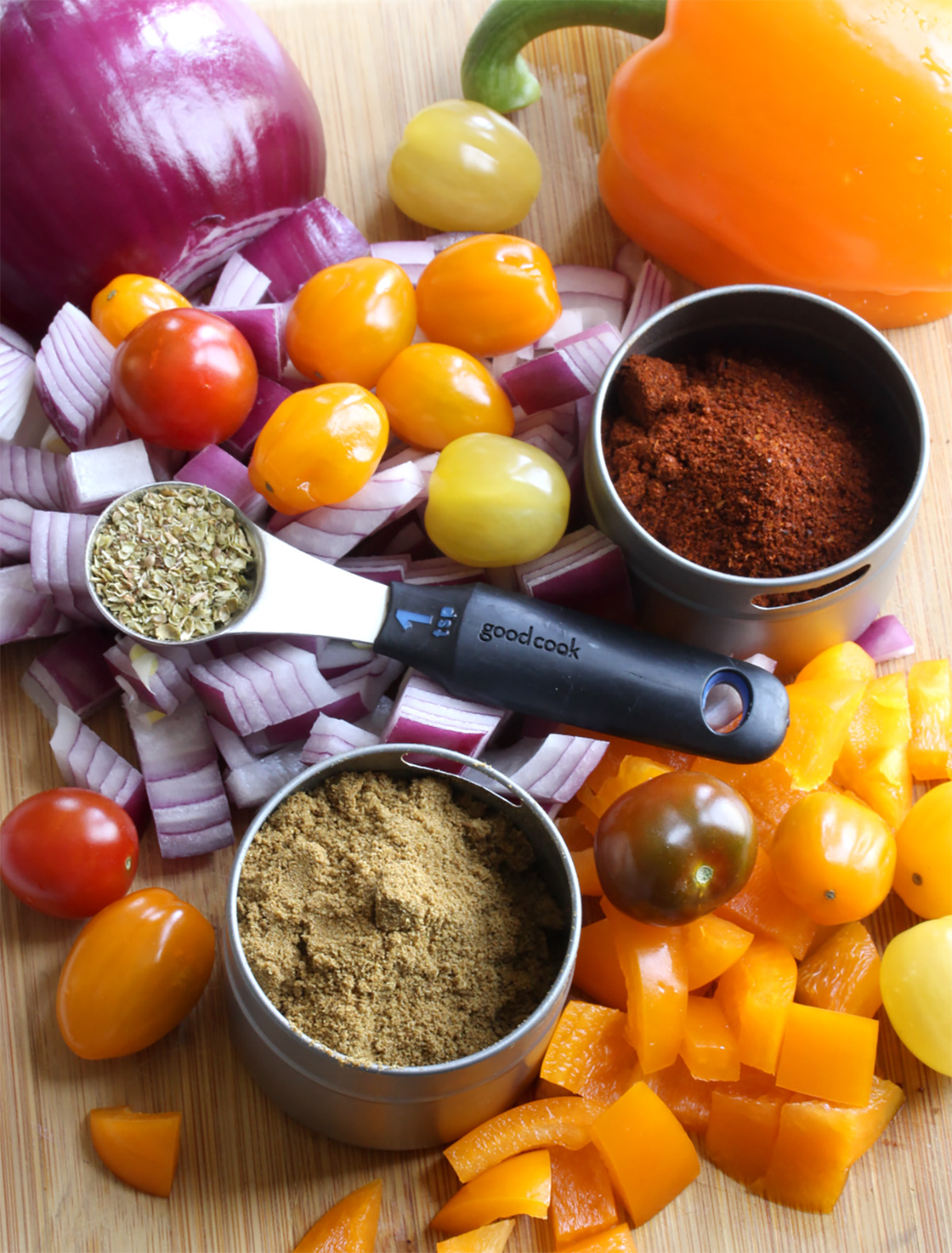 Preparation
Our recipe actually starts out on the stovetop where we'll use a large frying or cooking pan to brown and season the meat. Start by adding the 1lb of ground beef to the pan over medium heat. Brown it just as you would brown meat for any other recipe. It usually takes about 5 minutes. When done, drain all but a small amount (about 2 teaspoons) of the fat. Now add the low sodium taco seasoning and stir it all in, with the heat on low for about 1 minute, then remove from heat.
Add ¼ cup of the beef broth and use a wooden to scrape any stuck on bits on the bottom of the pan. This is called deglazing. All those little bits are loaded with flavor! Now pour the whole pan of meat and juices into the slow cooker.
Add all the remaining ingredients, stir it all up, place the lid on and let the slow cooking begin!
Slow Cook
Many slow cookers will show both a "cook on high" and "cook on low" for cooking time. We're gonna skip the cook on high for this recipe. We want those ingredients to spend a lot of time together so it will be a classic all-day, slow cooker experience. Trust me, you'll love the flavors as a result!
Let it all cook on low for 8 hours.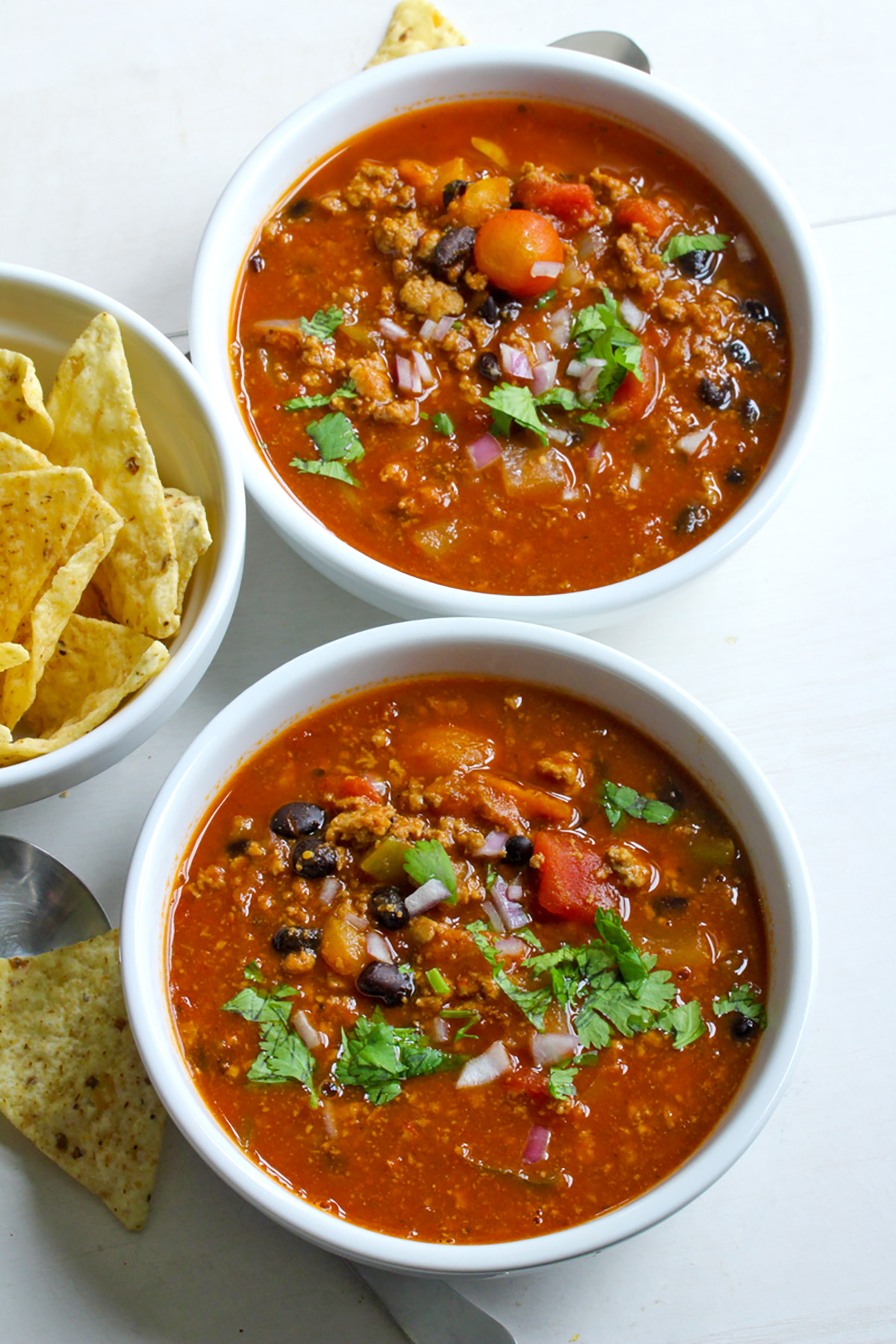 Serve
The time has come to ladle your chili into a bowl and enjoy! Add some additional flavor and texture with add-ins such as green onions, raw onions, fresh cilantro.
Print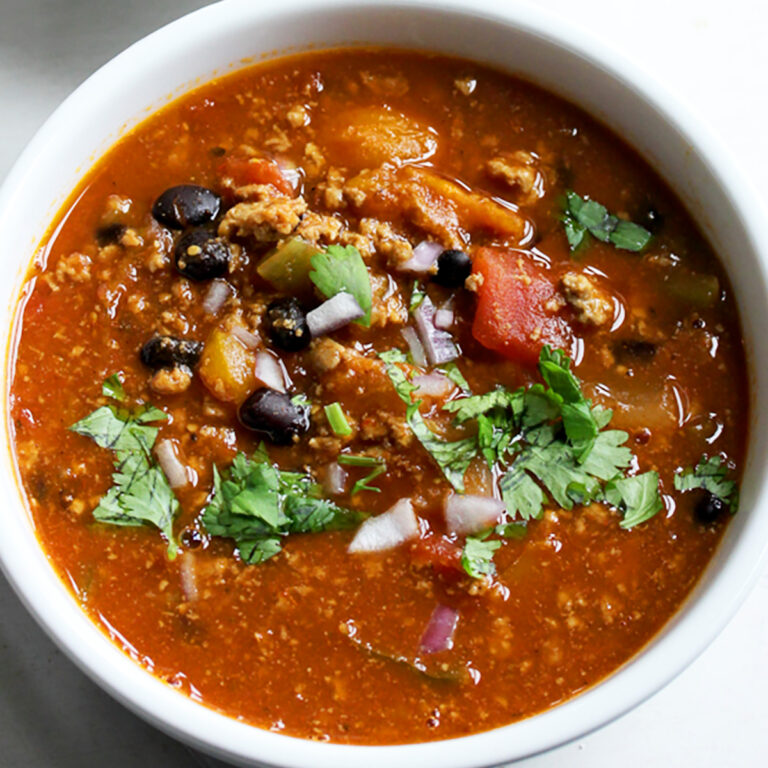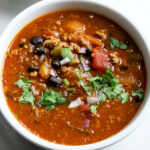 Low Sodium Slow Cooker Chili
---
Author:

Total Time:

8 hours 15 minutes

Yield:

4-6 servings
Description
The combination of pantry items and fresh from the produce aisle/garden/farmers market ingredients makes this flavorful chili both incredibly convenient, beautiful and low in sodium
---
1

lb. lean ground beef or ground turkey

½ teaspoon

black pepper

1 ½ teaspoons

Low Sodium Taco Seasoning

1 cup

unsalted beef broth

½ cup

brewed coffee

2

(15 oz.) cans no-salt added black beans, drained and rinsed

1

large diced red, yellow, orange, or green bell pepper (Or, a combination of a variety of colors that equals

1 ½ cups

of diced pepper.)

1

medium red onion, diced

1

can no-salt added diced tomatoes

1 cup

whole grape or cherry tomatoes

2 teaspoons

ground cumin

1 ½ teaspoons

chili powder (no-salt)

1 teaspoon

dried oregano

1

bay leaf
---
Instructions
Sauté the beef in a large frying pan over medium heat, breaking into small pieces. Season with black pepper.
When the meat is browned and fully cooked, pour off all but approximately 2 teaspoons grease.  Add the Low Sodium Taco Seasoning, and stir over low heat for 1 minute. Remove from heat.
Pour in a ¼ cup of the beef broth and deglaze the pan, making sure to stir up all of the browned bits from the bottom.
Place the seasoned meat, and all remaining ingredients in a 5-6 quart slow cooker. Stir well.
Cover and cook on low heat for 8 hours.
Garnish with cilantro and finely diced red or white onion.
Prep Time:

15 min

Cook Time:

8 hours

Category:

Dinner

Method:

Slow Cooker

Cuisine:

Mexican