With a delicious crust made from panko breadcrumbs and horseradish, this low sodium pork tenderloin recipe is loaded with vibrant and savory flavors, all while keeping the sodium to a minimum. An excellent recipe that's easy to make and perfect for any night of the week.
Approximate sodium content: 140mg per serving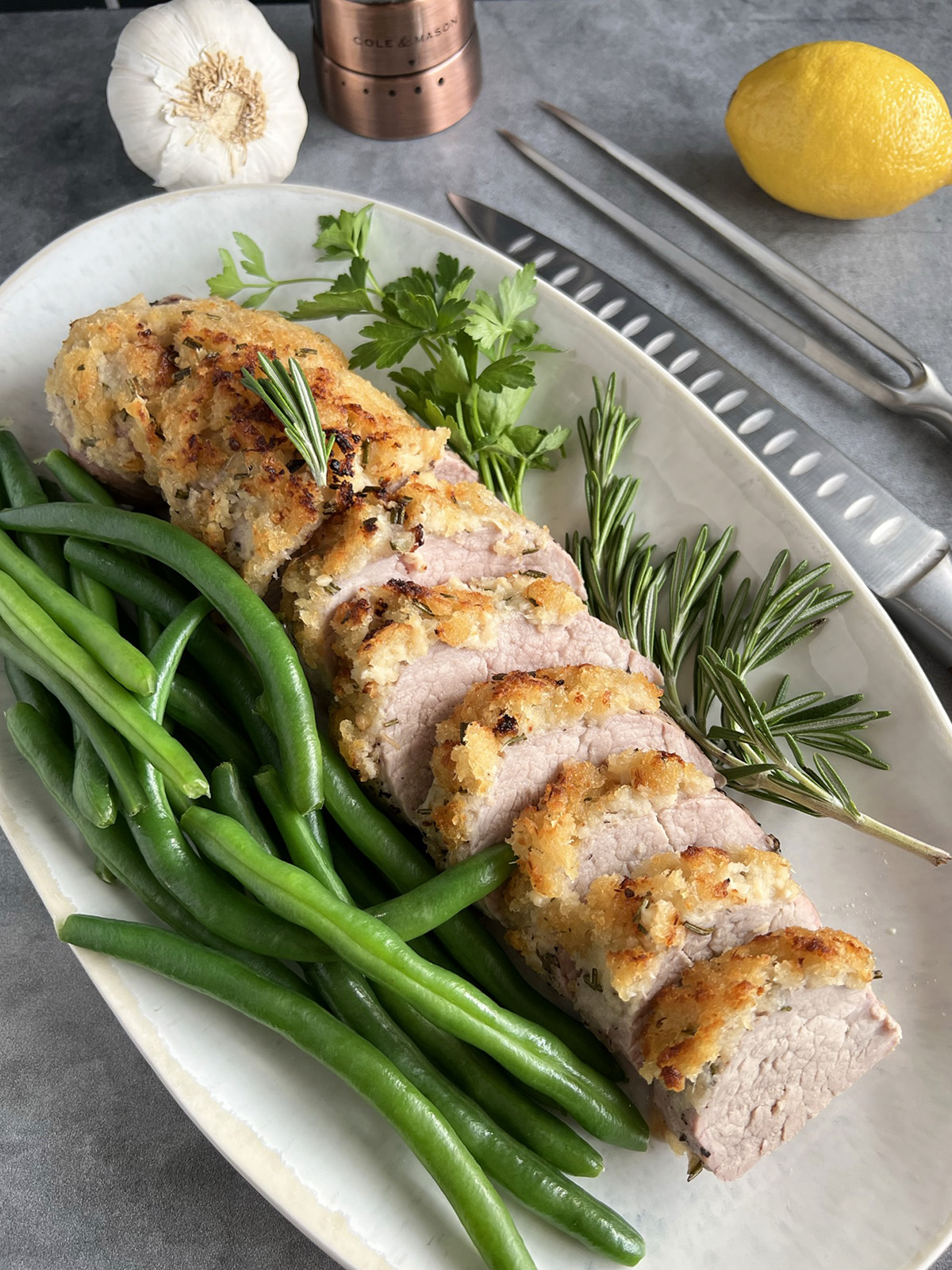 This is one of those recipes that you can be "proud of" after making it. We'll get so much flavor from the horseradish, lemon juice and garlic, making you forget all about the salt shaker.
What is Pork Tenderloin?
Pork tenderloin is a long, round cylinder shaped piece of meat which runs along the backbone of the pig. There are 2 tenderloins per pig. It is not a very active muscle and is strictly used for posture, therefore it doesn't have a lot of connective tissue and is very lean. Each tenderloin weighs around .75lb. to 1.5lb. The average pork tenderloin is right around 1lb. each.
It's important to not that pork tenderloin is different than pork loin, which is larger and from a different section. Pork tenderloin will always clearly be marked as "pork tenderloin", not "pork loin" or any other variation.
Ingredients
We start with a pork tenderloin which we want labeled as "natural" or "no added ingredients". This is important because some pork tenderloins will have an added brine, which can be high in sodium. A "natural" pork tenderloin will have approximately 60mg of sodium per 4oz serving.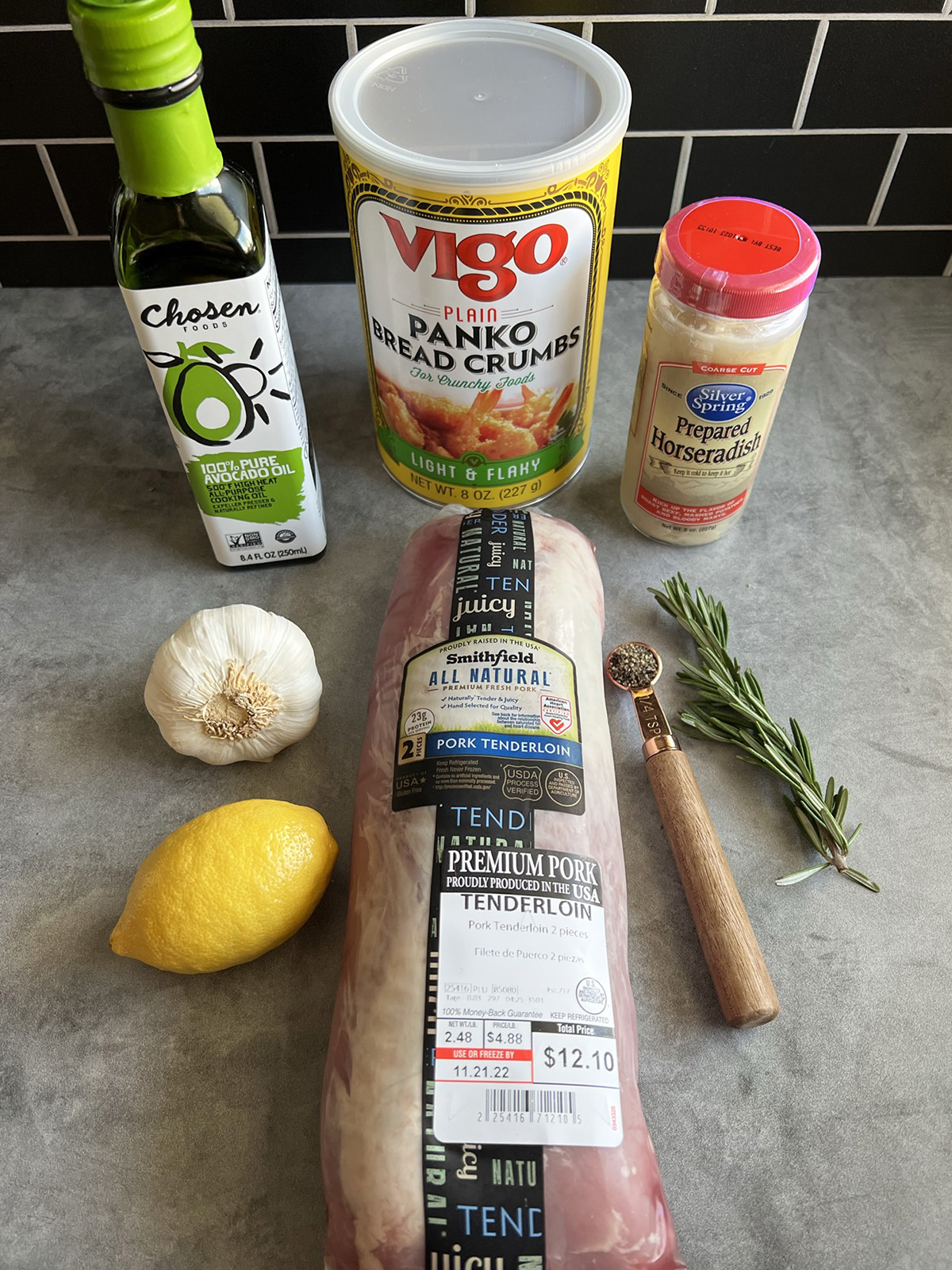 Next we'll need a couple of tablespoons of prepared horseradish. Prepared horseradish is very simply ground horseradish with some vinegar and water. It may contain a very small amount of salt. Be sure not to use a horseradish "sauce", which contains many other ingredients and is usually much higher in sodium. Prepared horseradish is commonly found in the refrigerated section of the supermarket in 8oz jars.
Fresh rosemary is an ingredient which I absolutely love using in low sodium recipes. The flavor and aroma are wonderful and add a very fresh, vibrant taste to the overall flavor profile. For this recipe we'll use ½ tsp of fresh chopped rosemary. Feel free to use as much as a full teaspoon if you'd like. For my taste, you can't go wrong with some extra. If you don't have fresh rosemary, you can certainly use dried, just use only ¼ tsp, as dried can have a much stronger taste.
Panko breadcrumbs will come together with the horseradish to form out crusted topping. Panko breadcrumbs are low in sodium and have nice, light texture. Make sure you use plain panko, and not flavored.
For our oil we'll use avocado oil. It has a very mild flavor and is an excellent healthy fat. It's my oil of choice for recipes such as this. If you don't have avocado oil, you can substitute extra virgin olive oil.
Sodium Notes By Alex G., Registered Dietitian
Meat entrees often rely on table salt or spice blends with added salt to season the dish. In this horseradish crusted pork tenderloin, the complex flavors come from naturally low sodium ingredients like tangy lemon, bold horseradish, and savory fresh rosemary. A crusted pork tenderloin prepared similarly but with conventional ingredients may contain as much as 600-900 milligrams of sodium per serving, while this recipe contains about 140 mg of sodium per serving. As noted above, be sure to check the sodium content of the pork tenderloin that you purchase since the amounts of added sodium per brand can vary widely.
Preparation
For this recipe we'll use just one tenderloin. Remove from package, rinse with cool water and pat dry. Even though pork tenderloin is super lean, there may be a little fat still connected and also a thin layer of "silverskin" which can easily be trimmed away. Rub about 1 tsp of olive oil on the pork tenderloin and add the ground pepper and garlic. This allows us to get some excellent flavor on all sides of the pork.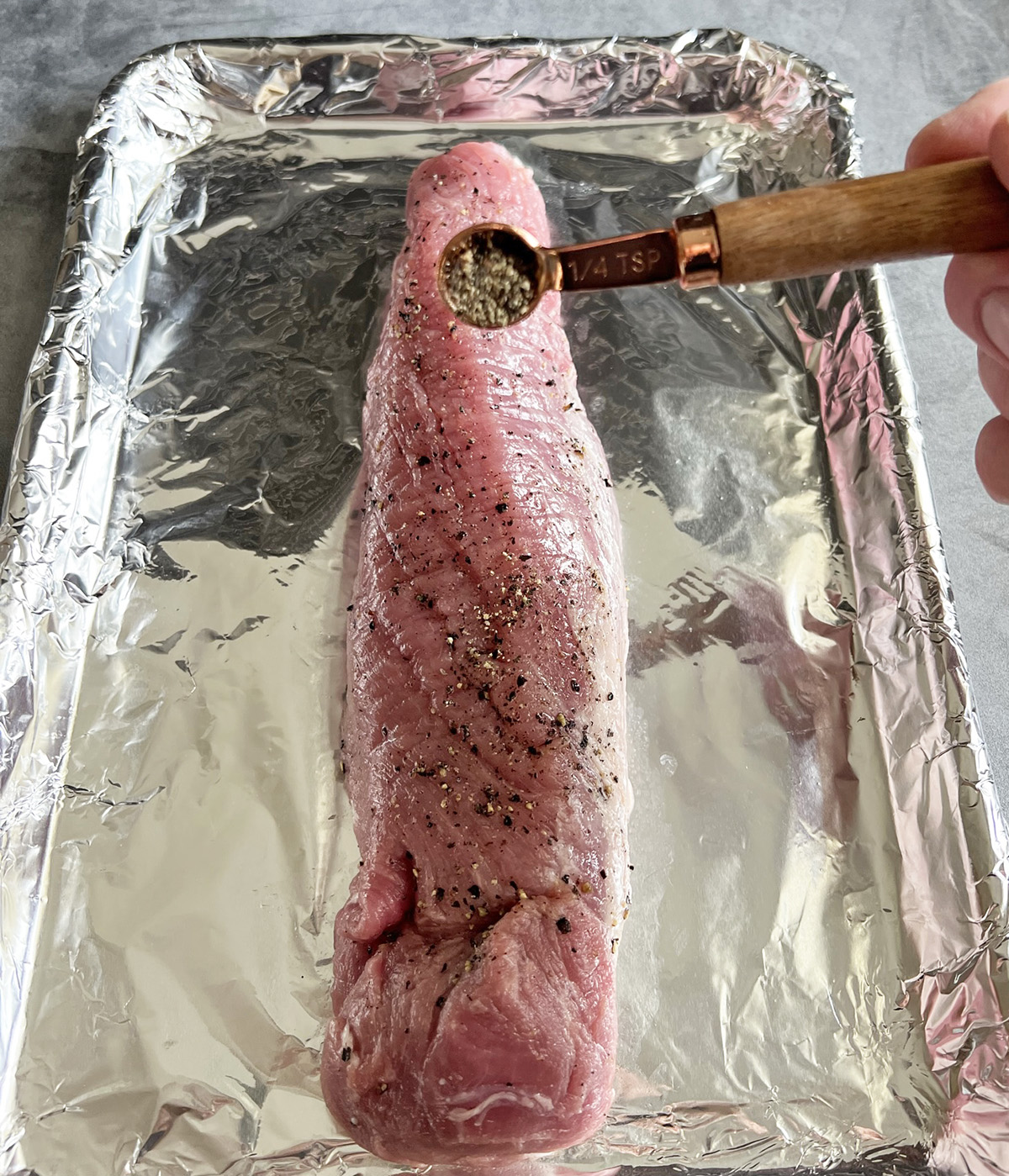 In a bowl, mix together the panko breadcrumbs, prepared horseradish, remaining avocado oil, lemon juice and rosemary. Once it's all mixed together, add it to the top of the pork tenderloin to create a crust-like topping. Go ahead and press it in and spread it out.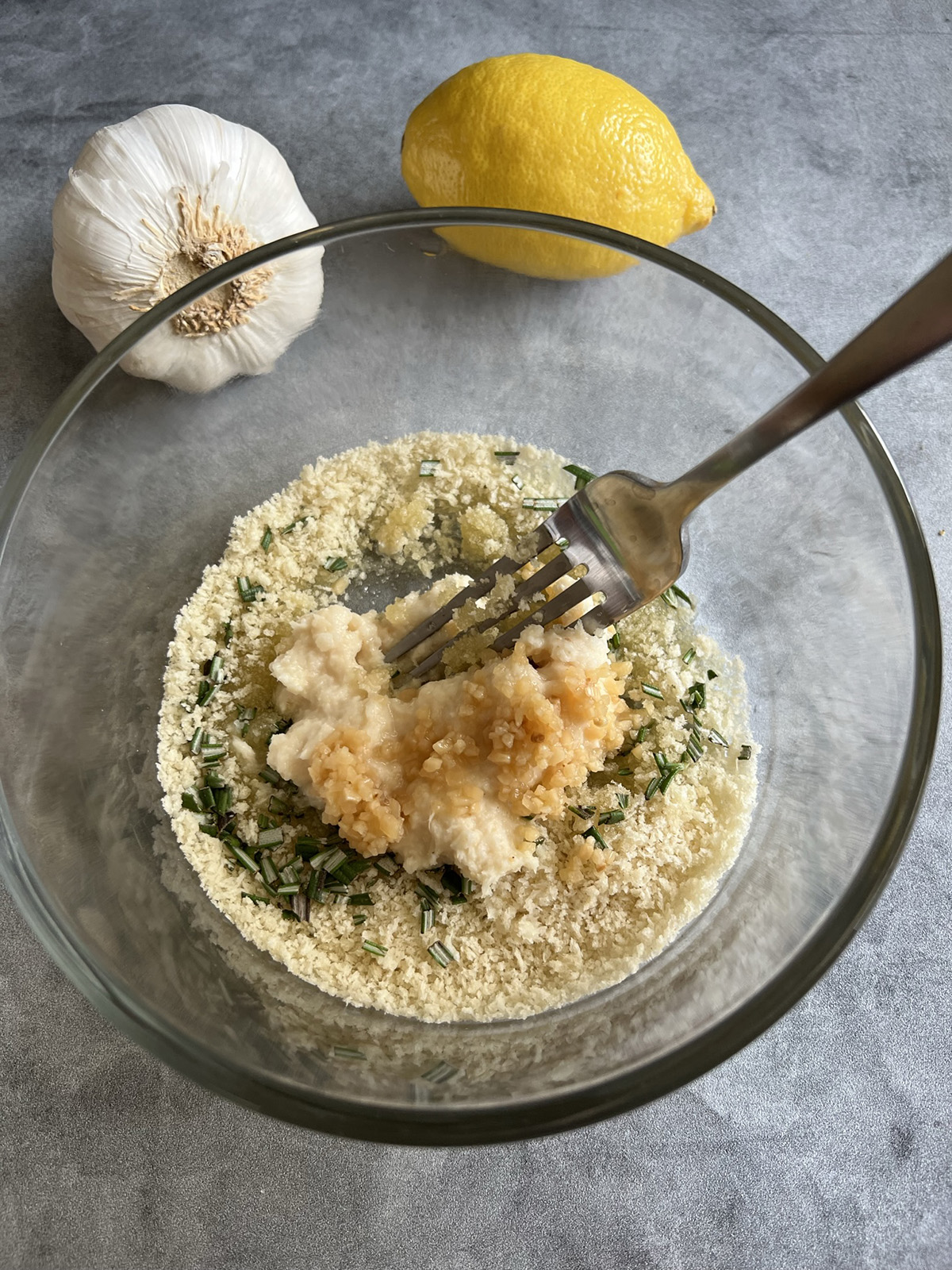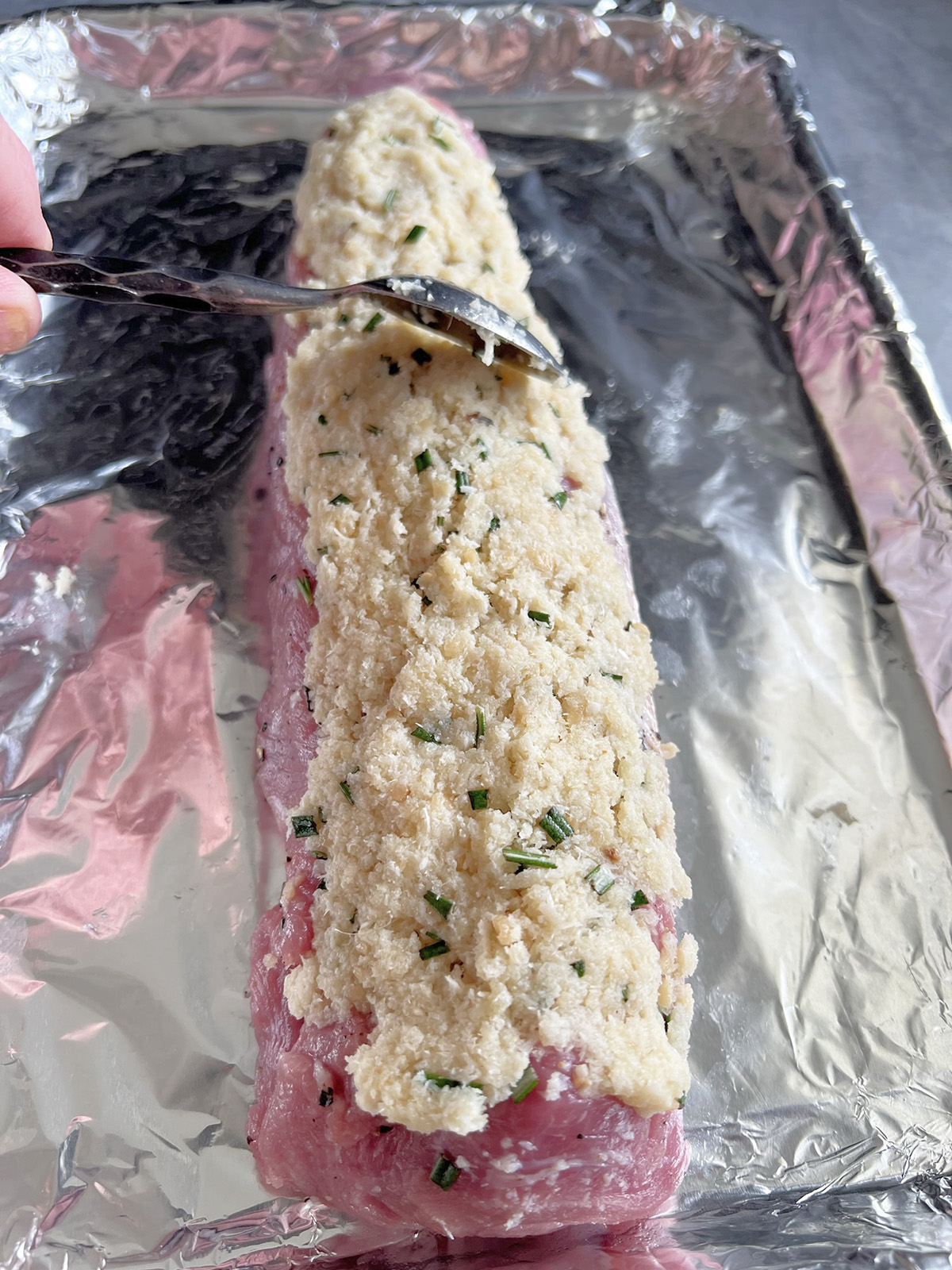 Line a baking sheet with foil, add the tenderloin to the baking sheet and it's ready to go into the oven.
Bake at 425°, then a minute under broiler
Make sure he oven is preheated and then place on the middle rack of the oven at 425°(F) for 22-25 minutes, depending on the size of the tenderloin. We want the internal temperature to be no less than 140°(F). Once it reaches 140°(F), then it's time to spend a minute or 2 under the broiler to further brown up the crust. This will also bring the internal temperature up to our desired 145°(F) for the meat to be done.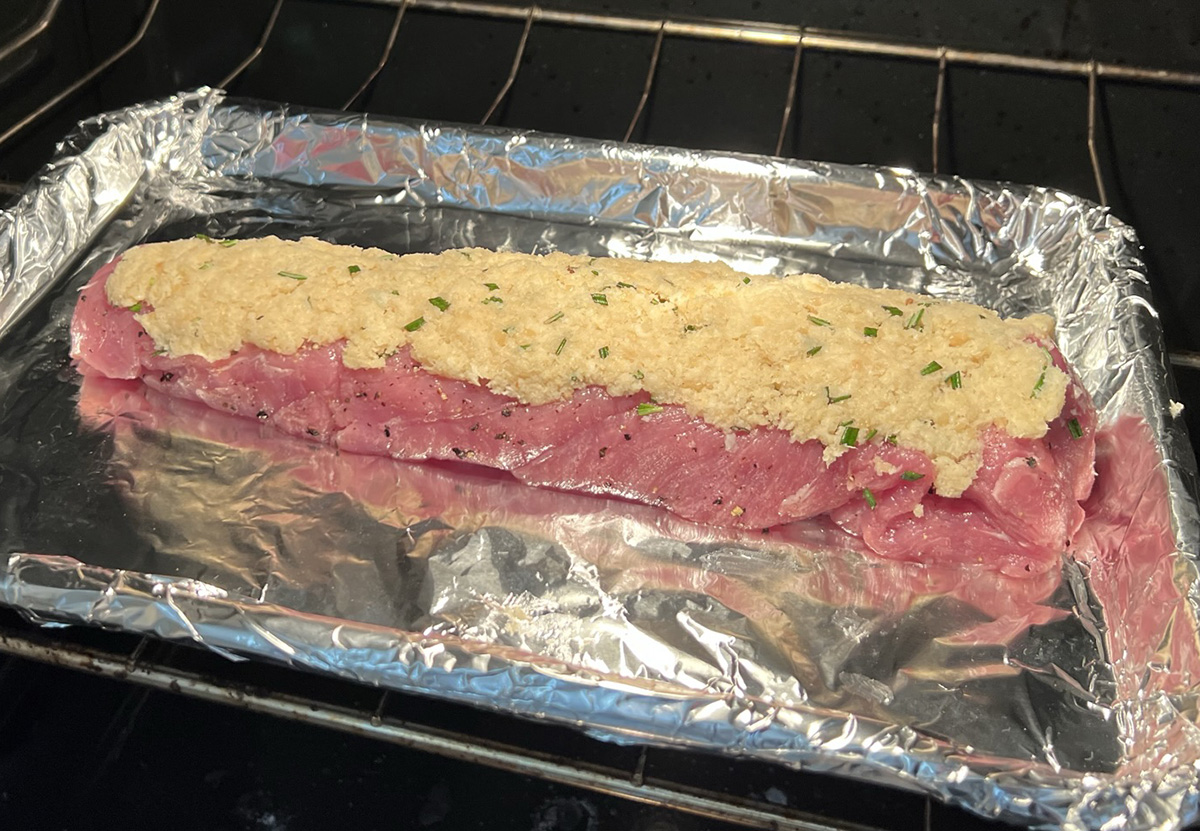 Let rest 5-10 minutes
Once our pork is done, remove from the oven and transfer the pork to a cutting board and let rest for at least 5 minutes. This is important as it lets the fibers of the meat relax and distribute all the internal juices. After 5-10 minutes, use a very sharp knife and carefully slice the pork tenderloin in to ¼″ slices.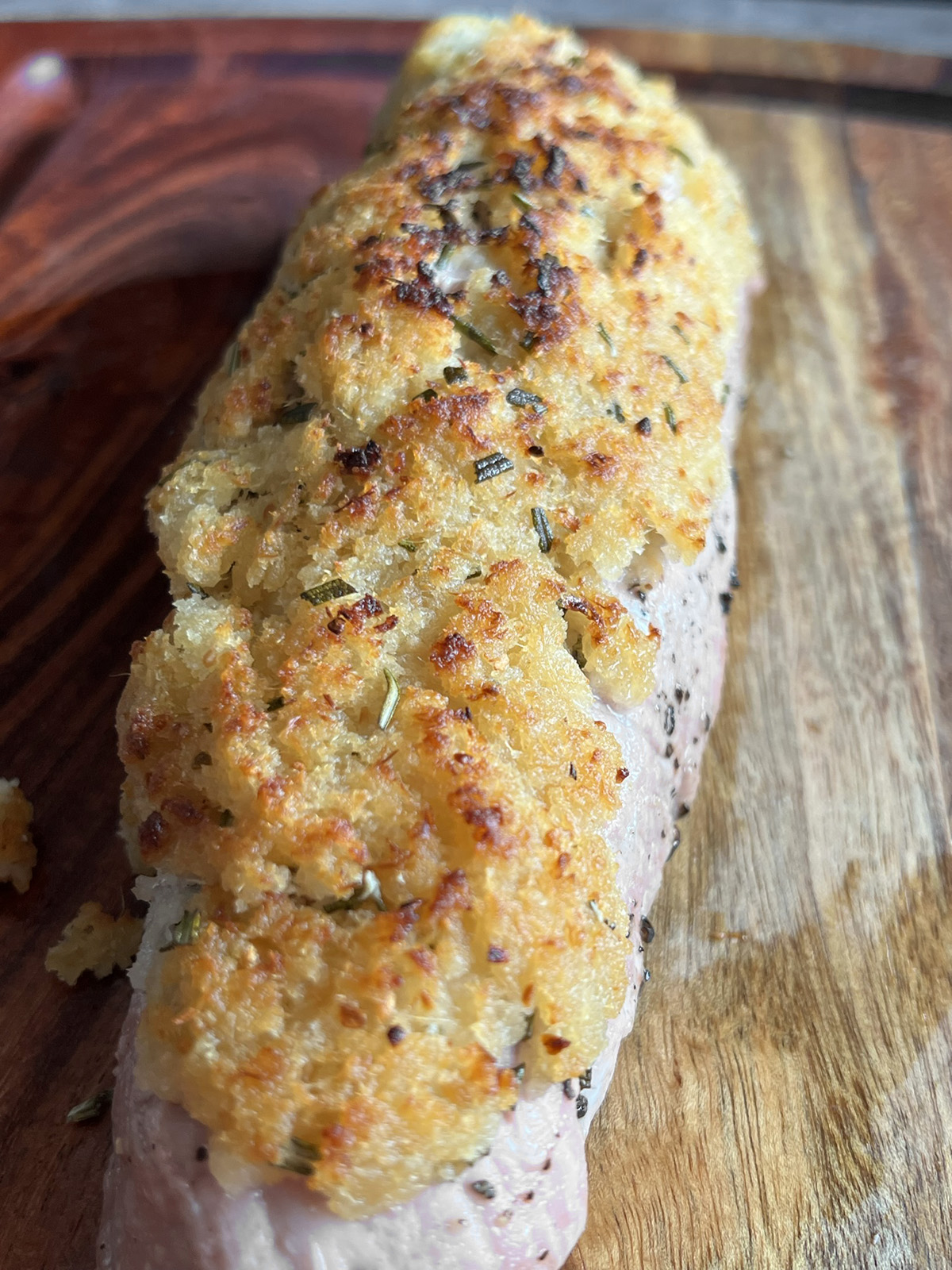 Ready to Serve!
Your horseradish crusted pork tenderloin is now ready to serve. You'll forget all about any sodium as you get the natural flavors of the pork with that amazing horseradish crust. The flavors, the texture… everything works so well.
My favorite way to enjoy this dish is with a fresh vegetable. I don't think there's any wrong way you can go here. Green beans, zucchini, spinach, broccoli, carrots, cauliflower, etc., the list goes on. A simple cooked vegetable (without any added salt of course), pairs excellent with your pork tenderloin. Brown rice is another nice option as well.
Leftovers also make terrific sandwiches! Be sure to use a bun or roll that meets your specific sodium needs, and just heat up a few slices of the pork in a microwave and enjoy on a toasted bun or bread.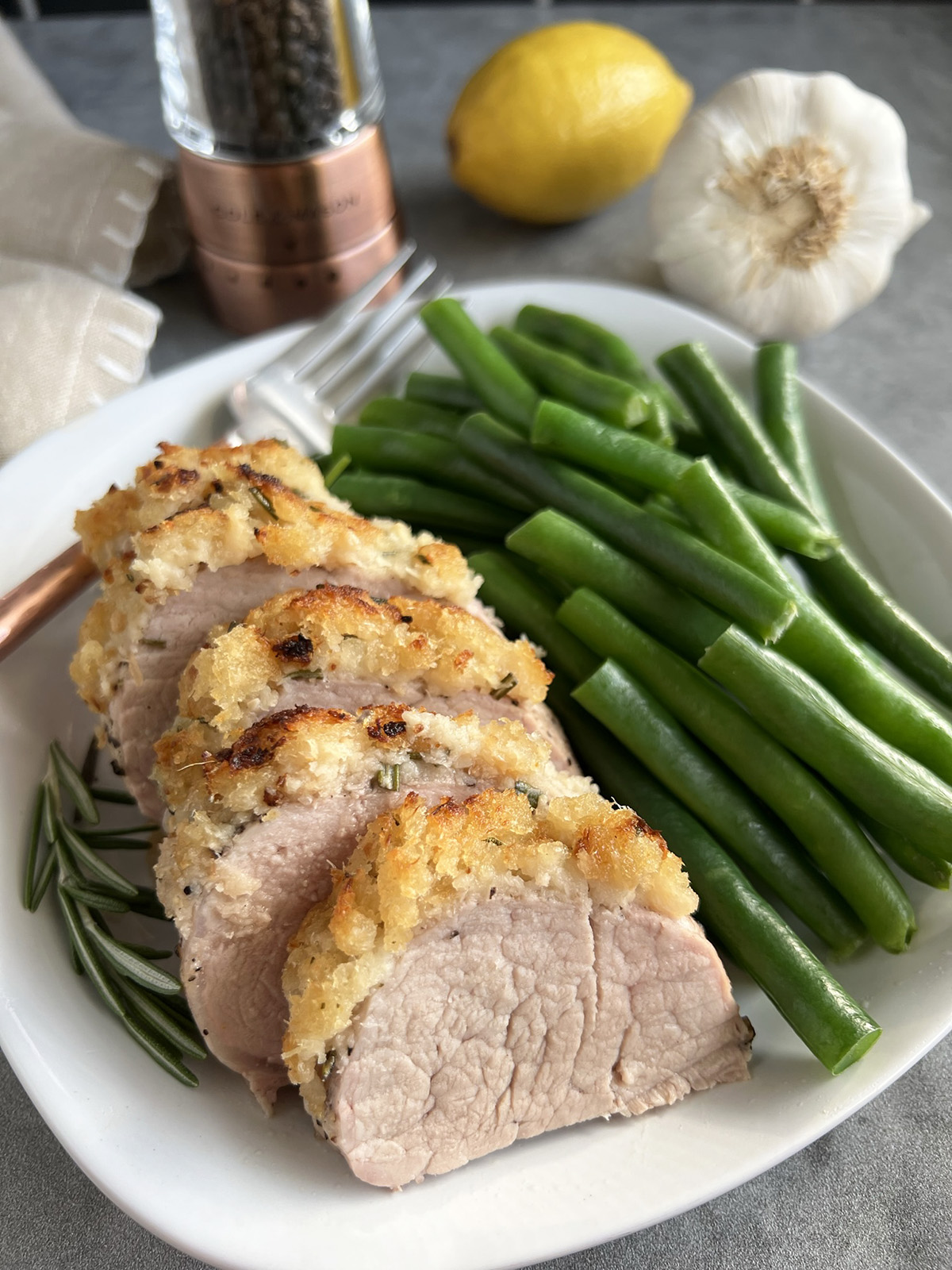 Storage and Reheating
Store sliced pork tenderloin in an airtight container in the refrigerator for up to 3 days. You can also freeze it. Group together the slices into individual servings and wrap tightly in plastic wrap first, then place into a freezer safe bag. Keep in freezer for up to 4 months.
Reheating is as simple as a couple of minutes in the microwave. You might want to add a spritz of water to the pork just to help prevent it from drying out too much on the reheat. This is already a very lean meat and it will have lost moisture during the cooking process.
Print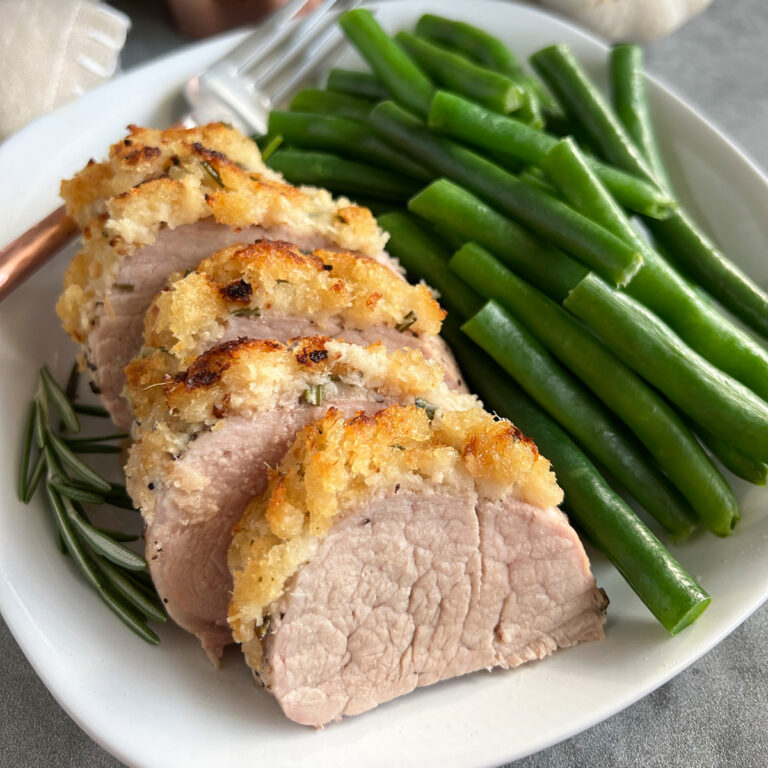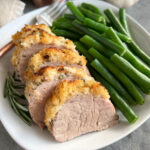 Low Sodium Horseradish Crusted Pork Tenderloin
---
Author:

Total Time:

35 minutes

Yield:

4 servings

Diet:

Low Salt
Description
Lean pork tenderloin is lightly seasoned and topped with a vibrant and delicious horseradish crust. So tender, so juicy, so delicious and very low in sodium.
---
1

pork tenderloin – natural with no additives, .75-1.5lbs.

¼ cup

panko breadcrumbs, plain

2

tbs prepared horseradish

2

tbs avocado oil

1 tsp

fresh rosemary, chopped

1 tsp

minced garlic

¼ tsp

lemon juice

¼ tsp

ground black pepper
---
Instructions
Preheat oven to 425°(F) and line a baking sheet with foil.
Rinse pork tenderloin with cool water and pat completely dry. Trim of any excess fat or silverskin.
Apply 1tsp of the avocado oil and add the pepper and garlic to the whole tenderloin. Set aside.
In a bowl, mix together the panko breadcrumbs, prepared horseradish, rosemary, lemon juice and remaining avocado oil. Mix well to form a thick, moist consistency.
Apply the horseradish mix along the top of the pork, spreading it out and pressing it in as best possible.
Place pork tenderloin on lined baking sheet and place in preheated oven at 425°(F) for 22-25 minutes, depending on size.
Remove from oven when internal temperature of the pork is 140°(F) when measured with an instant read thermometer.
Set oven to broil and place baking sheet with pork under the broiler for 1-2 minutes to brown up the crust. Pork is done when internal temperature is 145°(F).
Remove from oven and place pork on a cutting board and let rest for 5-10 minutes before slicing and serving.
Prep Time:

10 min

Cook Time:

25 min

Category:

Dinner

Method:

Oven

Cuisine:

American