This recipe for low sodium salmon takes handful of fresh herbs, some limes, a hint of lemon pepper seasoning and fresh salmon filets and turns it into an super healthy, amazing tasting meal in under 30 minutes. We also cook the fresh asparagus at the same time, all in simple foil packets.
Approximate sodium content: 84mg per serving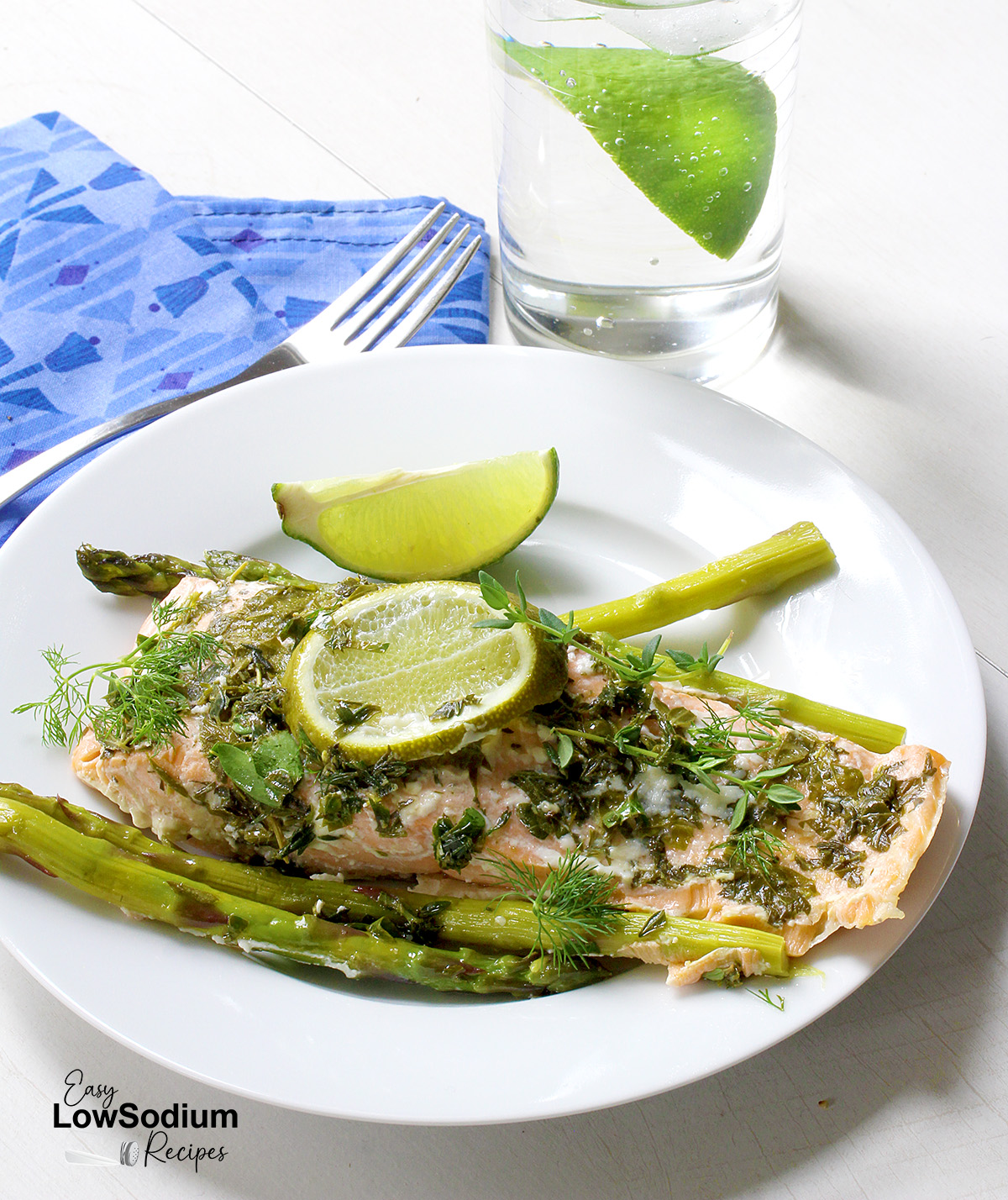 When maintaining any kind of a healthy diet no doubt that salmon will likely be on the menu. This recipe is no exception as we keep it simple, natural and delicious. And it's easy to cleanup too because we use foil packets to cook everything to perfection.
Why Cook in Foil Packets?
This recipe can done either on the grill or in the oven. In either case we'll be wrapping everything in foil packets. This serves a couple of purposes. The salmon will cook faster and better in the foil packets without losing much moisture. Salmon is commonly cooked in a lot of oil or butter, but we keep both to a minimum by using the foil. We can also place fresh vegetables into the foil packets. For this recipe we use fresh asparagus, which naturally pairs excellent with salmon. You can feel free to use yellow squash, zucchini, green beans or just about any other vegetable as well.
Ingredients
We'll be using fresh salmon filets of about 6-8oz each. No need to worry if they're a little bigger, but the 6-8oz size is very common for salmon filets. It also doesn't matter if it's skin on or skin off. The skin on filets can be a little more common in most supermarkets, but either work just fine.
A big handful of fresh herbs will help flavor our salmon. Again, you don't have to crazy measuring out exact amounts of specific herbs. We recommend dill, thyme, flat-leaf parsley, curly parsley, and rosemary. If you have a fresh herb garden at home, this is the perfect opportunity to put them to excellent use.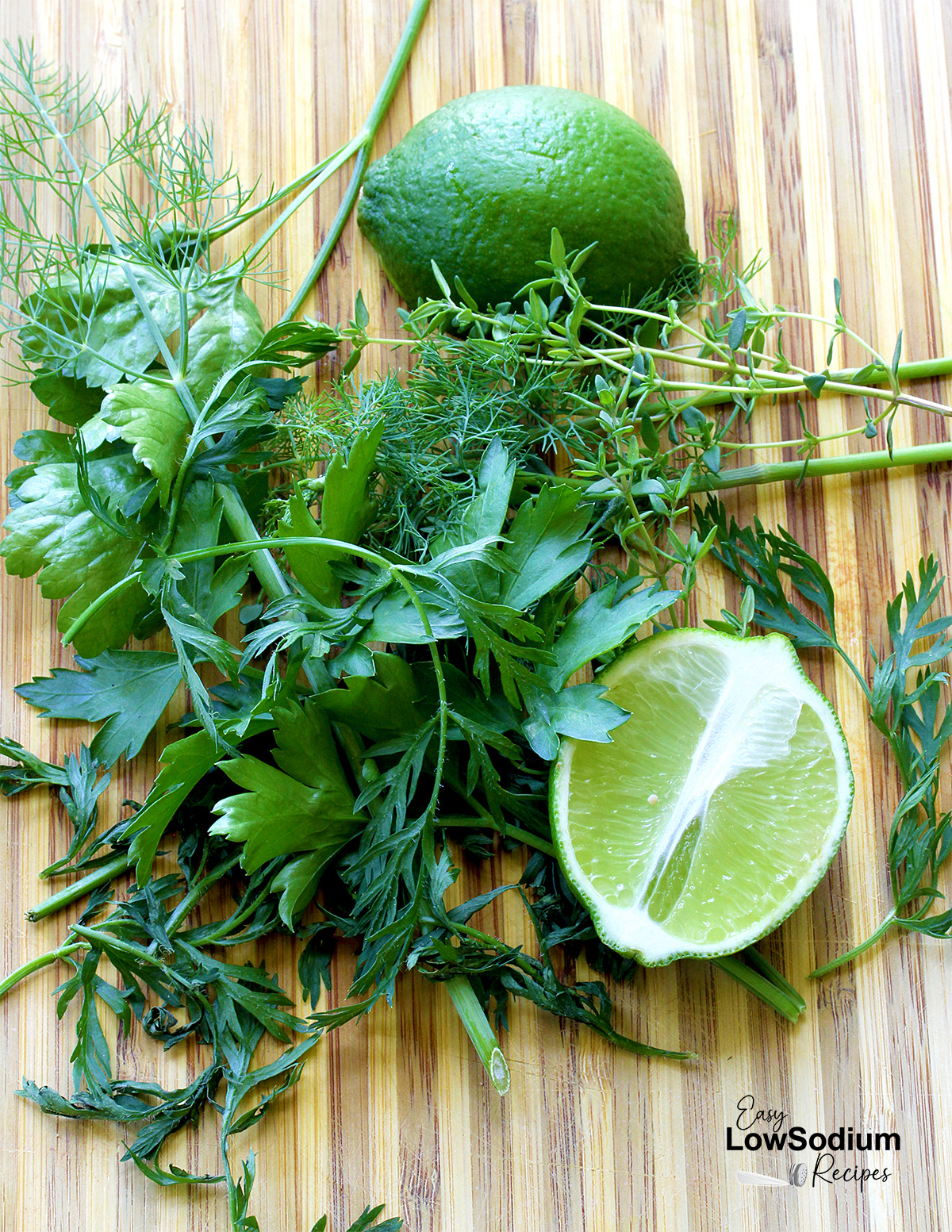 Two limes will give us lime slices, lime juice and lime zest. We'll also use a bit of salt-free lemon pepper seasoning. Lemon pepper seasoning is a must have for low sodium cooking. Mrs. Dash and Kinder's are excellent salt-free brands.
Finally, we'll mix all the ingredients together with some extra virgin olive oil.
Sodium Notes By Alex G., Registered Dietitian
Salmon naturally contains about 75-80 milligrams of sodium per 6 ounce serving, but the rest of the simple but flavor-filled ingredients in this recipe are very low in sodium. Cooking the salmon and asparagus in foil packets helps to retain all the flavors that make this recipe work, including the sweet acidity of the lime juice and the generous amounts of fresh herb seasoning. Adding your vegetables directly to the foil packet to cook with the salmon saves time while also giving the asparagus the same delicious lime and herb taste combination.
Preparation
Start with 4 pieces of aluminum. Tear off enough for each piece to be the same length as the width of the foil, you know… large squares. Each square will have to be big enough to cover the salmon and a few spears of asparagus with room to spare.
Prepare the fresh herbs by simply removing any stalks and stems and chop it all up. This doesn't have to be pretty, just chopped enough to create a nice herb mixture – about ½ cup full.
Take one of the limes and zest it over a medium sized bowl. Then squeeze the juice out of that lime into the same bowl. Now add the olive oil, lemon pepper seasoning and fresh chopped herbs and mix it all together.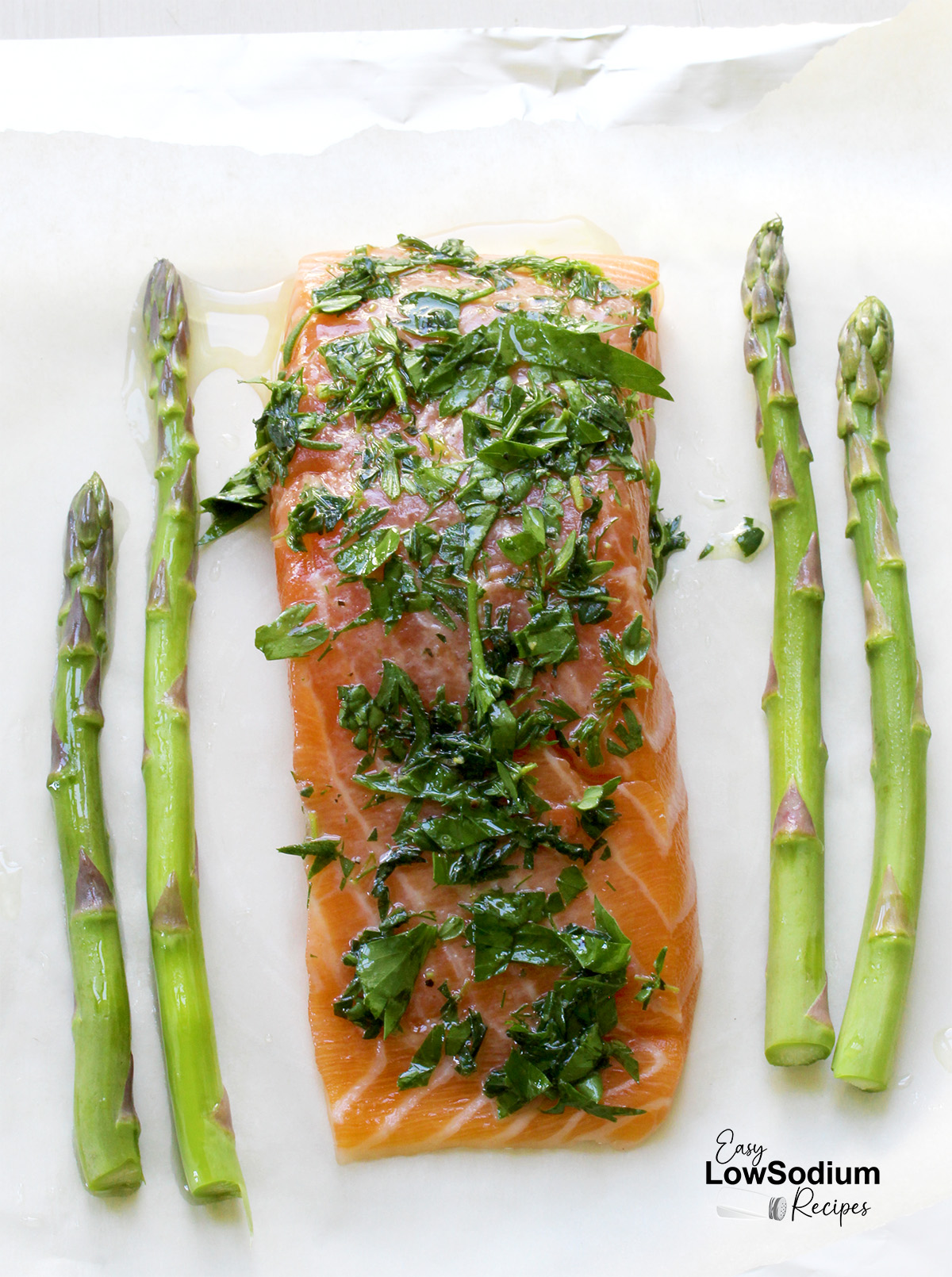 Place 1 salmon filet onto a piece of the foil, brush on the herb mixture, place a slice or two of the lime on the salmon and place a few spears of asparagus next to the salmon. Now wrap the foil around the food so that the edges meet and fold them to create the pouches.
Bake in 400°(F) Oven for 15-20 Minutes or Grill on Medium Heat for 13-15 Minutes
You have a couple of options here. You can place the pouches on a baking sheet and bake in the oven for 18-20 minutes or until internal temperature of fish is 145°(F). Or, toss them on a preheated grill, with the cover closed for about 13-15 minutes. Again, we want the internal temperature of the salmon to be 145°(F). Be careful not to overcook the salmon or it can start to become dry and rubbery. The fish will be done when it easily flakes with a fork. It's also ok to be slightly pink in the middle.
Ready to Serve
Now that your salmon is nice and flaky and piping hot with all the fresh herbs and lime, you're ready to enjoy. Feel free to add an add any additional fresh herbs or even more lime or lemon. You'll probably find you won't need much more though. These salmon filets will be loaded with awesome flavor.
Print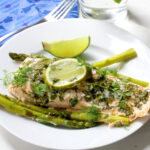 Easy Low Sodium Salmon with Lime and Herbs
---
Author:

Total Time:

35 minutes

Yield:

4 servings
Description
Salmon packets with fresh lime and herb seasoning and fresh asparagus. This low sodium meal is perfect for a quick dinner any night of the week.
---
4

(6 oz.) salmon filets (fresh)

½ cup

herbs removed from stalk and finely chopped. (For instance: Dill, thyme, flat-leaf parsley, curly parsley, and rosemary)

2 ½ tablespoons

olive oil, divided

½ teaspoon

lemon pepper seasoning (no salt)

2

limes, divided

16

asparagus stalks
---
Instructions
Preheat grill to medium heat.
In a medium bowl, stir together the herbs, 2 tablespoons olive oil, lemon pepper, and the zest and juice of one lime.
Place each salmon filet, along with 4 pieces of asparagus, on a piece of aluminum foil large enough to completely cover them, with space to spare to create a pouch.
Divide the herb mixture between the salmon filets. Using a brush or spatula, spread the herb mixture all over the filets.
Slice the remaining lime and top each filet with lime slices.
Drizzle remaining olive oil over asparagus.
Wrap the salmon in the foil so that the edges meet. Seal the edges, making a tight ½-inch fold, and fold up again.
Place the packets on a preheated grill on medium heat and cook for 13-15 minutes. Or place the pouches on a baking sheet in a 400°(F) oven for 15-20 minutes.  The salmon is done when it flakes easily with a fork, or when it registers 145°(F) with an instant read thermometer.
Garnish with any remaining herbs.
Prep Time:

15 min

Cook Time:

20 min

Category:

Dinner

Method:

Oven or Grill

Cuisine:

American