This recipe for low-sodium ranch dressing gives us all the flavors of ranch dressing we know and love, without all the unnecessary extra sodium. When you're being conscious of your sodium intake, the last thing you need is things like sauces, dressings and dips adding unwanted amounts of sodium. That's why I love this recipe. It's also real easy to make and uses just a handful of simple ingredients.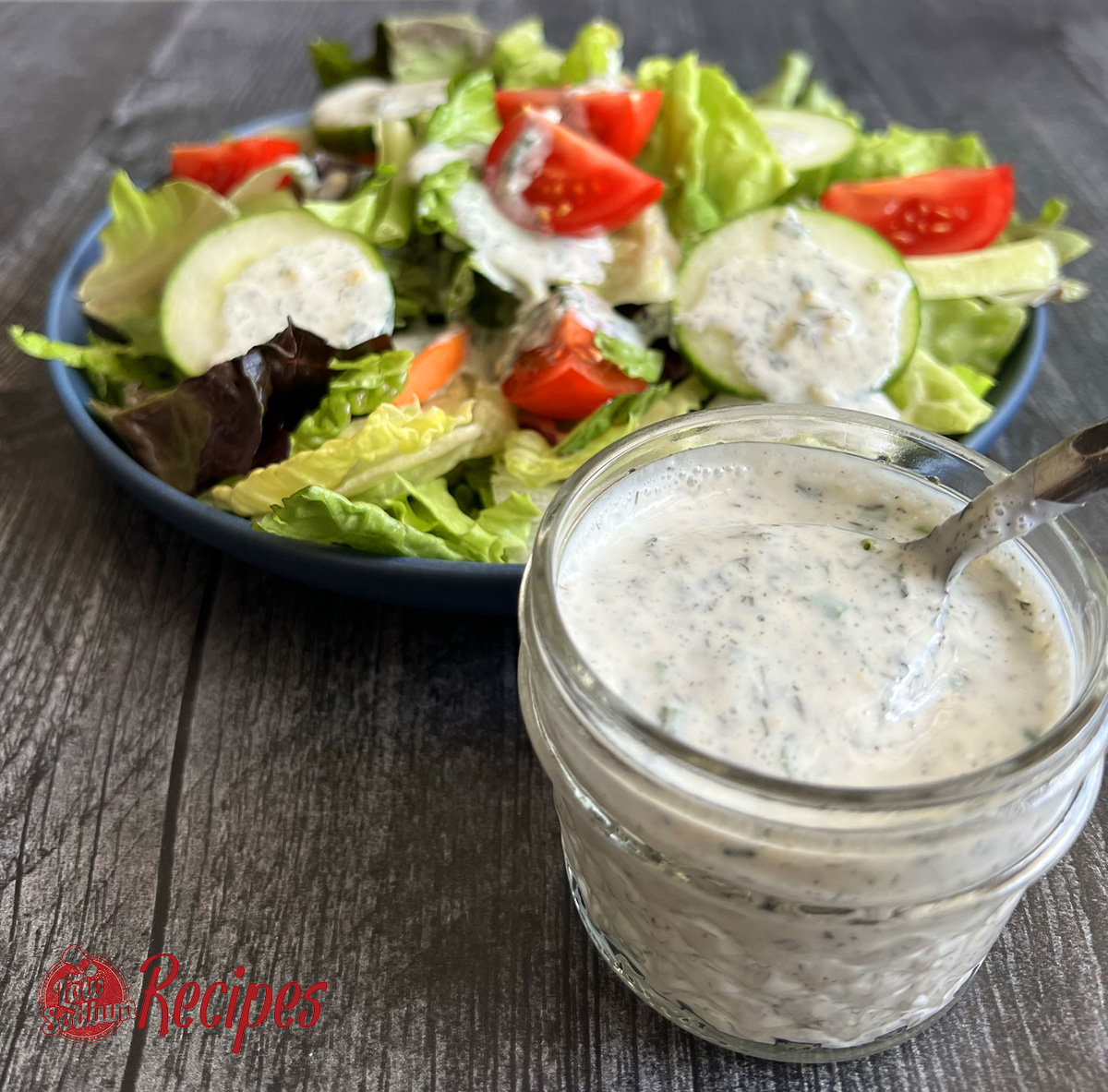 Ranch dressing awesome on a fresh salad; as a dip for fresh vegetables; and it's superb with fresh grilled chicken breast and so much more.
Approximate sodium content: 22mg per serving
Sodium Notes by Registered Dietician Alex G.
Often, the toppings on a salad, such as the dressing, cheese, and croutons, add the bulk of the sodium to your otherwise healthy salad. Bottled ranch dressing is an especially tough choice if you're counting your sodium intake, as one 2 tablespoon serving can contain 260 mg of sodium. Also, it can be hard to stick to a single serving if you really enjoy ranch dressing. This Low Sodium Ranch Seasoning and Dressing is here to help you stay within your sodium goals without sacrificing the flavors you enjoy. The low-fat milk and yogurt add the creaminess, and the seven different low sodium herbs and spices add all the familiar flavors you expect in a ranch dressing.
What Exactly is Ranch Dressing?
Ranch salad dressing is traditionally a buttermilk based dressing that is flavored with herbs and spices which commonly include parsley, dill, onion, garlic, chive, pepper, and of course, salt. It can also include mayonnaise, sour cream or other forms of dairy. The origins of ranch dressing come from the company Hidden Valley. Apparently, the house dressing developed on a ranch in Alaska became what's now known as Ranch Dressing.
Ingredients and Preparation
To make our low-sodium ranch dressing, we'll take a few steps to avoid some of the frequent sodium culprits, while getting that rich and creamy texture ranch dressing is know for.
One thing we'll do is make our own buttermilk, sort of. To do this we simply add 1 tablespoon of lemon juice to 1 cup of 2% milk and let it sit for 5 minutes. What we've done is make an excellent buttermilk substitute that has much less sodium than commercial buttermilk.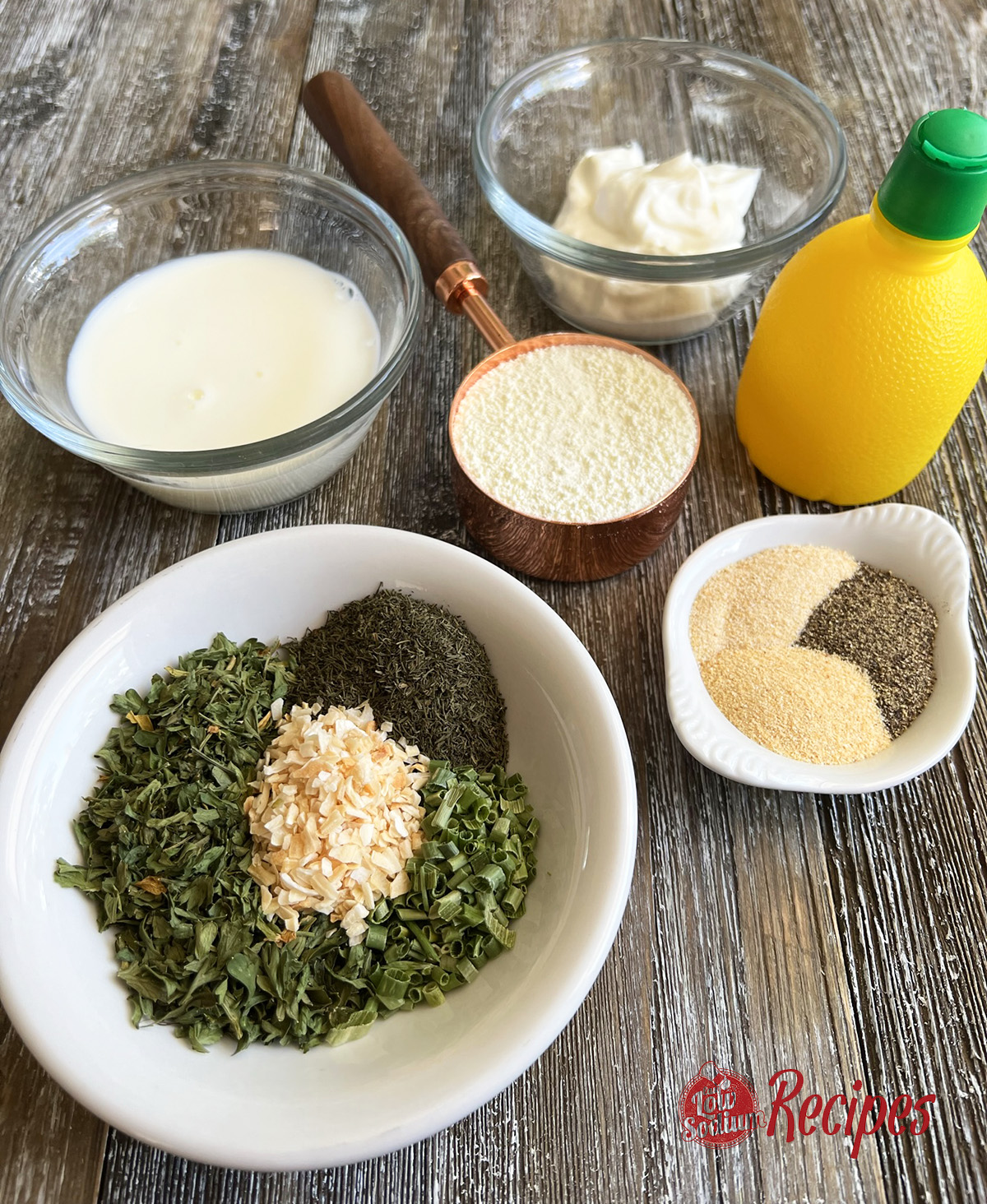 Greek yogurt is an excellent ingredient to give us thickness and tang to our dressing. We like to stay on the low-fat course with this so we use 2%.
Then we add ranch seasoning. To get this, we make our own! It's actually easiest to make the ranch seasoning in a larger batch so our ingredients for that will make 3 whole servings.
The base of the ranch seasoning is nonfat powdered milk. To that we add our seasonings which include parsley flakes, dried dill, onion powder, garlic powder, dried chives, dried minced onion, ground black pepper.
Use one serving now (3 tablespoons) and save the rest in an airtight bag or container for when you make your next batch of dressing!
Chill and Serve
Now that you've mixed everything together and made your low-sodium ranch dressing, you can serve right away and enjoy. But… want to know a little secret? It's even better the next day! You see, like most sauces, if you let it sit in the refrigerator overnight, all those flavor have a chance to mingle together and do their little dance to bring out all the goodness.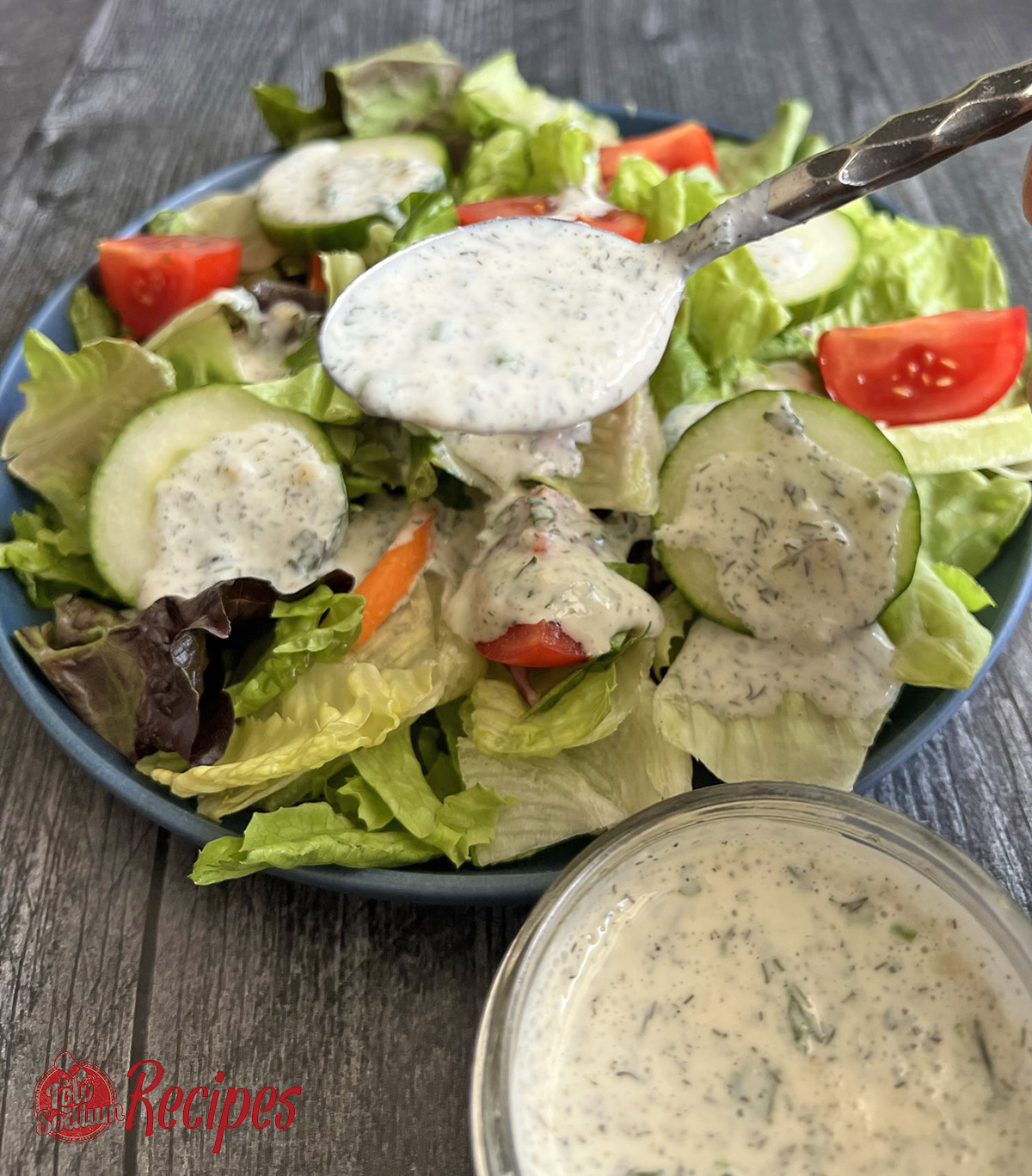 And, when that dressing is nice and cool from being in the fridge, it makes the salad all the better!
Don't waste your sodium intake on commercial dressings, make a batch of this delicious low sodium ranch dressing and enjoy it with all your favorite salads, veggies and more!
Print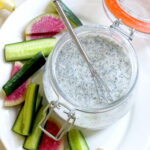 Easy Low Sodium Ranch Dressing
---
Author:

Total Time:

0 hours

Yield:

About ⅔ cup

Diet:

Low Salt
Description
Make your salads come alive with this rich, creamy and delicious low-sodium ranch seasoning. An excellent mix of ingredients that leaves out all the extra sodium.
---
Ranch Dressing Ingredients:
1 cup

Milk (low-fat, 2%)

1 tablespoon

lemon juice

⅓ cup

Greek Yogurt (low-fat, 2%)

3 tablespoons

ranch seasoning (below)
Ranch Seasoning Ingredients:
⅓ cup

powdered non-fat milk

2 tablespoons

dried parsley

1 tablespoon

dried dill

2 teaspoons

garlic powder

2 teaspoons

onion powder

2 teaspoons

dried onion flakes (dried minced onion)

1 ½ teaspoons

dried chives

1 ½ teaspoons

freshly ground black pepper
---
Instructions
Stir the milk and lemon juice together in a glass container. Let sit for 5 minutes.
Whisk the milk/lemon mixture together to break down any clumps.
Whisk together the milk mixture and yogurt until smooth. Add in the 3 tablespoons of ranch seasoning and whisk until well mixed.
Store in the refrigerator for up to 1 week.
Prep Time:

15 min

Cook Time:

N/A

Category:

Salad Dressing

Method:

No-cook

Cuisine:

American