Boneless, skinless chicken breasts are marinated in lemon, garlic and oregano to create the most vibrant, delicious flavors without any added sodium. This simple recipe is perfect for a quick weeknight meal or for use in salads and other dishes.
Approximate sodium content: 76mg per serving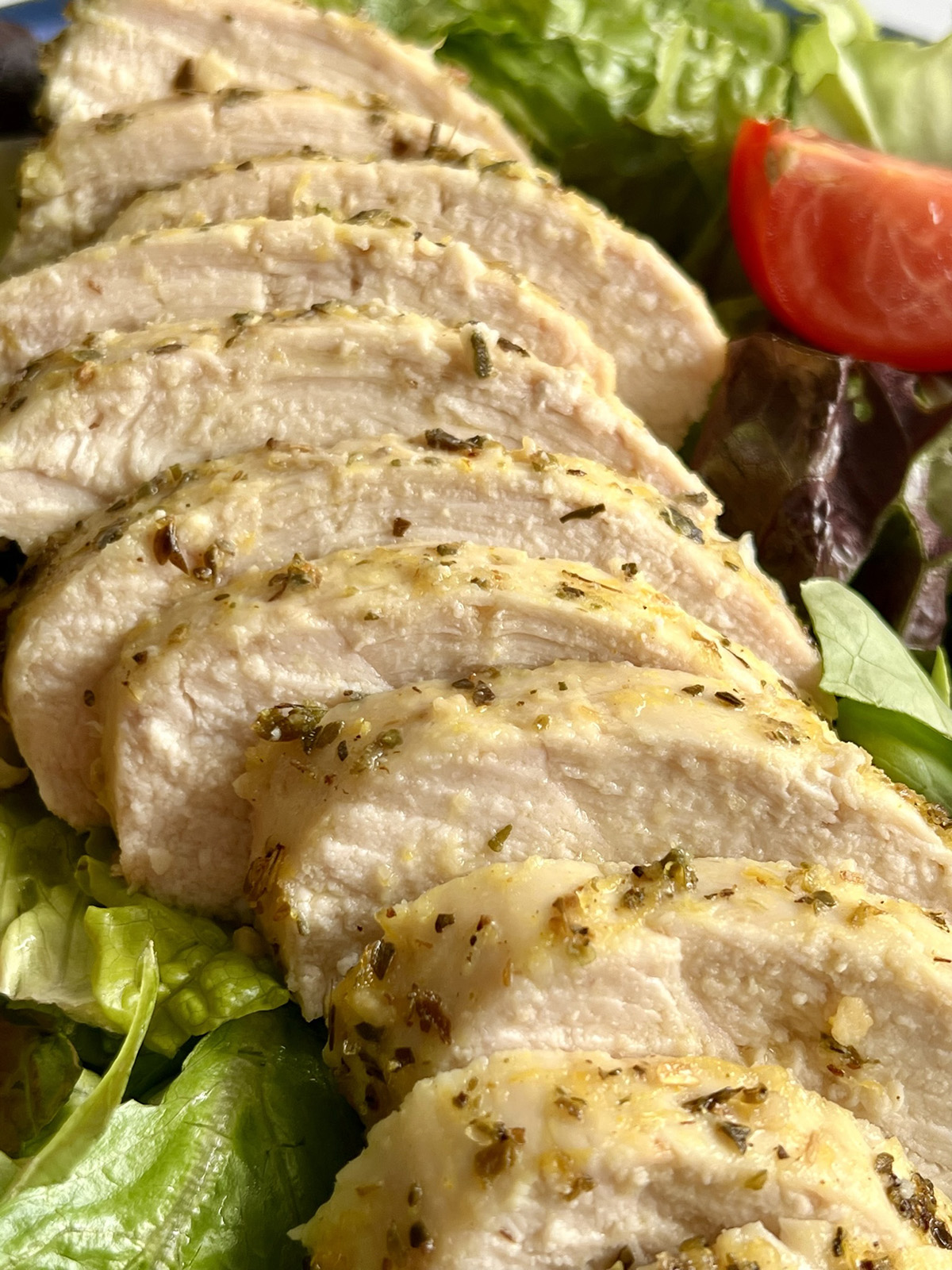 PrintWe love boneless, skinless chicken breasts because they're delicious, lean, versatile and a great source of protein. But we also know chicken breasts often need a little help from salt. Not this recipe! With a mix of just a few simple ingredients, these chicken breasts are bursting with flavor. Upon having you're first bite, I'm betting your reaction will be… "Wow"!
Simple Ingredients and Preparation
For this recipe we use fresh, boneless, skinless chicken breasts of around 8-10 ounces each. This is a pretty common size. They will cook best if they are an even thickness so place them on a paper plate, cover with a piece of plastic wrap and pound to around ¾″ thick. This will also help tenderize the meat. Then, take a fork and pork several holes in both sides of the chicken. This further tenderizes and allows the marinade to penetrate better.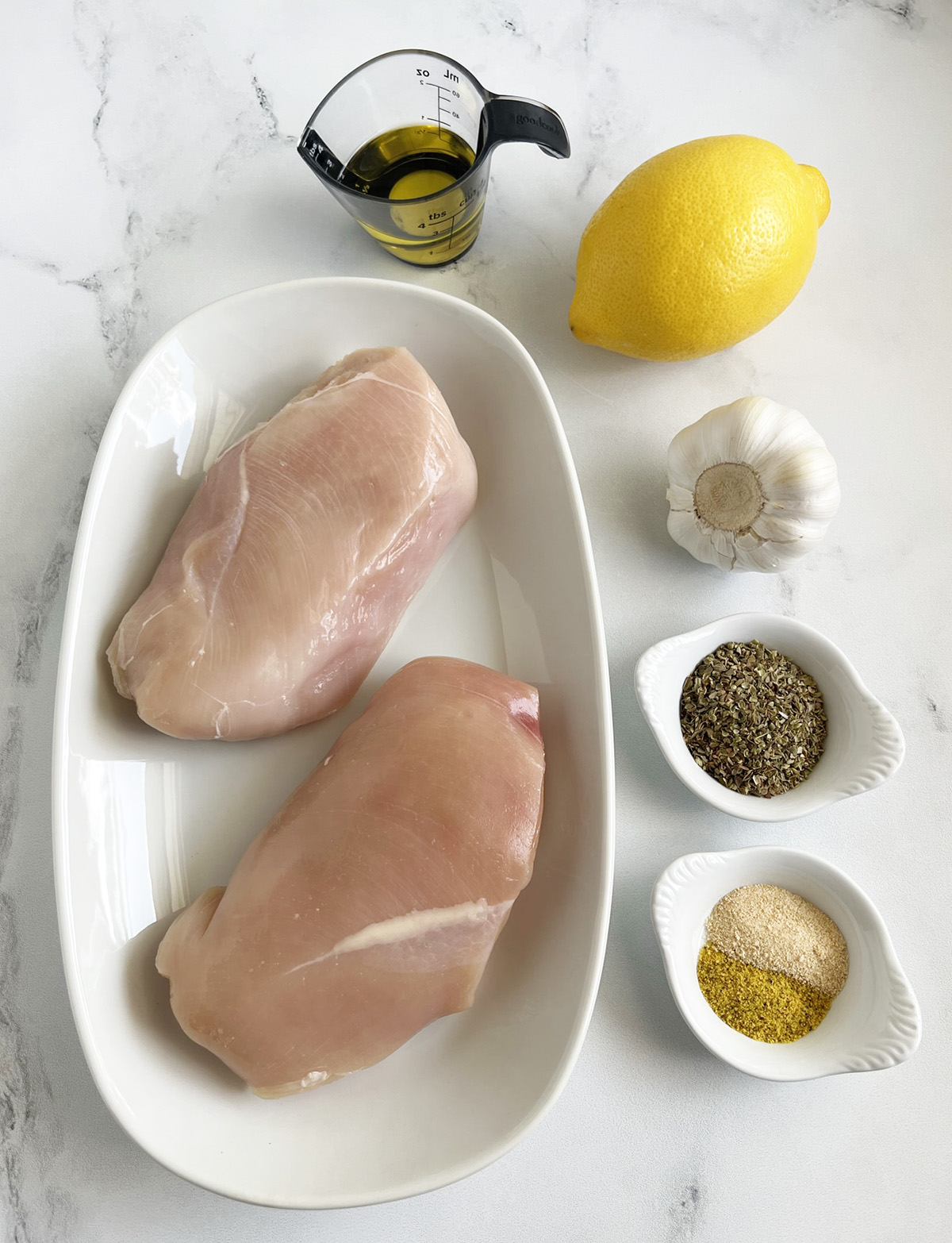 To make our marinade, we'll zest the rind of 1 lemon, then juice the lemon. Do this over a medium sized bowl. Add in the olive oil, lemon pepper seasoning, minced garlic, and onion powder and mix well. Add the chicken breasts to a large zip-top bag and pour in the marinade. Close the bag and massage that marinade in well, being sure it's coating all sides of the chicken. Then let it sit in the refrigerator for at least 30 minutes to marinate.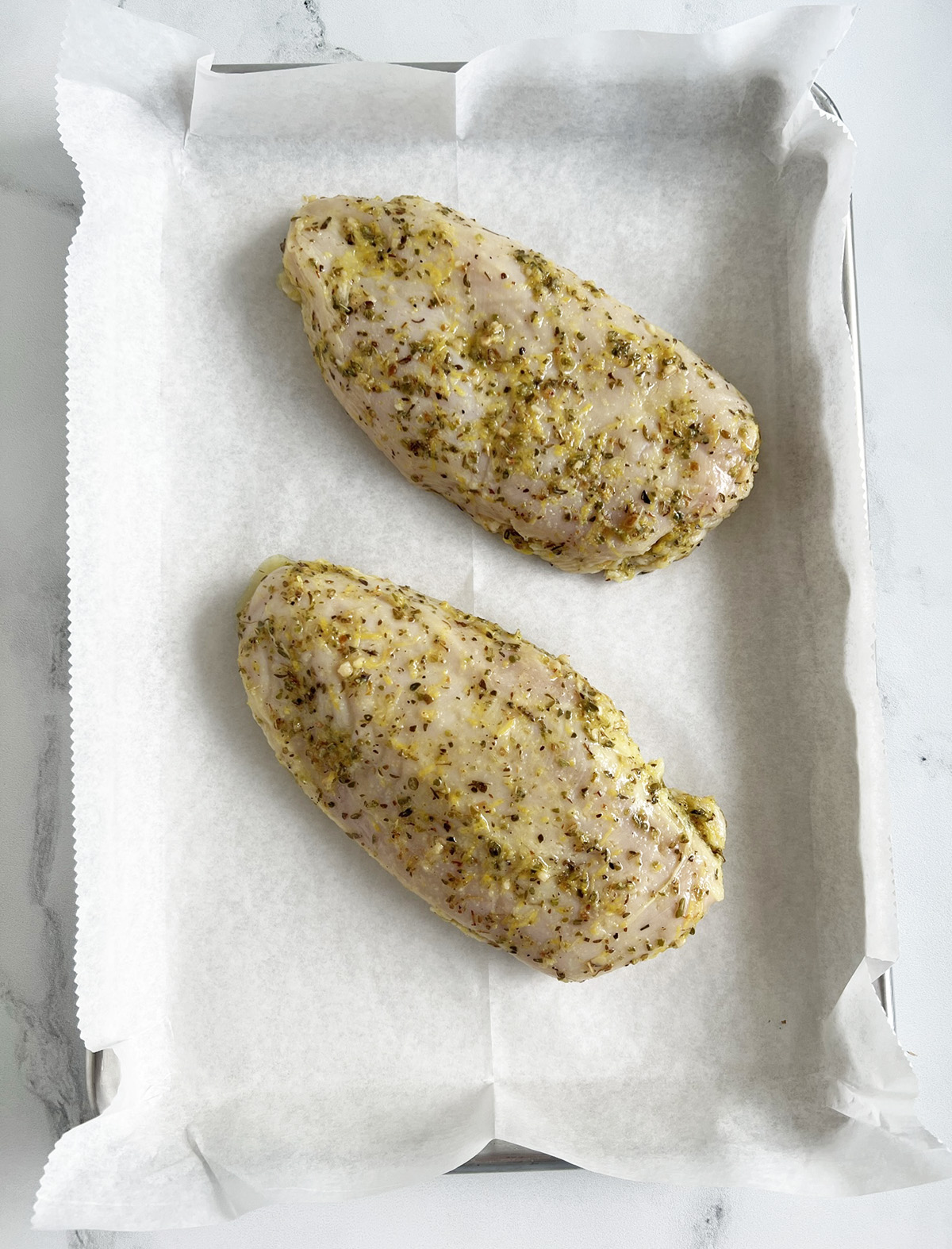 Cook in Oven at 400°(F) for 25-30 Minutes
We'll roast these chicken breasts in the oven for about 25-30 minutes. Start by preheating your oven to 400°(F). Then line a sheet pan with parchment paper and place the the marinated chicken breasts on the pan.
The key to good boneless, skinless chicken breasts is to cook them right to an internal temperature of 165°(F). Overcooking will cause them to become dry. After about the 20 minutes mark, start checking the internal temperature in the center of the meat with an instant read food thermometer. You can actually pull them out when the internal temperature reaches about 162°(F). They will continue to cook when removed from the oven for a few minutes, getting to the perfect temperature. Also, there is no need to flip the chicken during cooking.
Let Rest
After we remove the chicken from the oven, place them on a plate and let this sit for about 5 minutes. This is important as it will allow the internal juices to redistribute and the meat will be tender, juicy and delicious when we finally cut into them.
Serve
Our low sodium lemon chicken breasts are prefect as the main course for any meal. You can serve them with a lemon slice on top for even more flavor. I like to serve with fresh vegetables and brown rice. But feel free to use your favorite side-dishes.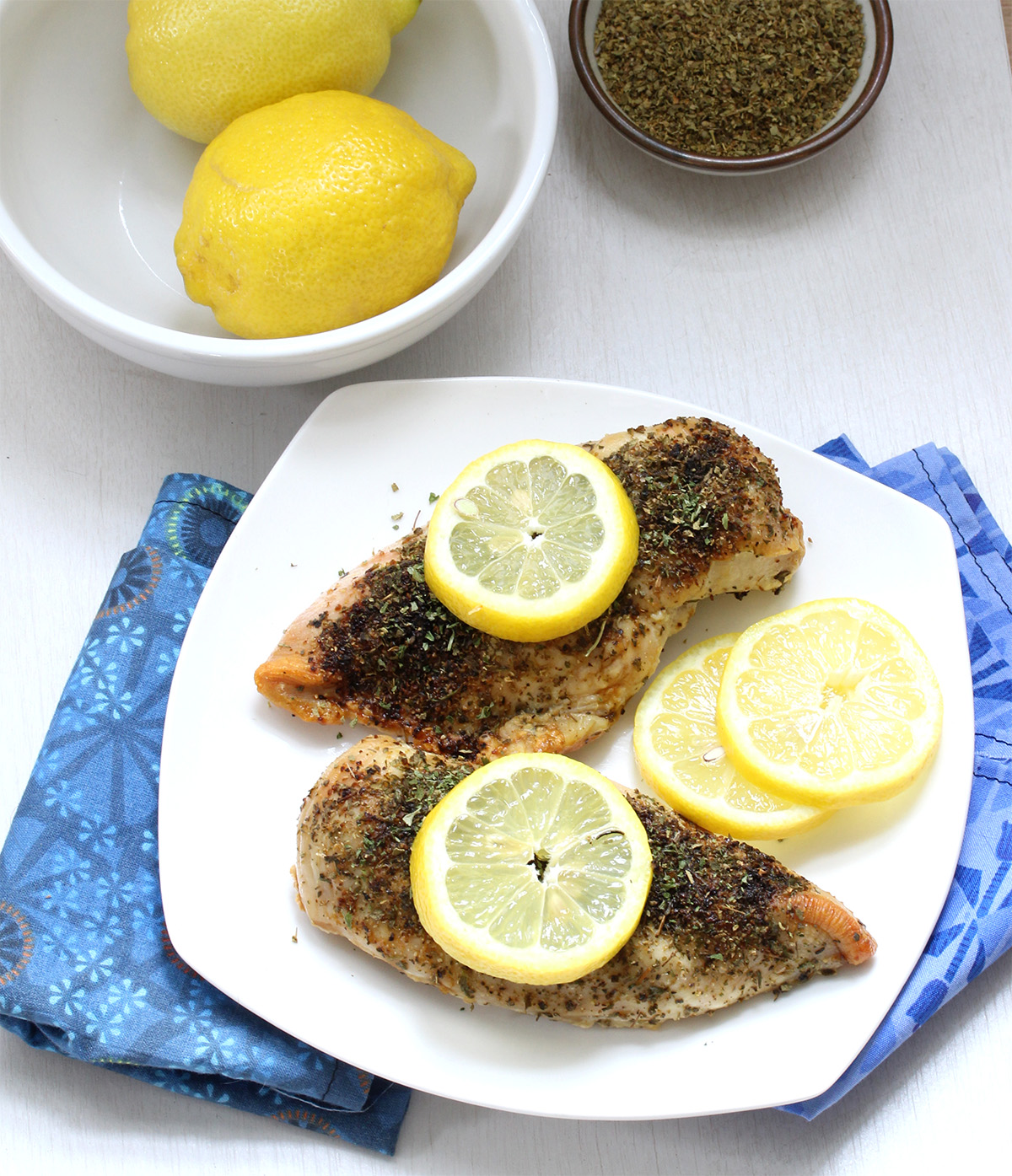 This chicken is also perfect for making salads! Serve over fresh lettuce, spinach, tomatoes, cucumbers, etc. for a protein packed and delicious salad.
Frequently Asked Questions
Question: Can this recipe be doubled?
Answer: Absolutely! Just adjust the ingredients accordingly.
Question: Will they have more flavor if marinated longer?
Answer: You can certainly get a flavor boost with more time marinating. But we've found that 30 minutes seems to do an excellent job!
Question: How long can the cooked kitchen be kept in refrigerator?
Answer: Kept in an air tight container, the cooked chicken will keep for 3-4 days in the refrigerator. It can also be frozen if wrapped tightly with plastic wrap, then placed in a freezer bag. It will keep in the freezer for up to 3 months.
Sodium Notes by Alex G., Registered Dietitian
This simple and bright tasting Low Sodium Lemon Chicken is perfect for a quick weeknight meal. The marinade contains only low sodium ingredients with bright and fresh natural flavors, so the main ingredient to keep an eye on in this recipe is the chicken. When you're choosing a brand of boneless skinless chicken breasts at the grocery store, be sure to read the nutrition label carefully. The amount of sodium can vary widely since some brands have a brothy, salty liquid added to make the chicken stay plump in the package. Try adding the suggested extra squeeze of lemon to your chicken after cooking to see how one simple ingredient can add a lot of bright fresh flavor without adding any sodium.
Print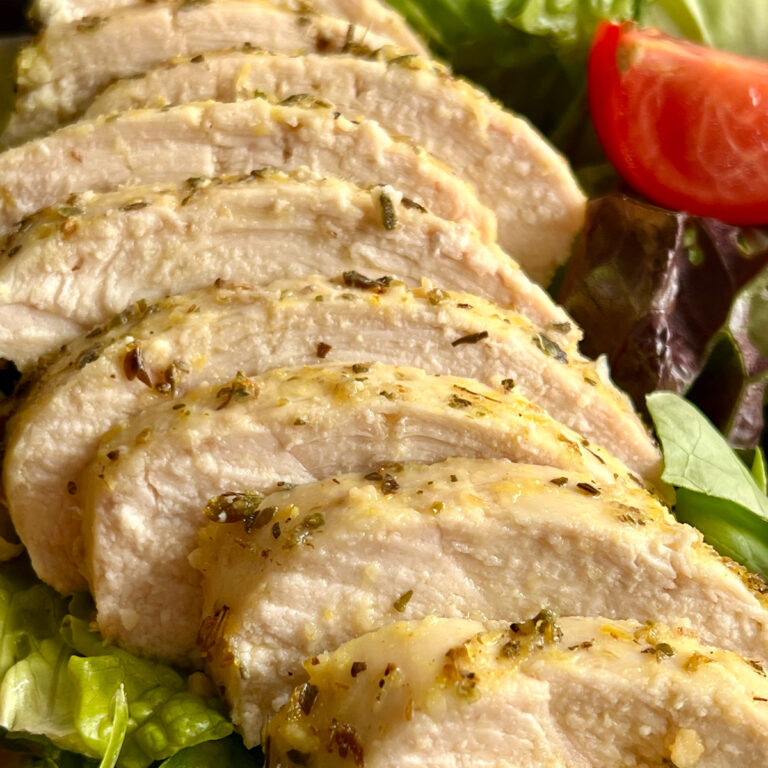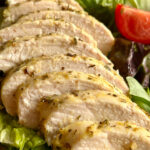 Easy Low Sodium Lemon Chicken
---
Author:

Total Time:

About 40 min plus marinating time

Yield:

4 servings

Diet:

Low Salt
Description
These chicken breasts are tender, juicy are loaded with vibrant flavors. They're are excellent as a meal or used in salads. With flavors of lemon, oregano and garlic, these chicken breasts have a Mediterranean flair and are super easy to make.
---
2

Boneless, skinless chicken breasts (8-1

0oz

each)

2

tbs Olive oil

1

Lemon, zested and juiced

1

tbs Oregano, dried

2

Garlic cloves, minced

½ tsp

Lemon pepper seasoning (salt-free)

½ tsp

Onion powder
---
Instructions
Poke the chicken breasts all over with the tines of a fork. Place the chicken in a large resealable plastic bag.
Whisk together the olive oil, lemon zest, lemon juice, oregano, garlic clove, lemon pepper, and onion powder in a small bowl.
Pour the marinade over the chicken.
Refrigerate for 30 minutes.
Preheat oven to 400 degrees.
Fit a piece of parchment in a medium, rimmed sheet pan.
Remove the chicken from the marinade, and place on prepared sheet pan. Discard remaining marinade.
Bake for 20-25 minutes, or until chicken registers 165 degrees.
Serve on a plate with lemon slices, or over a bed of spinach with lemon wedges and a light vinaigrette.
Prep Time:

10 min

Cook Time:

25-30 minutes

Category:

Dinner

Method:

Oven

Cuisine:

American