This delicious low sodium turkey chili recipe is ready to enjoy in less than 1 hour using your Instant Pot. It's the perfect way to make vibrant, delicious chili without all the added sodium!
Approximate sodium content: 77mg per serving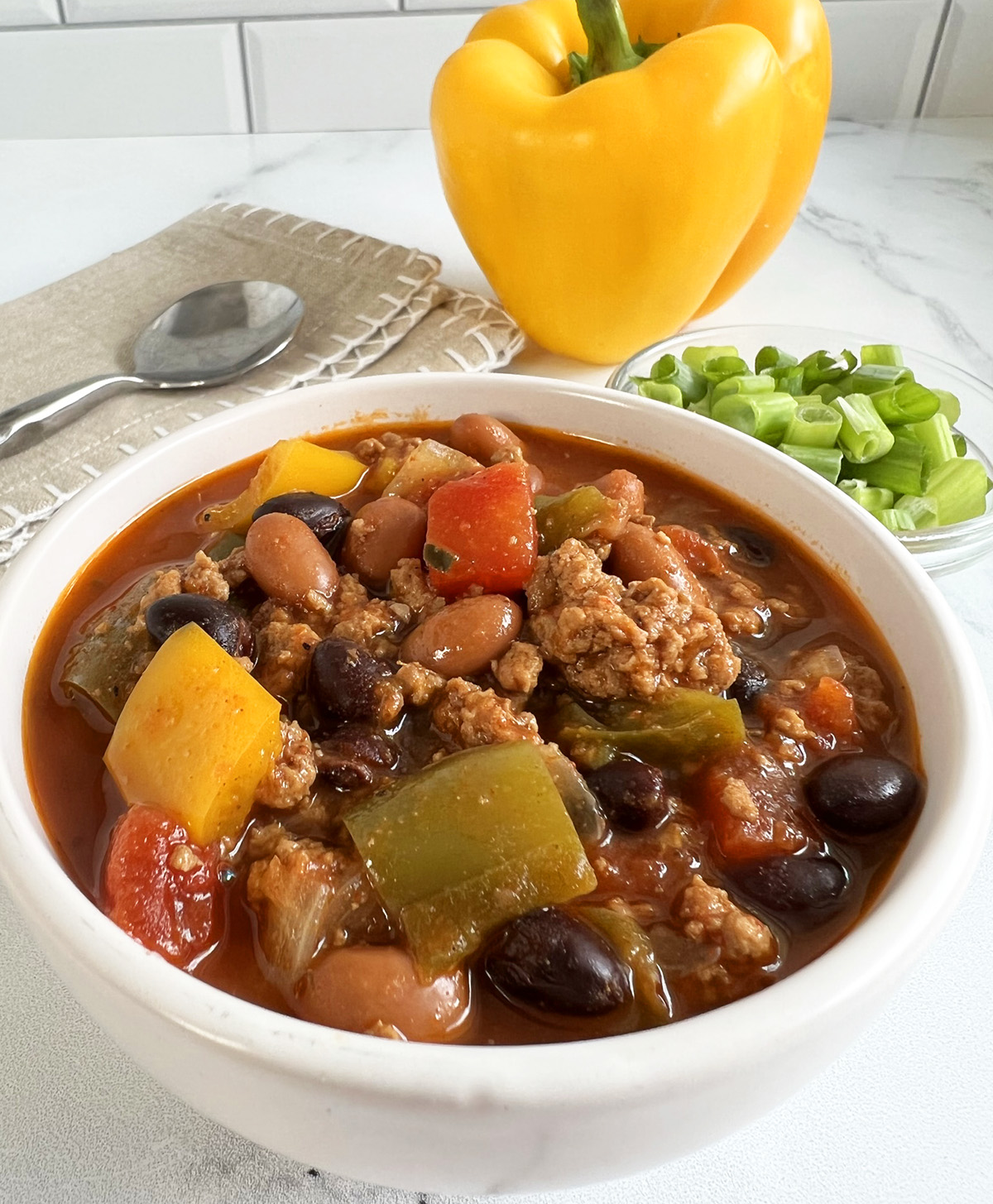 The Instant Pot craze is in full swing and for good reason, you can really make some amazing meals! Pressure cookers have been around for ages but this one has entered the 21st century as the new big thing. I've been enjoying it and making dozens of meals which have been great. I particularly love it for making chilis and soups. The pressure cooking infuses all the flavors so well. So instead of waiting all day for slow cooker chili, I can have this chili in the bowl ready to enjoy in very little time.
SODIUM NOTES BY ALEX G., REGISTERED DIETITIAN
A common brand of chili seasoning packet would add 300-400 mg of sodium per serving of chili. All of that extra salt is spared here. By using the same family of spices as typical chili recipes, but salt free versions of tomatoes, garlic, chili powder, and cumin, you'll get all the comforting seasoning you expect in a chili, but with a fraction of the sodium. In addition to containing far less sodium than a typical chili, this recipe also has additional health benefits. The soluble fiber in the pinto and black beans is good for heart and gut health, and the lean ground turkey has much less saturated fat than ground beef.
Ingredients
I like to keep things as simple as possible so this we'll use a combination of fresh ingredients and canned ingredients.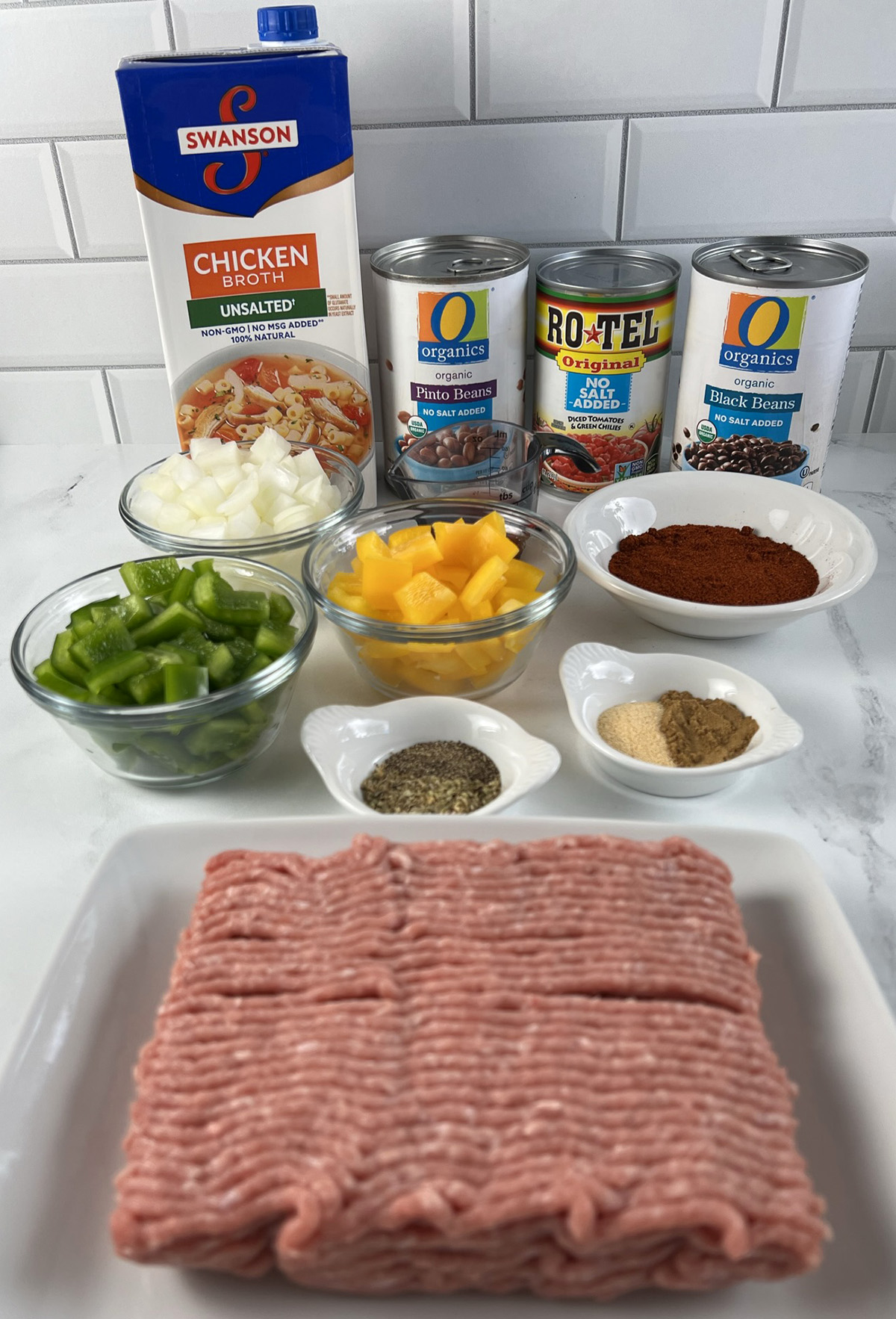 Our fresh ingredients will include an onion, a yellow bell pepper and a green bell pepper. Dice them all up. That's about all there is for the hard work.
One of the nice things about low sodium cooking, is that today, there are tons of low and no sodium options available on supermarket shelves. As recently as just a few years ago, these were all hard to find. Not anymore! We'll be using a can of no salt added black beans, a can of no salt added pinto beans, a can of no salt added diced tomatoes with green chilies, a can of no salt added tomato sauce, and a cup of no salt added chicken broth. Wow, right? All these items are available in no salt added varieties and I love it!
Our chili will be seasoned with chili powder (without salt of course), a little garlic powder, a bit of cumin, a touch or oregano and a pinch of black pepper. Again, chili can contain all sorts of ingredients and you're more than welcome to add any of your favorites of the no/low sodium variety.
And of course, the star of the show is the ground turkey. I LOVE ground turkey in chili recipes. It's super easy to work with, blends with the seasonings so well, and the texture is perfect. I normally buy the 93% lean ground turkey but feel free to use the 97% lean.
Preparation
We begin by sautéing the turkey in the Instant Pot set to the sauté mode. Add about a tablespoon of olive oil when doing this, as we'll be adding the vegetables to it as well. As soon as the turkey is no longer pink, add the veggies, 1 tablespoon of the chili powder and the remaining seasonings. We'll sauté them all for about 5 minutes. By adding the seasonings in during the sauté mode, we're "blooming" them with the heat to bring out even more delicious flavor. That's another easy "trick" for low sodium cooking – blooming the spices.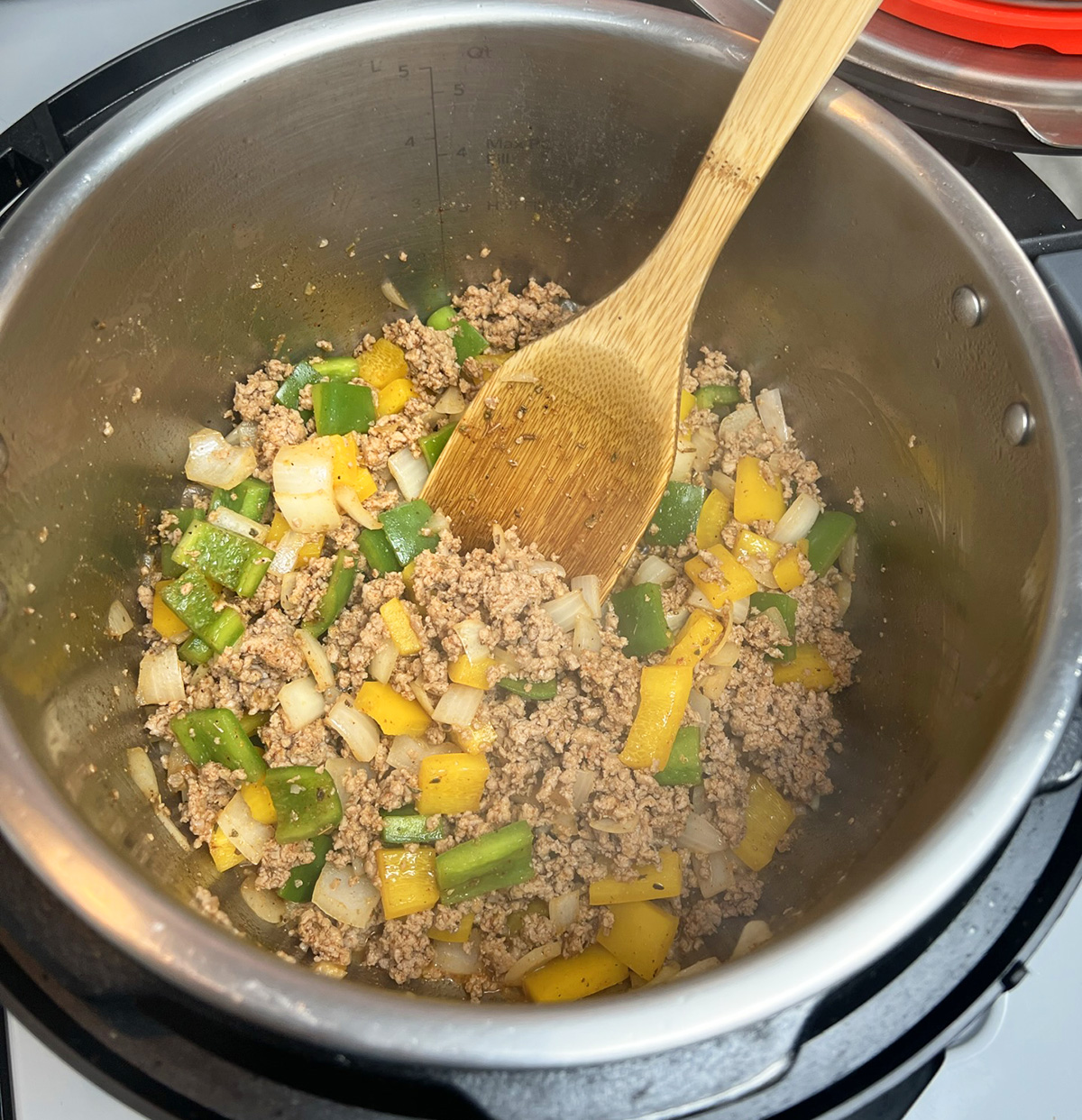 After we've sautéed everything, we start adding the other ingredients. But first, add in the chicken broth and red wine vinegar and scrape any stuck on bits from the bottom of the pot. You may not have any, but we definitely do not want anything stuck to the bottom of the pot or we risk getting a burn notice. After that, add the the following but do NOT stir any of it in: the can of diced tomatoes, the tomato sauce, the beans (drained and rinsed first), and the remaining chili powder. We don't want to stir it because we want all the liquid on the bottom. Don't worry, it all comes together nicely when cooking.
Pressure Cook on High for 15 Minutes
Now we secure the lid, set the vent to the closed or sealing position, and pressure cook on high pressure for 15 minutes. It will take probably 10 minutes or so for the pot to come to pressure. Once it does, the cooking time will begin. When the 15 minute cook time is complete, go ahead and turn the valve to the open or vent position to quick release the pressure. It will take probably 2-3 minutes for the pressure to release. Then, once the pin drops, you can safely remove the lid.
The Instant Pot will automatically go into "keep warm" mode. You can go ahead and press cancel to stop this, as the chili will remain very hot for some time. It will also thicken a bit as it stands. Give it a few good stirs with a large wooden spoon.
Serving
Your chili is now ready to serve! This is the exciting part. You get to enjoy a nice bowl of hearty, delicious chili with all the ingredients your know and love, without all that damn sodium.
Feel free to top off the chili with some of your favorite toppings (that you're comfortable using regarding sodium content). I like to pile on fresh chopped green onions. I love that fresh cool taste of the green onions with each spoonful of chili.
Here's a flavor booster tip: Keep the bottle of red wine vinegar nearby. Add a splash to your bowl of chili. All you really need is about a teaspoon or less. You'll be amazed what a lively, vibrant flavor boost it adds!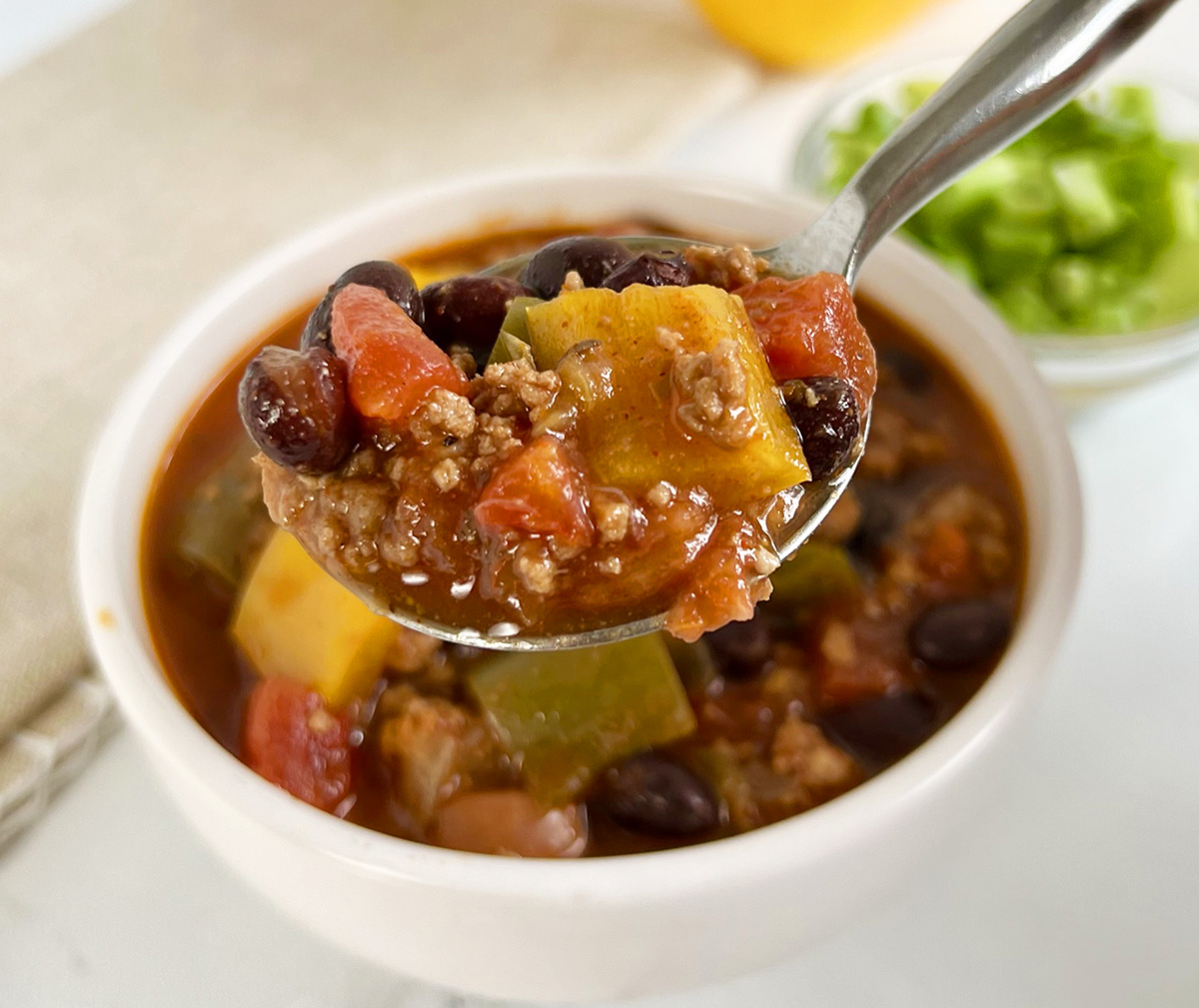 Print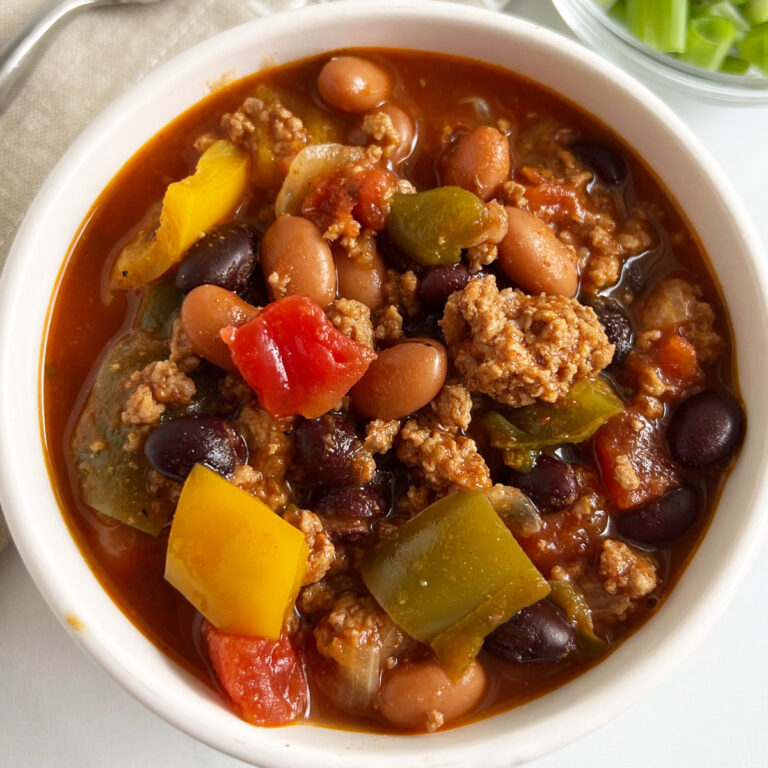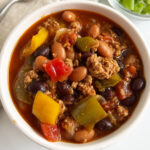 Low Sodium Instant Pot Turkey Chili
---
Author:

Total Time:

45 minutes

Yield:

7 cups
Description
This full flavored turkey chili is loaded with robust flavors and ingredients, with very minimal sodium and cooks to perfection in your Instant Pot pressure cooker.
---
1

lb ground turkey (93% lean)

1

can (15oz) no salt added pinto beans, drained and rinsed

1

can (15oz) no salt added black beans, drained and rinsed

1

can (8oz) no salt added tomato sauce

1

can (10oz) diced tomatoes with green chiles

1

medium onion, diced

1

green bell pepper, diced

1

yellow pepper, diced

2

tbs chili powder (no salt)

1 tsp

garlic powder

1 tsp

ground black pepper

1 tsp

cumin

1 tsp

oregano, dried

1 cup

no salt added chicken broth

1

tbs olive oil

1

tbs red wine vinegar
---
Instructions
Set Instant Pot to sauté mode and add olive oil. When hot, add ground turkey and brown for about 5 minutes until no longer pink.
Still in sauté mode, add onions, peppers, 1 tbs chili powder, garlic powder, black pepper, cumin and oregano. Continue to sauté for about 5 minutes, stirring often.
Press cancel to stop sauté mode and add chicken broth and red wine vinegar. Scrape bottom of pot if there's any bits stuck on. We do NOT want any bits stuck on.
Add the following but do NOT stir in: the can of diced tomatoes and chiles, tomato sauce, beans, remainder of chili powder sprinkled on top.
Secure lid, make sure vent is set closed (sealing position), and pressure cook (high pressure) for 15 minutes.
When cycle is complete, do a quick release of the pressure (this will take about 2-3 minutes). When pin drops, carefully remove lid and stir the chili. Let it rest and cool for at least 5 minutes before serving.
Prep Time:

15 min

Cook Time:

30 min

Category:

Dinner

Method:

Instant Pot

Cuisine:

American