We take pork tenderloin chunks and cover them in ground coffee with a ton of spices, and we thread the pork onto skewers along with veggies on other skewers, and then we serve them up with blueberry salsa, because every good thing deserves to spend time with equally good things! And of course, we keep the whole meal low in sodium.
This simple, elegant, and wonderfully intensely flavored meal will make your backyard (or kitchen!) the hit dining spot of the season!
Approximate sodium content: 112mg per serving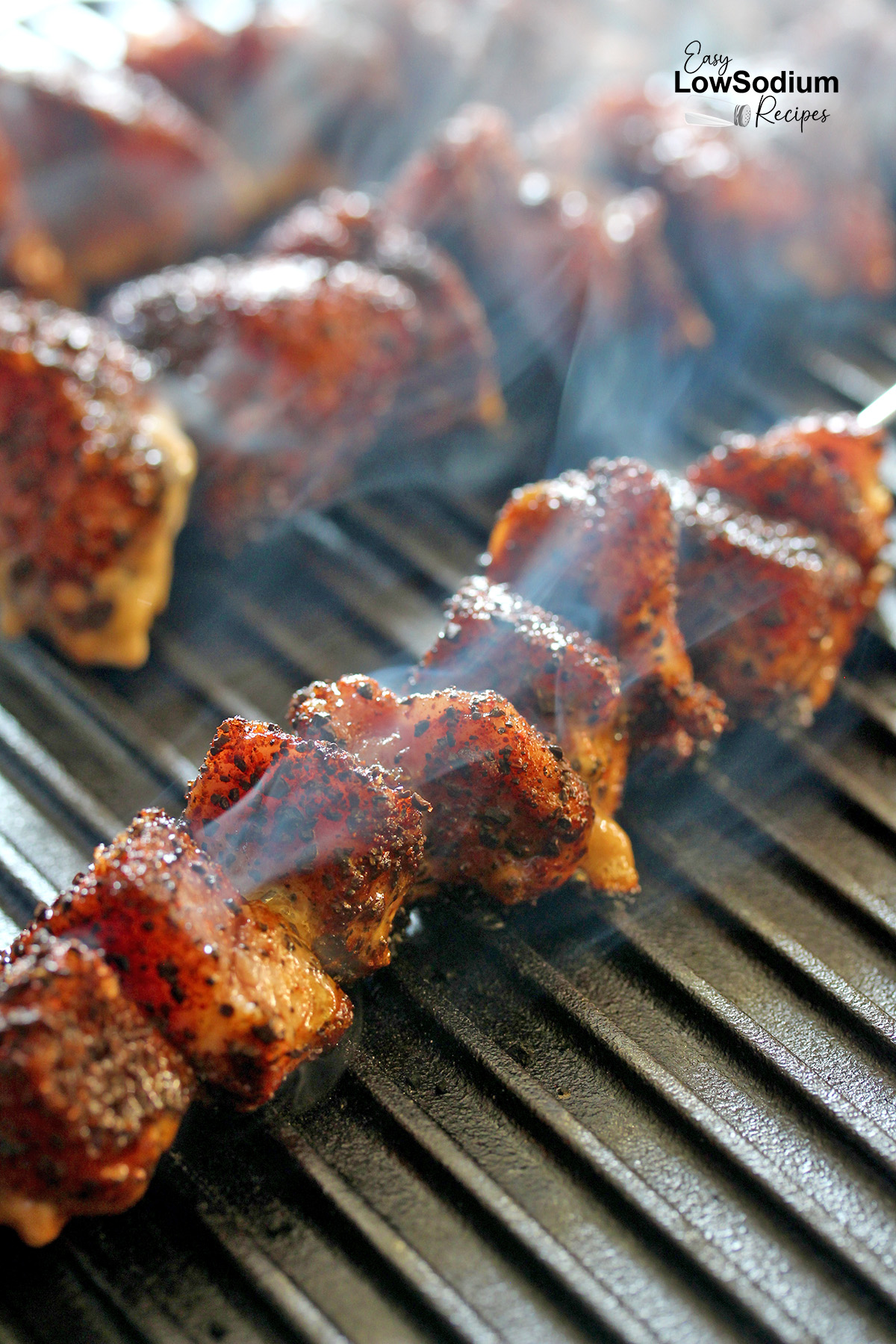 There's just something about succulent meat on a skewer that just makes the meal feel a little extra special and festive. Maybe it ignites the Cro-Magnon part of our brains and makes us feel happy to be around a campfire after a hard day of hunting and gathering.
"Hey, we deserve a special treat on a stick!" Or, maybe it's just the sight of that much abundance on a thin implement that draws our attention to the platter loaded high with protein and vegetables.
Either way? These skewers are a breeze to make, and a joy to eat. What could be wrong with that?
Sodium Notes by Alex G., Registered Dietitian
Low sodium cooking sometimes has a misleading reputation for being bland or boring, but this recipe is packed full of savory, sweet, and interesting fresh flavors without using added salt. The seasoning rub on the pork of coffee, brown sugar, and spices such as garlic, onion, and smoked paprika add almost no sodium while adding tons of flavor. Grilling the meat, vegetables, and some of the salsa ingredients adds another layer of deep savory taste with no added salt. Don't skip making the salsa here. Pre-packaged fruit salsas have as much as 180 mg of sodium per 2 tablespoon serving while this salsa has almost none yet still balances the dish perfectly.
Ingredients
First, we take the heady aroma and taste of coffee, and we combine it with brown sugar, hot smoked paprika, chili powder, onion powder, garlic powder, and a touch of cumin. Then we coat the pieces of pork tenderloin in that fragrant mixture, for an amazing texture – and complimentary savory and sweet tastes!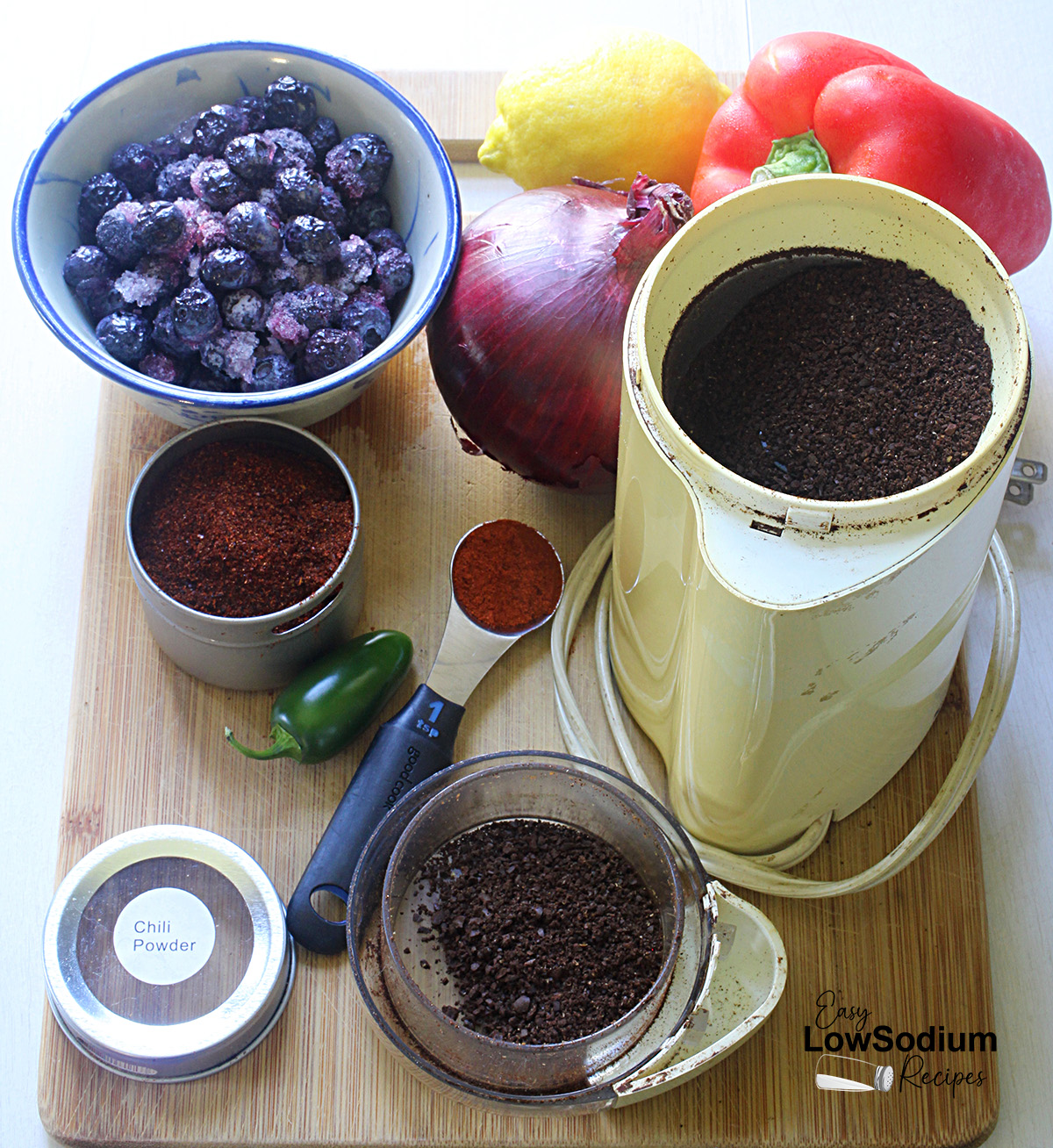 Pork tenderloin is a wonderful meat to use for several reasons. It's very lean so we're keeping the fat to a bare minimum. It's also extremely tender. That's why it's such a popular meat and excellent to use for low-sodium diets. You'll want to check the packaging to be sure it's not flavored and doesn't have a solution added. That solution is usually very high in sodium. Look for packaging that says things like "minimally processed", "no additives", "all natural" – that sort of thing.
But, we don't stop there. We toss bell peppers and onions in olive oil, lemon juice, a touch of chili powder, paprika, and coriander. All of those spices come alive once they've been grilled and make for a ready made "side dish."
Finally, we combine fresh blueberries, red onion, grilled lemon and lime juice, and a tiny bit of jalapeno to give it a sweet, tart, and slightly spicy salsa. The combination of the pork, vegetables, and salsa are – do we dare say – sublime?
Yes.
We've said it.
Everything combined is completely sublime!
Preparation
First, we assemble the blueberry salsa to let the flavors meld while we put together the skewers. While your grill is preheating for the pork, halve a lemon and brush it with a little olive oil and sprinkle on a little freshly ground black pepper. Grill the lemon for a couple of minutes, until it gets grill marks and is beautifully softened. This gives the flavor a wonderful little extra boost. Get the lemon off the grill, and once it's cool enough to handle, juice both lemon halves.
Then, we stir together the blueberries, onion, jalapeno, grilled lemon juice, and olive oil. Set the salsa aside at room temperature to let all of the flavors incorporate.
Then, we whisk together the coffee grounds, brown sugar, hot smoked paprika, chili powder, onion powder and garlic powder.
Finally, we coat the cubed pork all over (and we're serious about the "all over" thing!), and set it aside while we whisk together olive oil, lemon juice, chili powder, paprika, and coriander together in a bowl as a quick marinade for the bell peppers and onions.
Then, we place the sliced pork and vegetables on skewers and get them on the hot grill!
Get Grilling on Medium-High
You'll want to preheat that grill on medium-high for a few minutes to get those grates nice and hot. We want to hear that sizzle when the food hits the grill. After about 15-20 minutes, check the temperature of the pork with an instant read food thermometer. We want the pork to be at least 145°(F). Pull the skewers off the grill and let the meat rest for 5 minutes while tented with foil.
Ready to Serve!
After the meat has rested for a few minutes, this amazing meal is ready to serve! We like to simple pull the meat and veggies off of the skewers to a plate, and add a few spoonfuls of the blueberry salsa right on top. That way we get the cool, crisp flavors mixed well with the rich and flavorful pork and veggies.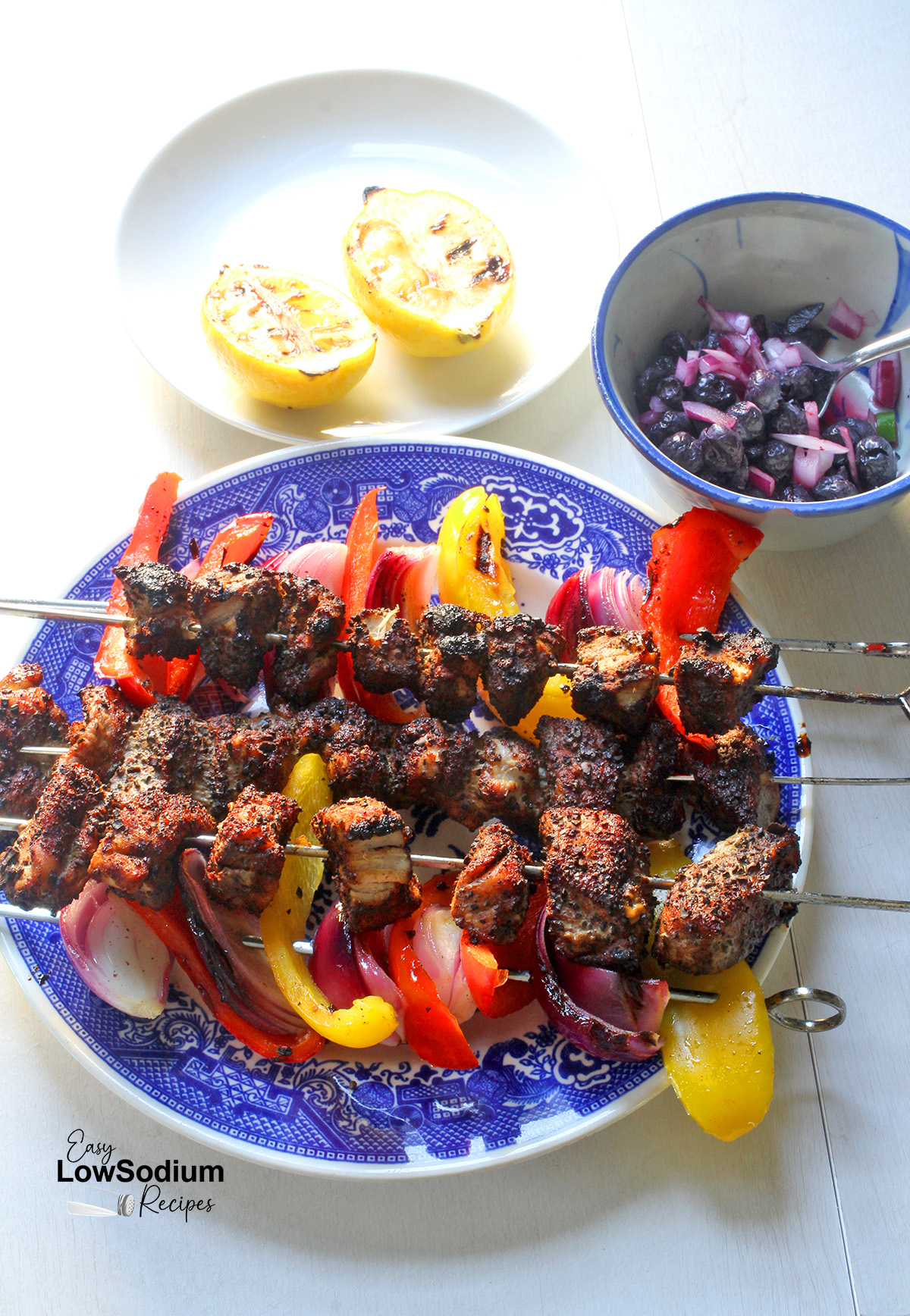 Storage and Reheating
Store the pork and vegetables together in a resealable plastic container with a lid in the refrigerator for up to three days. We couldn't recommend freezing it, because the pork may dry out a bit. You can refrigerate the salsa for up to five days.
When you'd like to reheat the meat and vegetables it, just put them on a plate or in a shallow bowl, and microwave on high for 1-2 minutes, or until piping hot.
Print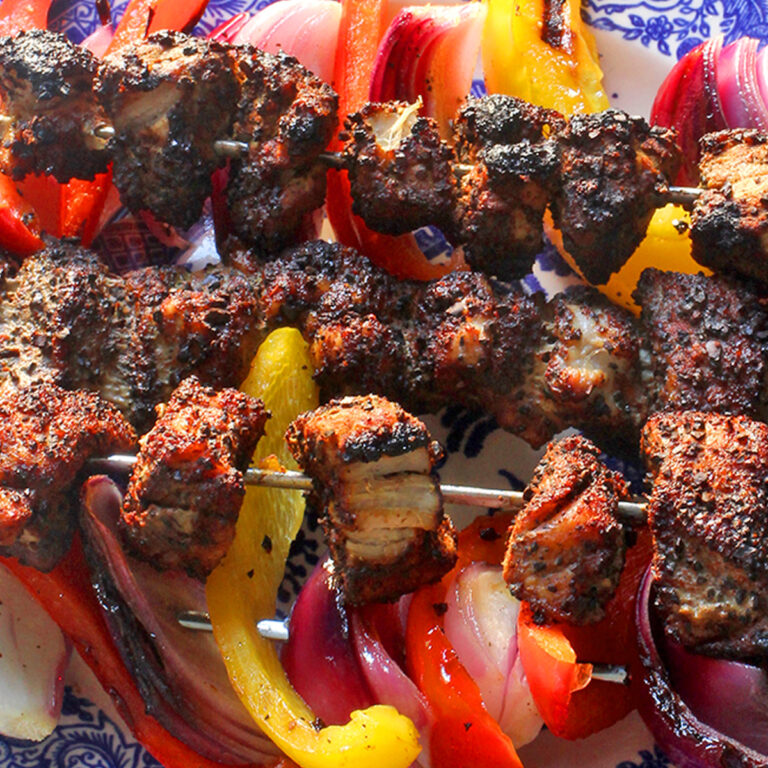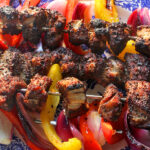 Low Sodium Coffee-Crusted Pork and Veggie Skewers with Blueberry Salsa
---
Author:

Total Time:

35 minutes

Yield:

4 servings

Diet:

Low Salt
Description
This amazing low sodium meal features coffee and herb crusted pork tenderloin and veggie skewers with a blueberry salsa. It's savory, it's slightly sweet, it's loaded with fresh vibrant flavors!
---
Blueberry Salsa Ingredients:
1

large lemon, halved

1 ½ tablespoons

olive oil, divided

½ teaspoon

freshly ground black pepper

1 ½ cups

roughly chopped fresh blueberries

⅓ cup

diced red onion

1 tablespoon

diced jalapeno

2 teaspoons

lime juice
Coffee-Crusted Pork Ingredients:
1

(1.5 lb.) pork tenderloin, cubed into

1 ½

inch pieces

2 tablespoons

dark brown sugar

1 ½ tablespoons

ground coffee

1 tablespoon

paprika

1 tablespoon

chili powder

1 teaspoon

hot smoked paprika

½ teaspoon

ground cumin

½ teaspoon

onion powder

½ teaspoon

garlic powder
Vegetable Ingredients:
1 tablespoon

olive oil

1 tablespoon

lemon juice

1 teaspoon

chili powder

1 teaspoon

paprika

½ teaspoon

ground coriander

½ teaspoon

freshly ground black pepper

2

large red, yellow, or orange bell peppers, cut into strips

1

large red onion, cut into

8

pieces
---
Instructions
Blueberry Salsa Instructions:
Preheat grill to 425°(F).
Brush lemon halves with 1 teaspoon olive oil, and season with pepper. Grill for 3-5 minutes, or until lightly charred and softened. Cool, and juice the lemon halves into a medium bowl.
Add the remaining ingredients into the bowl, and stir well. Let sit at room temperature while assembling the skewers.
Coffee-Crusted Pork Instructions:
Whisk together the brown sugar, coffee, paprika, chili powder, hot smoked paprika, cumin, onion powder, garlic powder, and salt together.
Rub the mixture all over the cubed meat. Reserve.
Vegetable Instructions:
Whisk together the olive oil, lemon juice, chili powder, paprika, and cumin together in a large bowl.
Place the vegetables in the bowl, and stir well to coat.
Grilling and Assembly Instructions:
Place the pork on metal skewers.
Alternate between the bell peppers and onion, on separate metal skewers.
Place the pork skewers on the preheated grill, and cook for 15 minutes, turning once halfway through. Use a meat thermometer to make sure the pork is between 145°(F), and 165°(F), depending on your personal preference.
Grill the vegetable skewers until charred and cook through, about 8 minutes, turning halfway through.
Remove the skewers from the grill, and let rest for 5 minutes tented under foil before serving.
Prep Time:

15 min

Cook Time:

20 min

Category:

Dinner

Method:

Grill

Cuisine:

American