Made with all fresh ingredients, this recipe for low sodium chicken and red lentil stew is a cornucopia of flavors that will make you forget all about the sodium. Fresh chicken breast is sauteed in a perfectly balanced mix of pantry-friendly herbs and spices, then the veggies and red lentils bring it all together for a wonderfully delicious meal you'll want to make again and again.
Approximate sodium content: 125mg per serving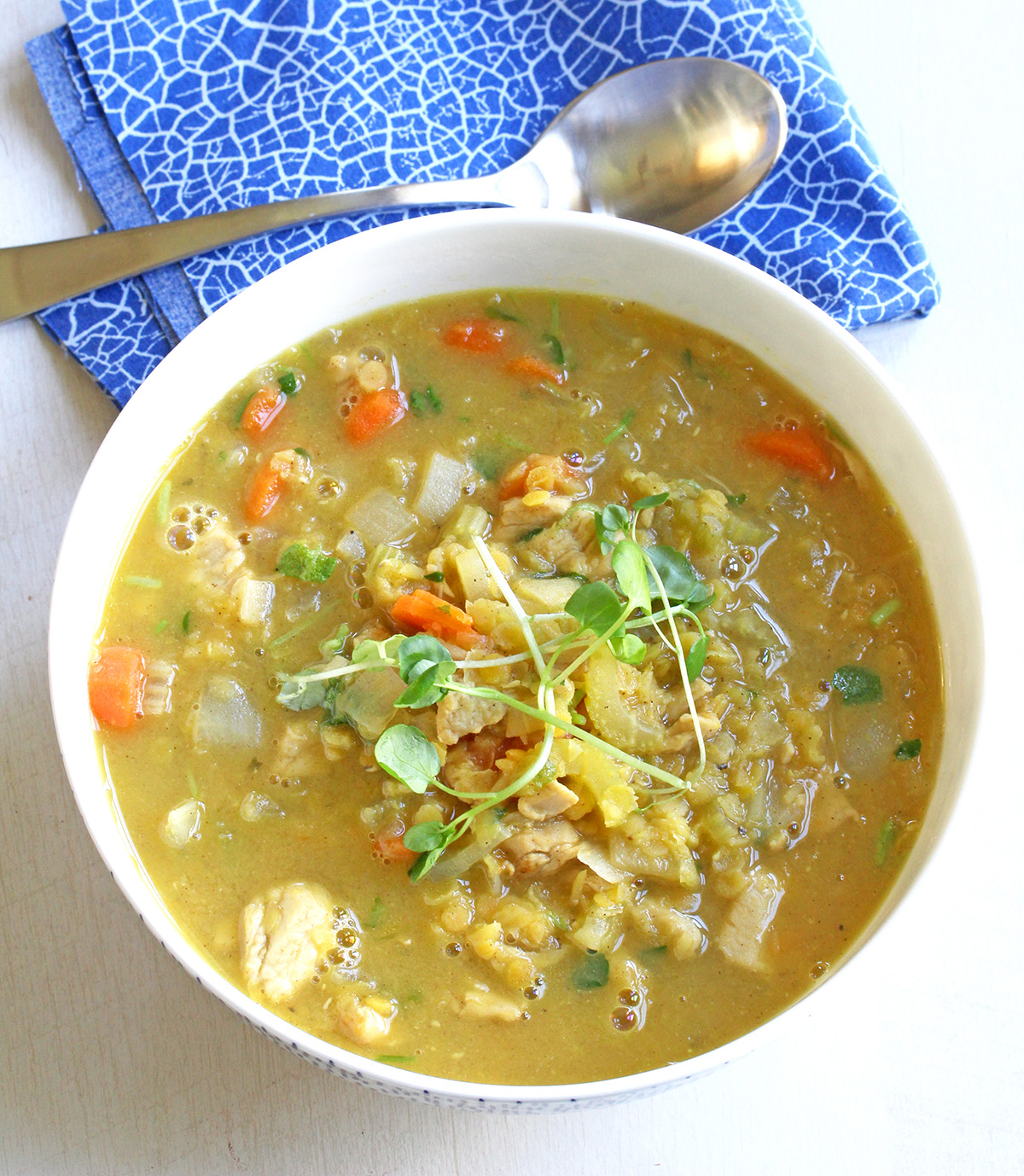 One of the joys of making low sodium recipes is that it gives you the opportunity to more fully explore the true flavors of all the ingredients. Quite frankly, food is amazing. And learning how to make flavors, textures and various ingredients work together in harmony is very rewarding. This one pot dish is loaded with veggies, spices, herbs, and a double kiss of lemon to create a meal that's loaded with layer upon layer of flavor. The glorious thing about split red lentils is that as they cook, they break down and thicken this incredibly flavorful stew! This is also one of my very favorite recipes.
What Are Red Lentils?
Red lentils are small legumes, not all too different from split peas in size and texture. They are know for having a mild, slightly sweet, earthy flavor. Red lentils break down easily when cooking and thus are perfect for soups and stews such as this one. They are loaded with fiber and are very satisfying.
Ingredients
The ingredients in this delectable stew are mostly pantry and refrigerator friendly. A large chicken breast, no-salt chicken broth, spices like paprika and smoked paprika, and the classic mirepoix of celery, carrots, and onion round out the flavors along with lemon zest and juice, and some fresh spinach right at the end.
When we're cooking low sodium meals, we find that it's a great excuse to get creative! A touch of cinnamon is a classic pairing with cumin. Cinnamon brings a light underpinning of sweetness and balances out earthy cumin like a champ. The pair truly love each other!
And of course, when we're looking for flavor augmentation, the first thing that we reach for is lemon. It brings a tart/sweet acidity to everything it touches, and we've doubled lemon's attributes here by utilizing both the juice and the zest.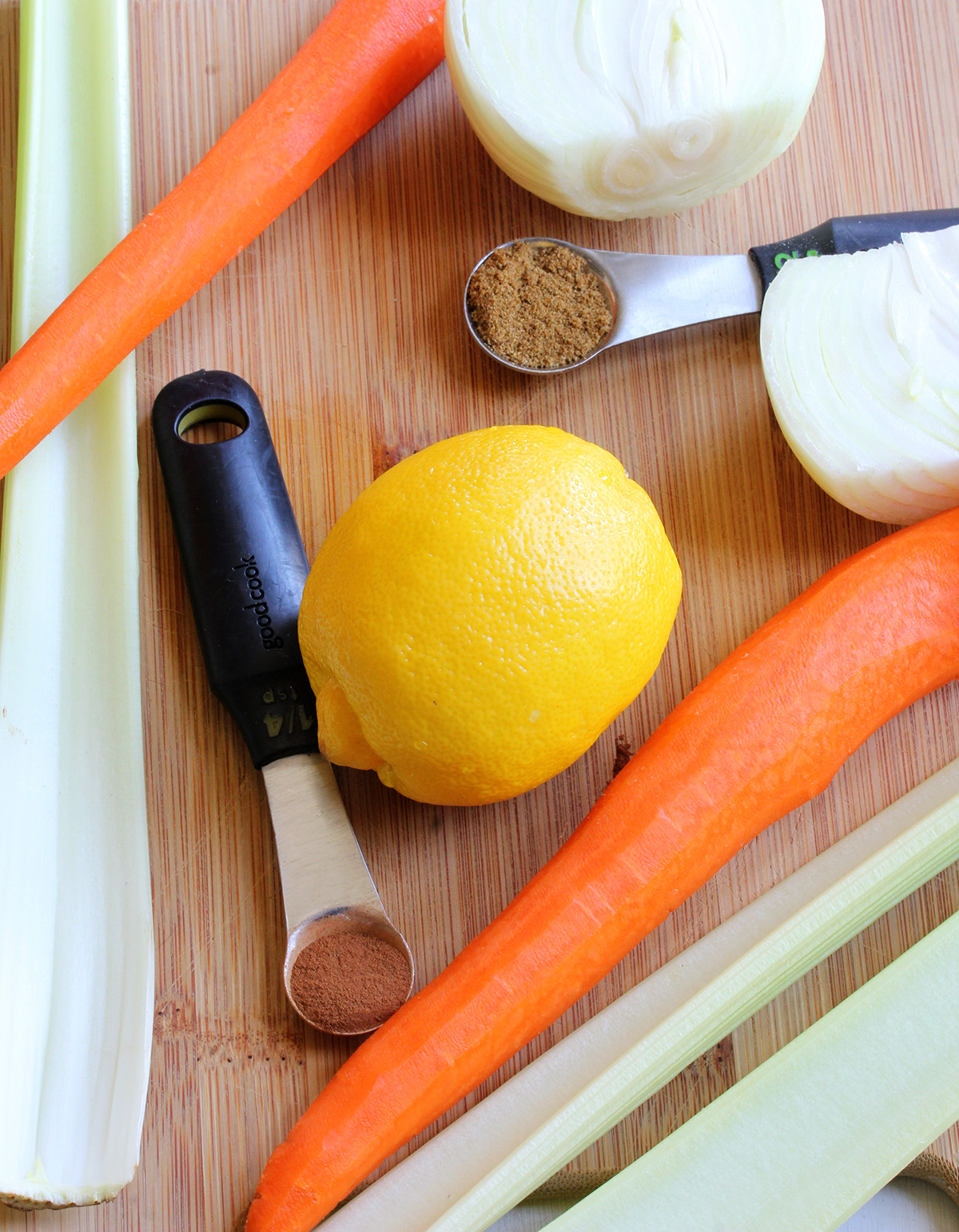 Preparation
This is a great old-fashioned one pot meal. You'll want to start by dicing the chicken breast into chunks of about ¾″ – 1 inch in size. Next slice up the carrots and celery into ¼″ thick slices. then cut the onions in to thicker sized chunks. You know, the size that would go into a regular stew.
Using a Dutch oven or large pot, heat the oil over medium heat and add the chicken chunks, paprika, smoked paprika, pepper, cumin, and cinnamon and sauté until the chicken has nice color on all sides. This will take a minute or two. Now we've got our base flavor and have "bloomed" the spices to bring out extra flavor. Toss in fresh ginger, lemon zest and the veggies and sauté until the veggie start to soften, about 5 minutes.
Finally, add the broth and lentils and bring to a boil. Once it reaches a boil, turn the heat down and simmer for about 10-15 minutes or until the stew starts to thicken. The lentils will break down during the simmer and thicken the stew. When you're getting close to the desired consistency, add the spinach. It will wilt fairly quickly and incorporate into the stew very nicely.
Remove from heat and let stew continue to thicken for about 5 minutes before serving.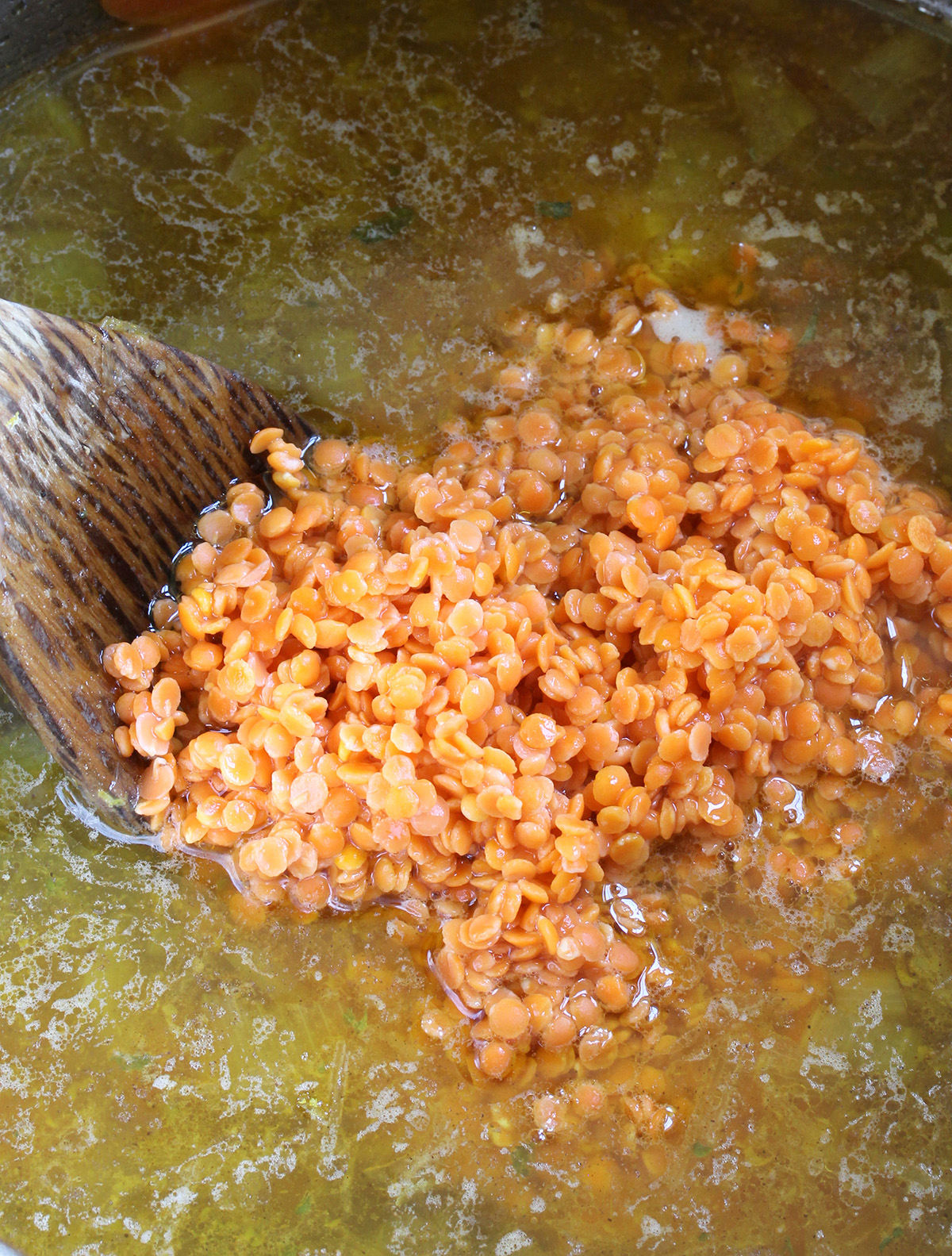 Serving Suggestions
You could certainly devour this stew on its own! But, it would also pair incredibly well with cooked basmati rice. It would also be great with a large chopped salad filled with raw cauliflower, green beans, radishes, scallions, and cucumber tossed in a lemon vinaigrette! Oh, and reach for your favorite low-sodium bread for dipping into the beautiful sauce of the stew.
Storage and Reheating
You can store the stew in an air tight container in the refrigerator for up to three days. You can also store it in a freezer safe container for up to three months.
To reheat, there's no better way, really, than a couple of minutes in the microwave. Just check it every minute or so and give it a good stir until heated through.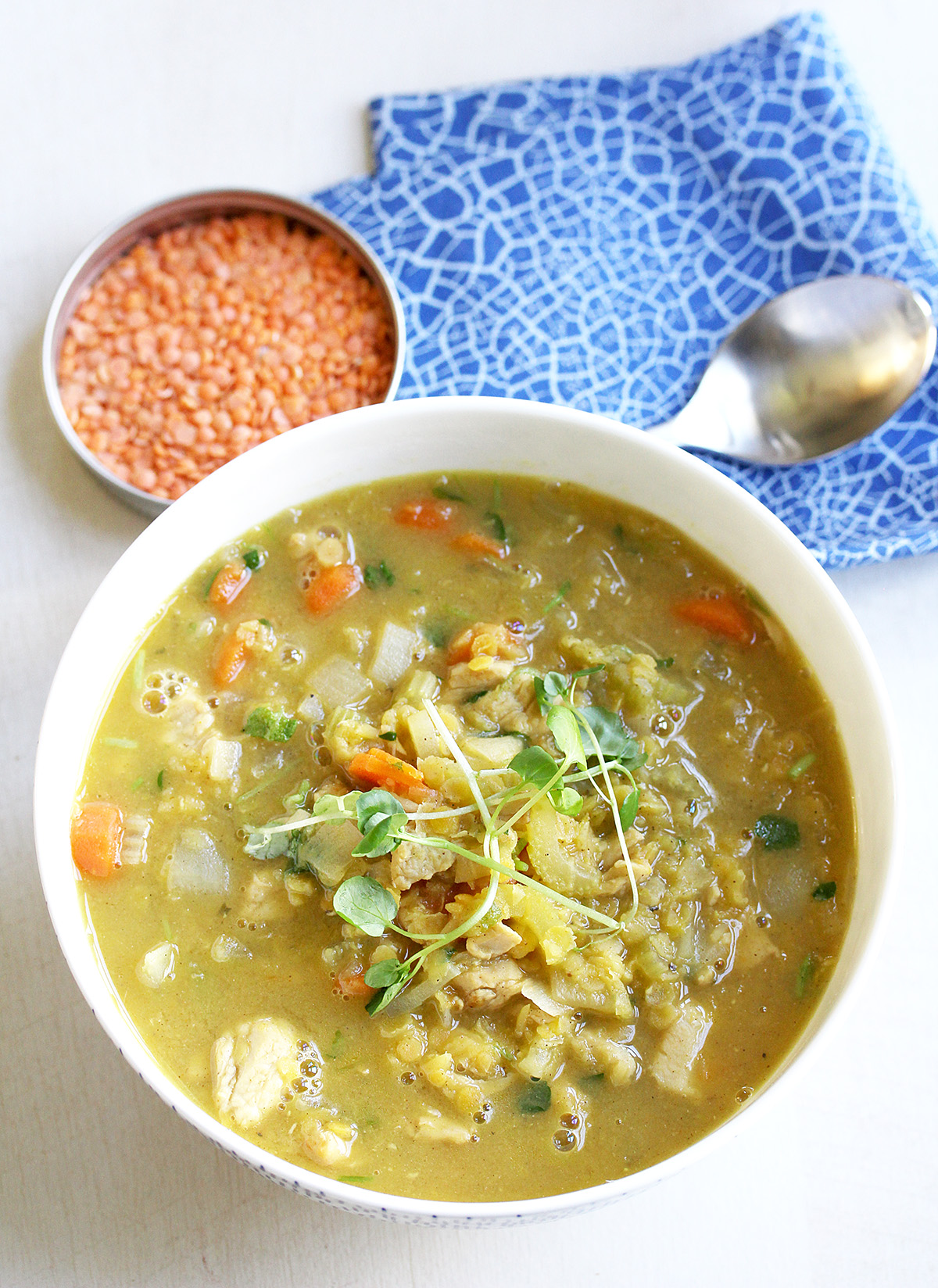 Sodium Notes By Alex G., Registered Dietitian
This hearty and comforting low sodium chicken and lentil stew provides as little as ¼ to ⅛ of the sodium in a commercial chicken soup or stew. A store bought can of chicken based soup can contain as much as 400-790 milligrams of sodium per 1 cup serving. Though this stew is low in sodium, the red lentils and chicken provide filling comfort while the vegetables and spices provide nourishing flavors. Enjoy the combination of bright flavors from the ginger and lemon and the more savory taste profiles from the smoked paprika, cumin, and pepper without fear of overloading with salt and sodium. The vegetables and red lentils add dietary fiber to this stew for an added health boost.
Print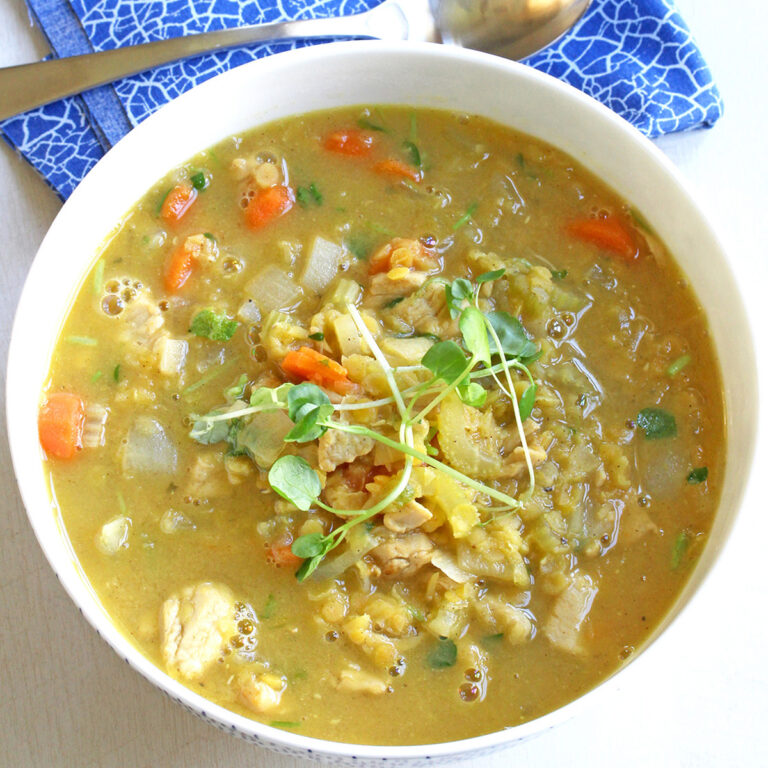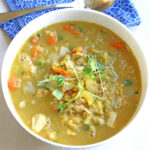 Low Sodium Chicken and Red Lentil Stew
---
Author:

Total Time:

30 minutes

Yield:

4 servings

Diet:

Low Salt
Description
This hearty stew is loaded with fresh chicken, delicious red lentils, veggies and the perfect combination of herbs and spices to bring out maximum flavor, all while remaining low-sodium.
---
1

large (8-12oz.) chicken breast, cut into

1

" chunks

½ cup

split red lentils

½ cup

fresh spinach

3 cups

no-salt added chicken broth

3

celery stalks, thinly sliced

2

medium carrots, thinly sliced

1

medium onion, diced

1

tbs fresh grated ginger

2 tsp

lemon zest

2 tsp

lemon juice

1.5 tsp

smoked paprika

1 tsp

cumin

½ tsp

freshly ground black pepper

¼ tsp

ground cinnamon

2

dried bay leaves

1

tbs olive oil
---
Instructions
Heat the olive oil in a medium Dutch oven, over medium heat.
Add the paprika, pepper, cumin and cinnamon to the pot. Stir for 1 minute, or until fragrant.
Add the cut chicken and sauté in the spices and oil, turning frequently (about 1-2 minutes, until chicken is white on all sides and even browned a little).
Add the grated ginger, and stir for 1 minute.
Add the celery, carrots, onion and lemon zest to the pan. Sauté for 5-7 minutes, or until softened.
Pour in the broth and lemon juice, and add the bay leaves to the pot.
Bring to a light boil, and add the lentils.
Keep uncovered and stir occasionally until the lentils are cooked through, and have broken down a bit to thicken the stew, approximately 10-12 minutes.
Stir in spinach and continue cooking until wilted (about 1-2 minutes)
Remove from heat and let sit 5 minutes before serving. Stew will continue to thicken.
Prep Time:

10 min

Cook Time:

20 min

Category:

Dinner

Method:

Stovetop

Cuisine:

Dinner